'Undefeeted by Diabetes' book launched by podiatrist Peter Allton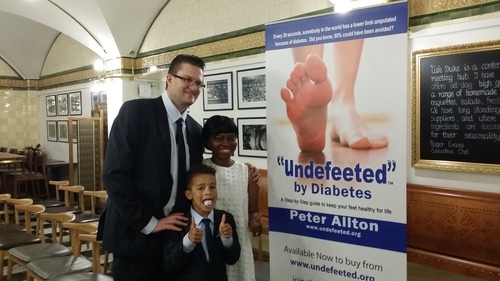 'Undefeeted by Diabetes' is about empowering people with diabetes to understand and take control of their condition
On Tuesday 23 June, author and podiatrist Peter Allton launched his book 'Undefeeted by Diabetes: a Step-by-Step Guide to Keep your Feet Healthy for Life' at the Institute of Directors, 116 Pall Mall, London SW1Y 5ED.

Worldwide, someone has a lower limb amputated because of diabetes every 20 seconds and in 85% of cases this could be avoided. 'Undefeeted by Diabetes' focuses on helping people with diabetes live in what Peter calls the 'diabetic sweet spot' – the safest possible place for them where they have a combination of knowledge and awareness of their personal risk and are taking appropriate action that helps them to live full and healthy lives.

The book is aimed at those with diabetes, their family members, friends and those at risk of developing diabetes.
As someone who lives with Type 2 diabetes, Peter knows how important education is to managing the condition. When his daughter was diagnosed with Type 1 diabetes at the age of 11 Peter decided to take action, start the global 'Undefeeted' movement and promote good foot health for diabetes sufferers.

Peter has 27 years of experience as a podiatrist, having qualified as a podiatrist in 1988. He has since treated over 200,000 feet.

He is the clinical director of Circle Podiatry, the UK's only multi-award-winning private podiatry company. Peter runs podiatry practices in Lewisham, South London and Oxted, Surrey, assisted by his wife, practice manager Tina Allton.

Dr Gerry Rayman, Lead Diabetologist at Ipswich Hospital and Medical Advisor to Diabetes UK, said, "Peter has done a fantastic job. 'Undefeeted by Diabetes' is about empowering people with diabetes to understand and take control of their condition.

"Peter has drawn on his experience as a podiatrist with patients with diabetes and tried to understand what causes the complications of diabetes and why we, as a profession, have let them down.

"We haven't made them aware of what to do and how to spot the warning signs. We can patch people up but it's much better to give people the ability to prevent complications themselves."

Peter Allton hopes that the 'Undefeeted' campaign can raise awareness of lower limb complications in diabetes: "The number of people who live with the condition but are unaware of the impact it can have on their feet is staggering. Diabetes can play havoc with your feet unless you manage it carefully, and 'Undefeeted by Diabetes' gives you the tools to do so.

"If someone develops a foot ulcer, their survival chances are worse than those of someone with prostate or breast cancer. A person with a foot ulcer has an 80% chance of not surviving five years, compared to 18% and 40% respectively for a person with breast or prostate cancer."

Chris Day, founder of Filament Publishing, which published 'Undefeeted', said, "This is a special campaign and I am proud to be involved. How often is it that you read a book that has the potential to save lives?"

The 'Undefeeted' campaign contains the book, a set of online resources and an initiative, run by Peter and Tina, which encourages podiatrists to volunteer some of their time so that people with diabetes can have check-ups for free.

The book is available for purchase at www.undefeeted.org .

Useful links:

http://www.undefeeted.org
http://www.circlepodiatry.co.uk/
http://www.iod.com/
https://www.diabetes.org.uk/

ENDS

Media information provided by Famous Publicity. For more information, please contact:

George Murdoch at george@famouspublicity.com or 07834 643 977.
Tina Fotherby at tina@famouspublicity.com or 07703 409 622.

About Peter Allton

Peter Allton is the clinical director of Circle Podiatry, the UK's only multi-award-winning podiatry 'brand'. As a podiatrist his life's work has been fixing people's feet and lower limbs. He is also the founder of 'Undefeeted', a global campaign, powered by Circle Podiatry, which aims to reduce the number of avoidable diabetes-related lower limb amputations.

After spending 13 years working in community and hospital clinics for the NHS in the UK, Peter set up his private practise in 2001: Circle Podiatry. He qualified as a podiatrist in 1988 and has treated more than 200,000 feet.

In 2005 his wife Tina left her teaching career to become practice manager and has become a driving force behind the success of Circle Podiatry. Together they have led their team to win numerous awards and become the UK's only multi-award-winning podiatry brand.

Peter has always been aware of the importance of diabetes when treating feet, especially since he was diagnosed with Type 2 in 2010. But it was his daughter's diagnosis with Type 1 at the age of 11 that changed the emphasis of his career forever. He realised that he was probably the only podiatrist in the world with Type 2 and a daughter with Type 1 and he has since made it his mission to do something about the horrific diabetes statistics.

Every 20 seconds, somewhere in the world, a person with diabetes is undergoing a lower limb amputation. It is estimated that 85% of these could be avoided. It is Peter's vision that over the next ten years the 'Undefeeted' campaign will help to cut that number by two thirds.
This press release was distributed by ResponseSource Press Release Wire on behalf of Undefeeted in the following categories: Children & Teenagers, Men's Interest, Health, Women's Interest & Beauty, Education & Human Resources, Medical & Pharmaceutical, Media & Marketing, Public Sector, Third Sector & Legal, for more information visit https://pressreleasewire.responsesource.com/about.