Hard Coatings Specialist Helps Motorsport Students Find the Right Friction Formula for Braking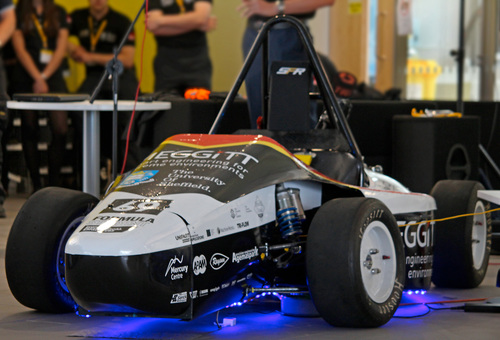 Formula Student, the annual competition to build a racing car from scratch, attracts over 100 international teams to Silverstone every year. Participating for their sixth time, in 2015, The University of Sheffield Mechanical Engineering Department overcame many technical challenges. Material selection for the braking system posed an especially sticky problem that was overcome with help from ultra-hard coating specialist Wallwork Cambridge.

Team Principal, Thomas Bloomfield explained, "The competition exposes students to a raft of real-life engineering problems from the design of components, using computer aided design (CAD), through manufacture using additive manufacturing (3D Printing) to the final fitting and testing of components on the completed car. A key design objective was to achieve good power to weight ratio for race advantage, so titanium alloy was selected for brake components, but this created a new technical challenge."

Nathaniel Wellicome, a final year student who led the chassis and vehicle dynamics team, explained, "Titanium is very strong, fatigue resistant and most of all light in weight. We were able to translate the design into a manufactured component using an additive process where metal powder is fused by electron beam melting (EBM) to create the complex component shapes. Unfortunately, relative to heavier alternative materials such as steel alloys, titanium is a soft material, so it can bind when under load in metal-to-metal contact. Wallwork have a lot of experience in the application of titanium in aerospace and motorsport so we asked them how to overcome the problems."

Dr Jonathan Housden takes up the story for Wallwork, "The 3D printed parts were delivered to us with the mating surfaces machine cut to overcome the typical surface roughness that is common in 3D printing. This gave a smooth surface for the coating, but applying a hard coating to this machined surface on its own would be insufficient since the titanium substrate alone is too soft and the coating would break up under load. The answer was to use Nitron O, a duplex process that first infuses nitrogen compounds into the metal surface to produce a hard layer to support the subsequent titanium nitride surface coating. This permits the alloy to be used in high-load sliding wear applications, giving endurance and the required frictional properties, without binding."

Silverstone will host around 100 international teams from leading UK and overseas universities for the race and technical judging between July 9 and 12. In addition to the race, a team of expert judges will score the Sheffield car for factors such as endurance, cost and sustainability.

Thomas Bloomfield concluded, "Our students participate in this challenge alongside their degrees so they gain multiple practical skills and develop fantastic time management skills and learn how to deal with realistic high pressure fast-paced environments. This makes them very employable and is why some companies, like Wallwork, are happy to sponsor the team by sharing their expertise. Dr Housden added, "Engineering is a dynamic profession and projects like this help us engage with the next generation of engineers, a collaboration that is beneficial for Wallwork, the University and the Students."

To follow the Sheffield motor engineers story visit their You Tube channel https://m.youtube.com/watch?v=1wg7llyBHhk.

More Information

Simeon Collins, Sales Director, Wallwork Cambridge
Tel. +44 (0)161 797 9111 Fax. +44 (0)161 763 1861
E-mail: simeon.collins@wallworkht.com Web: www.wallworkht.com
Wallwork Group, Lord Street, Bury, Greater Manchester, BL9 0RE

Thomas Bloomfield, Team Principal, Mobile: +44(0)7854246574
E-mail: tbloomfield1@sheffield.ac.uk
The University of Sheffield, Sheffield Formula Racing

Images are on the web at www.ainsmag.co.uk/wa253/5411wa1a-sheffield-formula-student.h...
This press release was distributed by ResponseSource Press Release Wire on behalf of Ainsworth Maguire in the following categories: Business & Finance, Education & Human Resources, Manufacturing, Engineering & Energy, for more information visit https://pressreleasewire.responsesource.com/about.