The official charity to support the Marc Bolan School of Music is launched to bring music and dance to the children of Sierra Leone, West Africa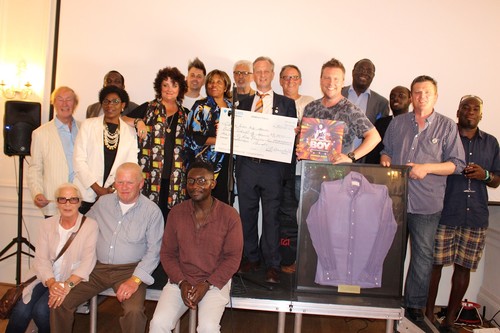 The Light of Love UK, the charity established to raise funds to support the Marc Bolan School of Music, is officially launched
The launch of the 'Light of Love UK' charity took place at Ognisko, Exhibition Road, Kensington, London with the Oscar-winning, 60s & 70s Motown sensation, Gloria Jones as host.

LONDON, UK – Monday 13th July 2015: The Light of Love UK, the charity established to raise funds to support the Marc Bolan School of Music, is officially launched today.

Gloria Jones, the 1970s Motown sensation, Northern Soul singer famous for the original version of 'Tainted Love' and Marc Bolan's partner, joined forces with Jed Dmochowski, a teacher and singer-songwriter, to set up the Light of Love charity to raise 40,000 pounds to build an inspirational new music and dance school in Sierra Leone, West Africa.

The launch event took place in the main ballroom above Ognisko, Exhibition Road, Kensington, London, where friends and family of the late Marc Bolan, 70s glam rock legend and creator of T.Rex, joined together with talented artists from music, film, theatre, fashion and the arts. Harry Feld, Marc's brother, brought some nostalgia to the event stating how proud Marc would have been of those who have supported the initiative so far, and how much Marc loved children.

The celebratory event was made even more special as Marc Bolan enthusiasts, friends and fans attended to donate auction gifts, musical instruments for the school and money to help support the fundraising initiative. Donations included a shirt worn by Marc Bolan from T.Rex fan, Colm O'Connor; a guitar for the children attending the Marc Bolan School of Music donated by T.Rex fan, Mark Sheehan; a replica guitar donated by the Deborah Bonham Band; a cheque for £5,000 raised by various fundraising events; a truly inspiring and beautiful scarf designed exclusively for the launch from fashion house, Teatum Jones, and the presentation of a piece of land in Ghana as a basis for the next school to be built in West Africa, from Adjei Amaning.

Gloria said, "I am so overwhelmed by the love, the kindness and the support that we have received. The charity cannot continue to do its good work without such generous offerings. We welcome all donations with open arms, whether it's your skill, your time, your advice, your resources, gifts, money, auction prizes, or just the ability to spread the word. We are well on our way to raising the funds that we need to continue to build our school in Sierra Leone, in Marc's name. We will bring music and dance to the most vulnerable, disadvantaged and marginalised people, in a place that I hold so fondly in my heart, Sierra Leone, West Africa."

Supporting the cause is Bolans Architects, based in South London, who revealed the plans and designs for the school which will include an outdoor film school, music rooms, musical instruments, classrooms, a community cinema and a library. The school has been designed with community in mind, using a creative structure to enhance the practicalities of each room, including an open-air amphitheatre. The materials recommended are practical, functional and sensitive to the surroundings.

All funds raised will be shared with the British Red Cross to continue to combat the Ebola crisis in the region. To make a donation, please visit: http://www.youcaring.com/nonprofits/the-bolan-walk-help-us-f.... For more information about the school, visit www.marcbolanschool.com.

-ENDS-

Media contact:
For further information, images and interview requests please contact Paula Averley on T: 07766 257776 or E: Paula@origincomms.com.

Notes to editors
1. The Light of Love UK is the charitable organisation set up to raise funds for The Marc Bolan School of Music.
2. Gloria Jones was born in Cincinnati and moved to Los Angeles, California, at the age of seven, where she first started singing. At a young age, Gloria began to perform, recording hits with Cobb's Greengrass Productions, including Tainted Love, which later became a number one hit for Soft Cell. Gloria toured the United States, appeared on numerous television programmes and performed in plays, such as Catch my Soul with Jerry Lee Lewis, Revolution and Hair, the musical. Gloria also wrote for Motown Records, as well as being a singer for the label. Gloria Jones was also in the Oscar-award winning 20 Feet from Stardom now featured in a new documentary soon to be released 'The Lost Rockers'. At the 86th Academy Awards, it won the award for best documentary. At the 19th Critics' Choice Awards, it also won the Best Documentary Film award. At the 2015 Grammy Awards, it won Best Music Film. Gloria met Marc Bolan of T Rex in 1969 and again in 1972. Gloria and Marc had a son together, Rolan. Marc Bolan died in September, 1977 as a result of a car accident.
This press release was distributed by ResponseSource Press Release Wire on behalf of Origin Comms Ltd in the following categories: Entertainment & Arts, Education & Human Resources, Public Sector, Third Sector & Legal, for more information visit https://pressreleasewire.responsesource.com/about.