KIDSME LAUNCHES IN UK TO HELP PARENTS MEET WEANING NEEDS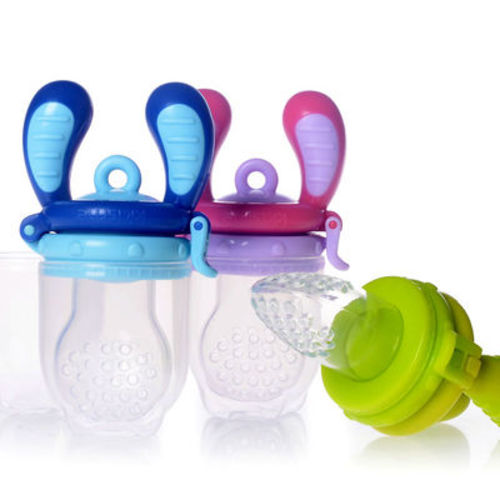 Kidsme (www.cicada-education.co.uk/retail/kidsme) a leading manufacturer of infant weaning products have successfully launched in the UK. The company, which prides itself on developing innovative, unique and one-of-a-kind products for infant and child feeding has secured listings in a number of leading retail outlets including John Lewis, Boots and Babies R Us.

Kidsme have been producing products for infant feeding and oral care since 2007. Kidsme pioneered the Food Feeder (image below) – a revolutionary baby feeding product allowing an infant to self-feed. The Food Feeder is a scientifically innovative feeding aid developed to turn traditional, passive feeding methods into an interactive experience for baby and parent; allowing them to discover first tastes and textures without the risk of choking. The unique design also encourages fine motor development within the infant.

The range also includes the Soothers and Teethers, Toddler Spoon and Fork Set, Baby Travel Easy Set, Ideal Temperature Feeding Spoon, Food Grinder, Food Squeezer and Anti-Bacterial Cutting Board. Plus many more new innovations to help parents.

"We are thrilled to launch our innovative products in the UK", says Katie Hilton, Kidsme Expert Midwife and Health Visitor. "Our products will support parents from weaning right through to pre-school age, ensuring a seamless process for both parent and child. Our Food Feeder will offer parents a new, unique way to wean their child removing the fear of choking whilst allowing their child to explore new foods in a safe and effective way".

For more information on Kidsme please contact Katie Hilton at Stork Communications on hello@storkcommunications.com or 01785 850676

About Kidsme

Kidsme was established in 2007 as a diversified baby products company specialising in infant feeding for 0-3 year olds, oral care products and toys. Their headquarters is located in Hong Kong. As part of their brand building strategy, they've established branches in Europe and the USA and are exploring new business opportunities. In recent years, they've been working on brand development (OBM). They've developed multi-distributional channels in China, Taiwan, Europe, US, New Zealand, Australia, Middle East, Southeast Asia, Japan Korea and continue to grow. Their Food Feeder has been registered for patents in Europe, the USA, the UK, China, Hong Kong, South America, Singapore and Korea. The Food Feeder was also praised as a revolutionary, innovative baby-feeding product by the Asian and International press. Kidsme has reached a great milestone: Over 5 million Food Feeders have been sold worldwide. They believe that the increasing demand for innovative baby-feeding products indicates an ongoing interest in the Food Feeder trend, and will ensure a positive long-term performance.
This press release was distributed by ResponseSource Press Release Wire on behalf of Stork Communications in the following categories: Children & Teenagers, Business & Finance, Medical & Pharmaceutical, for more information visit https://pressreleasewire.responsesource.com/about.