Eco-Friendly Storage In The Home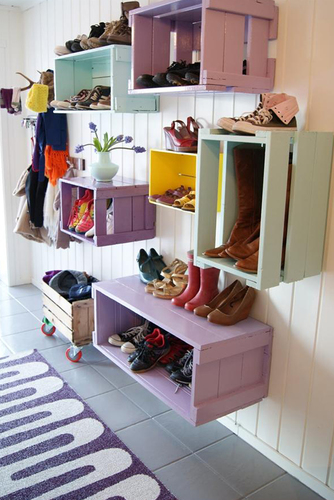 Eco-Friendly Storage In The Home

http://www.safestore.co.uk/

We're always trying to find ways to live a bit more eco-friendly. But looking after the environment doesn't mean forgetting to look after the pennies as well. From buying recycled kitchen paper to re-using products in other areas of the home once they're finished with, there are lots of ways to help the environment wherever you can, and increasingly this can also mean more money in your back pocket as well.

When it comes to creating some eco-friendly storage in the home, options are everywhere. It doesn't matter whether you need extra space in the bathroom, or you need a way to organise pan lids in the kitchen, there are lots of clever and unique ways to re-use everyday household items you already have to create fantastic new storage solutions.

Here are some top tips from Safestore.co.uk for creating new eco-friendly storage options in every room in your house.


Hallway

It's important to create a good impression when someone enters your home, but with muddy shoes, numerous jackets, school bags and more, the entrance hallway is often the hardest area of the house to keep tidy.

Use this brilliant idea to create some extra storage in your entrance hallway, simply by painting some crates and hanging them up to use as shoe or bag storage.

Or why not use a cardboard wine box as a shoe rack? Keeps mud from carpets and saves the environment at the same time.

Kitchen
Re-use your old wet wipe containers as somewhere to store plastic supermarket bags. These tubes can hold a surprisingly large amount of bags, and this keeps them dry and in one place, saving space.

The question of how to store pan lids is a constant source of frustration. But by fixing an old magazine rack to the inside of a cupboard, lids can be securely stored by using space not previously used.

Bathroom
If you want a unique bath mat with a touch of the homemade feel, this is the perfect item for your bathroom. Depending on the size of mat you require, you'll need around 200 wine corks, some plastic liner, and a glue gun to construct this wonderful bath mat. It looks great, saves you money, and works brilliantly.

Bedroom
It can be tough storing wrapping paper throughout the year, especially keeping it in a good condition to use for presents. But this ingenious method of storing wrapping paper above a closet using four anchors, screws and some galvanized wire makes full use of some wasted ceiling space and keeps your wrapping paper crease free.

Hang handbags in the wardrobe by using shower curtain hooks. This not only saves space in the bottom of the wardroom where handbags may be stored previously, but it also helps to protect your handbags, keeping them in better condition for longer.

Garage

Keep large green bags for garden waste in the garage by installing a kitchen roll holder. Such a clever idea - just make sure the kitchen roll holder is secured well as garden waste bags are a lot heavier than kitchen roll.

Garden

Need a way to organise your arsenal of gardening tools? Nail off-cuts of piping to the inside of your shed or garage to hold rakes, brooms and other gardening tools to keep them in one place and easy to access.

Another option
Hopefully this list of eco-friendly storage ideas will inspire you to start thinking differently when it comes to storage at home. But if you still can't make enough room for your items, there's also another option; self-storage.

Safestore is a self-storage company that has over 100 centres located across the UK, offering safe, secure and convenient storage solutions for every need.

So if you feel the need to de-clutter your home, store some furniture or clear out the hallway before designing a new unique storage solution, Safestore can provide safe and secure storage at a price you'll find competitive.

For more tips to 'Go Green' visit http://www.safestore.co.uk/blog/2015/03/go-green-eco-friendl...
This press release was distributed by ResponseSource Press Release Wire on behalf of Louise French PR in the following categories: Leisure & Hobbies, Home & Garden, Women's Interest & Beauty, for more information visit https://pressreleasewire.responsesource.com/about.