IGEL supports Windows MultiPoint Server 2012 to offer a low-cost virtual desktop solution for Education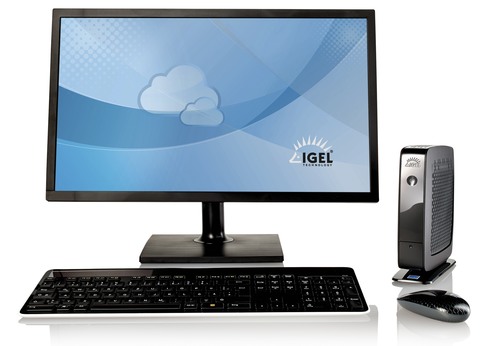 if schools are looking to move to Multipoint or VDI, IGEL can deliver the ultimate combination of hardware, software and management.
Ideal for the classroom and easy to maintain and operate

Reading, UK. 16th September 2015 – Schools, colleges and universities can now deploy secure and low-maintenance virtual desktops with confidence across their organisations following IGEL Technology's announcement that its thin and zero clients now support Microsoft Windows MultiPoint Server.

With its MultiPoint Server, Microsoft enables schools to roll-out virtual desktops running Windows 7, 8 and 10 to workstations across an organisation. The virtual machines run on the same host computer as the one running the server operating system. When it comes to accessing the virtual desktops, IT decision makers can now opt for IGEL thin and zero clients running the Linux operating system on the desktops.

"With Microsoft offering particularly low-cost license packages for academic institutions and IGEL's desktop devices being renown for their low operating costs, easy and secure central management and long life spans, the combination is an attractive IT desktop option for the Education sector," said Simon Richards, Managing Director for IGEL UK & Ireland. "In addition, schools can extend the life of their current desktops to deliver a Cloud or Server-Based Computing architecture or to produce a shorter return on investment when migrating to a Virtual Desktop Infrastructure (VDI) environment by using our Universal Desktop Converter 2 (UDC2) software thin clients to convert old PCs, notebooks and thin clients into IGEL-like devices. So if schools are looking to move to Multipoint or VDI, IGEL can deliver the ultimate combination of hardware, software and management."

Ideal for the classroom

Designed as an operating system for multiple-user computers, the MultiPoint Server makes working in a school setting easier and combines a number of practical features which are necessary for class work. These include the ability to launch applications centrally, show the teacher's screen on all or individual clients, and the ability to secure or block functionality at selected workstations.

Compared to conventional VDI models, the MultiPoint Server solution offers a low-cost introduction to virtual desktop computing, especially in scenarios with up to approx. 15 workstations. In order to set up a MultiPoint Server-based environment, IT managers will require a high-performance host computer hosting the MultiPoint Server operating system, the thin or zero client hardware, the Windows MultiPoint Server 2012 license plus Client Access Licenses (CAL) for each workstation and the virtual Windows desktops.

Availability

Windows MultiPoint Server 2012 will be supported from the latest firmware version (5.07.100) for the Linux-based IGEL thin clients in the UD series and for the IGEL IZ2/IZ3 RFX zero client models. The firmware can be downloaded free of charge from www.myigel.biz. Details of the prices for Windows MultiPoint Server 2012 are available from certified system houses.

About IGEL Technology

A world leader in thin and zero client solutions, IGEL Technology helps organizations improve the agility, efficiency, and security of their virtual desktop and application delivery systems. IGEL produces one of the industry's widest range of hardware thin and zero clients, based on Linux and Microsoft Windows, and leads the market in software based thin clients allowing customers to access a broad spectrum of server-based infrastructures and applications. IGEL also offers powerful and intuitive management software for easy deployment and administration of thin clients throughout any size organization. Partnerships with industry leaders like Citrix, VMware, Red Hat, and Microsoft ensure that IGEL provides the most up-to-date technology and trustworthy security to clients in industries that include Healthcare, Education & Research, Public Sector, Financial, Insurance, Retail, Logistics, and Manufacturing. IGEL has offices in the United Kingdom, Australia, France, the Netherlands, Austria, Belgium, Switzerland, Sweden, the United States, Germany, Hong Kong, Shanghai, Beijing and Singapore and is represented by partners in over 50 countries worldwide. To learn more, visit www.igel.co.uk or follow us on Twitter: twitter.com/IGEL_Technology

Editorial Contact:
Paul Smith
Tel: +44 (0)7770 828525
Email: paul@ambergroup.net
This press release was distributed by ResponseSource Press Release Wire on behalf of The Amber Group in the following categories: Education & Human Resources, Computing & Telecoms, for more information visit https://pressreleasewire.responsesource.com/about.