Oxted Not-For-Profit Organisation Nominated for FSB Surrey Award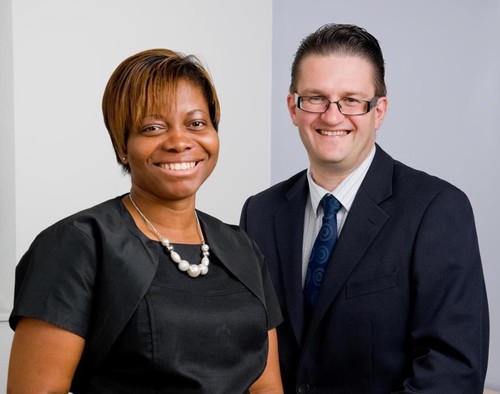 Not many people are really aware of the extent that diabetes can affect the feet, and this lack of awareness and knowledge has to be addressed
Undefeeted by Diabetes, an Oxted-based not-for-profit organisation run by husband and wife Peter and Tina Allton, has been shortlisted as a finalist at the prestigious Federation of Small Businesses' Surrey Awards, to be held on Wednesday November 18.

The event, which will be held at Mercedes-Benz World, Brooklands Drive, Weybridge, Surrey KT13 0SL, celebrates hard work, endeavour and enterprise in businesses and organisations across Surrey.

Peter Allton states, β€œNot many people are really aware of the extent that diabetes can affect the feet, and this lack of awareness and knowledge has to be addressed."

β€œPeople with diabetes have a much greater risk of developing problems with their feet, due to the damage that raised blood glucose can cause to sensation, circulation and the body's ability to fight infection.

β€œIt is shocking that in 2015 in the UK, more than 135 people with diabetes have a lower limb amputation every week. Globally, the rate of amputations stands at one every 20 seconds. Equally shocking yet interesting is the fact that 85% of these amputations can be prevented with greater awareness and action.

β€œThis is why I wrote the book β€˜Undefeeted by Diabetes' and why Tina and I are using it to start a global campaign to cut down the number of people losing lower limbs to the disease."

β€˜Undefeeted' focuses on helping people with diabetes live in what Peter Allton calls the β€˜diabetic sweet spot' – the safest possible position for them. The β€˜sweet spot' refers to a combination of knowledge of what can go wrong, awareness of their personal risk and taking appropriate and timely action that helps them to live full and healthy lives.

The organisation also organises a network of podiatrists around the UK. With its main UK partners JDRF UK and LBG Medical, it aims to make free foot check-ups available to diabetes sufferers and those at risk of developing it.

Currently, only half of diabetes patients in the UK have had their feet checked by a healthcare professional and only a third of those are aware of whether they are at low, moderate or high risk of running into a serious foot problem as a result of their condition.

Having qualified as a podiatrist in 1988, Peter Allton has 27 years of experience and has treated over 200,000 feet.
Peter Allton said, β€œMy life changed five years ago when I was diagnosed with Type 2 diabetes, and I soon became aware of how difficult the condition is to manage. When my 11-year-old daughter Jasmine was diagnosed with Type 1 diabetes, we soon became aware that there is little in the way of publicly available advice for diabetes sufferers.

β€œJasmine was lucky because I am a qualified podiatrist, but there are many people who are not receiving the right information on how diabetes can affect the lower limbs and what can be done to manage the risk.

Tina Allton, co-founder of β€˜Undefeeted', said, β€œWe realised that with Peter being a podiatrist with diabetes and a diabetic daughter, we were in a unique position to make a global difference. We are probably the only family in this position in the whole world.

β€œWith numbers of diabetes sufferers rising around the world and healthcare services such as the NHS extremely stretched, β€˜Undefeeted' will help by giving people the tools to take ownership of an aspect of their health."

Dean Benton, Head of Fundraising at JDRF, the UK's leading Type 1 diabetes charity, said, β€œThe JDRF has recently entered into partnership with Peter and Tina at β€˜Undefeeted' because we are so impressed with the huge strides they are making in diabetes awareness, especially its impact on foot health.

β€œβ€˜Undefeeted' does not just raise awareness, though. Tina and Peter have created a movement – which is gathering momentum – to encourage podiatrists to donate some of their time to check the feet of diabetes sufferers for free.

β€œWe congratulate Tina and Peter on their nomination, which is well deserved, and wish them the very best of luck in the awards event!"

Peter and Tina Allton are also the Clinical Director and Practice Manager at Circle Podiatry since 2001. It has two branches – one in Oxted, Surrey and one in Lewisham, South London. Circle Podiatry is the UK's only multi-award winning private podiatry brand.

Links:
http://www.undefeeted.org/
http://www.circlepodiatry.co.uk/
https://www.diabetes.org.uk/Get_involved/Campaigning/Our-cam...
https://twitter.com/beundefeeted
https://www.jdrf.org.uk/

ENDS

Media information provided by Famous Publicity. For more information, please contact:
George Murdoch at george@famouspublicity.com or 07834 643 977.
Tina Fotherby at tina@famouspublicity.com or 07703 409 622.

About Peter Allton

Peter Allton is the clinical director of Circle Podiatry, which has clinics in Lewisham, South London and Oxted, Surrey, and is the UK's only multi-award-winning podiatry β€˜brand'. As a podiatrist his life's work has been fixing people's feet and lower limbs. He is also the founder of β€˜Undefeeted', a global campaign, powered by Circle Podiatry, which aims to reduce the number of avoidable diabetes-related lower limb amputations.

After spending 13 years working in community and hospital clinics for the NHS in the UK, Peter set up his private practise in 2001: Circle Podiatry. He qualified as a podiatrist in 1988 and has treated more than 200,000 feet.
In 2005 his wife Tina left her teaching career to become practice manager and has become a driving force behind the success of Circle Podiatry. Together they have led their team to win numerous awards and become the UK's only multi-award-winning podiatry brand.

Peter has always been aware of the importance of diabetes when treating feet, especially since he was diagnosed with Type 2 in 2010. But it was his daughter's diagnosis with Type 1 at the age of 11 that changed the emphasis of his career forever. He realised that he was probably the only podiatrist in the world with Type 2 and a daughter with Type 1 and he has since made it his mission to do something about the horrific diabetes statistics.

Every 20 seconds, somewhere in the world, a person with diabetes is undergoing a lower limb amputation. It is estimated that 85% of these could be avoided. It is Peter's vision that by 2035 the β€˜Undefeeted' campaign will help to cut that number by two thirds.
This press release was distributed by ResponseSource Press Release Wire on behalf of Undefeeted in the following categories: Children & Teenagers, Men's Interest, Health, Women's Interest & Beauty, Business & Finance, Education & Human Resources, Medical & Pharmaceutical, Media & Marketing, for more information visit https://pressreleasewire.responsesource.com/about.