THE CORPUS CLOCK JOINS THE UK'S MOST STUNNING LANDMARKS TO TURN PINK FOR BREAST CANCER NOW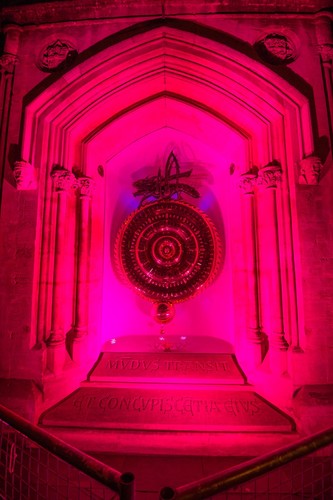 I'm thrilled that The Corpus Clock has joined some of the UK's most classic landmarks and stunning modern builds to launch wear it pink 2015
The Corpus Clock has joined forces with some of the nation's finest pieces of architecture last night (Wednesday 21st October) to light up pink for Breast Cancer Awareness Month's leading fundraising campaign, wear it pink.

The Corpus Clock is one of 19 landmarks across the UK to turn pink to help raise awareness of wear it pink, which raises vital funds for the UK's largest breast cancer charity, Breast Cancer Now.

A mixture of the nation's beautiful historic and more modern landmarks shone pink throughout the evening in a bid to remind the public to support the renowned fundraiser, wear it pink day, which takes place tomorrow, Friday 23rd October.

Other landmarks which also turned pink included London's HMS Belfast, Trafalgar Square Fountains, 20 Fenchurch Street's Sky Garden, Tower 42, Granary Square Fountains at King's Cross, Selfridges Birmingham, Library of Birmingham, The Eastgate Clock – Chester, Derry Offices of the Derry City and Strabane District Council - Northern Ireland, The Falkirk wheel – Scotland, Brighton Wheel, Gateshead Millennium Bridge - Newcastle, Isle of Man's Tower of Refuge, Port of Liverpool Building, Nottinghamshire's Newark Castle, Avon Cosmetics HQ - Northampton and Cornwall's Eden Project and St Michael's Mount.

2015 marks a special year for wear it pink, having raised an incredible £27million since it began in 2002.The event is now launching for the first time for new charity Breast Cancer Now – formed from the merger of Breast Cancer Campaign and Breakthrough Breast Cancer – and it's bigger and pinked than ever!

Ellie Adam, wear it pink project manager, said: "This is such a special time for Breast Cancer Now and our supporters – I'm thrilled that The Corpus Clock has joined some of the UK's most classic landmarks and stunning modern builds to launch wear it pink 2015.

"wear it pink is a fantastic opportunity to have some fun, while raising much needed money to support Breast Cancer Now. We're aiming to raise an incredible £3 million this October to fund our ground-breaking research, but we can only do it with your help. It's not too late to do your bit, simply text PINK to 70444 and give £3 to help stop breast cancer."

Breast cancer is the most common cancer in the UK - around 1,000 women will die from breast cancer this month in the UK alone. wear it pink encourages everyone to wear something pink and make a donation during October's Breast Cancer Awareness Month. Every penny raised means our incredible researchers have the support they need now to create a future where no one dies from breast cancer.

Dr John C Taylor, former Cambridge University student and inventor of the Corpus Chronophage clock, said: "We are delighted to be supporting this fantastic event in aid of Breast Cancer Now.

"Breast cancer is a devastating disease, and the people of Cambridge are keen to help raise as much awareness and money as possible in order to one day put a stop to it. It would be great if everyone could get behind the wear it pink campaign and text PINK to 70444 and give £3 to help support the life-saving research Breast Cancer Now is funding."

It's not too late to join the hundreds of thousands of supporters who are raising money for wear it pink - simply text PINK to 70444 and give £3 to help Breast Cancer Now fund life-saving research*.

For more information, please visit wearitpink.org

ENDS

IMAGES

To view a gallery of images of all of the Pink Landmarks please click in the link below: http://assignments.rexfeatures.com/Breast-Cancer-Now/Pink-La...

Password: BCN

To view even more images please visit www.rexfeatures.com or contact James Pinniger at Rex Features 0207 278 7294 / jpinniger@rexfeatures.com

Press office contact: Sarah Timms, Senior PR & Celebrity Officer, Breast Cancer Now, sarah.timms@breastcancernow.org, 020 70252 496 out of hours: 07778 682 001.

Notes to Editors:

- Photography credit
o The Corpus Clock: Matthew Power/REX Shutterstock
o all pictures courtesy of REX Shutterstock
- Facilities Management Partner Cofely light up HMS Belfast to support IWM as part of Breast Cancer Awareness Month

About Breast Cancer Now:

- Breast Cancer Now is the UK's largest breast cancer charity.
- Breast Cancer Now's ambition is that by 2050 everyone who develops breast cancer will live. The charity is determined to stop women dying from the disease, working in a new, collaborative way and bringing together all those affected by the disease to fund research, share knowledge and find answers.
- Breast Cancer Now's world class research is focused entirely on breast cancer. The charity supports nearly 450 of the world's brightest researchers at more than 20 locations across the UK and Ireland. Together, they're working to discover how to prevent breast cancer, how to detect it earlier and how to treat it effectively at every stage so we can stop the disease taking lives.
- Breast cancer is still the most common cancer in the UK. Nearly 700,000 people living in the UK have experienced a diagnosis and one in eight women will face it in their lifetime. This year alone, more than 50,000 women will be told they have the disease.
- The UK still has one of the lowest breast cancer survival rates in Western Europe and this year alone nearly 12,000 women will lose their lives. It's time to act.
- Breast Cancer Now launched in June 2015, created by the merger of leading research charities Breast Cancer Campaign and Breakthrough Breast Cancer.
- For more information on Breast Cancer Now's work, visit breastcancernow.org or follow us on Twitter or on Facebook.

*You will be charged £3 plus one message at your standard network rate. Breast Cancer Now will receive 100% of your donation. To discuss this donation, call 0333 20 70 300 (Mon-Thurs 9:00am to 5:30pm and Fri 9:00am to 4:30pm). By using this service, you agree that we may contact you in the future. If you'd rather we didn't, text NOCALL to 70004.
This press release was distributed by ResponseSource Press Release Wire on behalf of Dr John C Taylor OBE in the following categories: Men's Interest, Health, Women's Interest & Beauty, Travel, Medical & Pharmaceutical, Media & Marketing, Public Sector, Third Sector & Legal, Manufacturing, Engineering & Energy, for more information visit https://pressreleasewire.responsesource.com/about.