How to Become a Smart Factory: Packaged Pilot Gives Manufacturers Easy-access to Leading Industry 4.0 Technology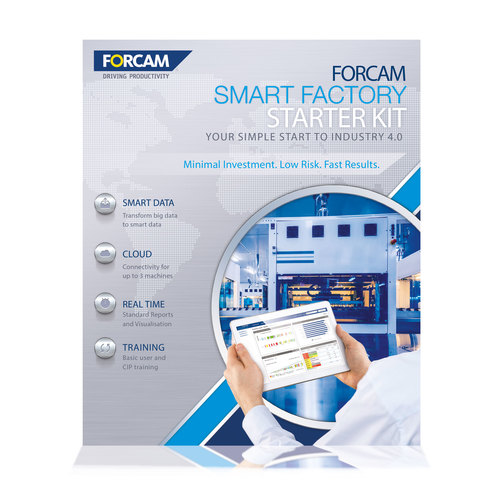 Real-time information on shop floor activity will lead to better understanding of operations. This means fewer unplanned outages, less waste and re-work, improved job cycle times and less capital tied up in work-in-progress leading to higher returns on capital employed and better productivity. Despite this, many firms find even the task of setting up a small scale shop floor monitoring pilot to be daunting.

To overcome these problems Forcam, the pioneers of shop floor connectivity and networking, has introduced 'Smart Factory in a Box'. This enables companies to trial and prove the effectiveness of a cloud-based shop floor manufacturing execution system (MES) in a small scale trial with minimal cost, risk and disruption.

Forcam's UK managing director Andrew Steele explained, "Companies like Audi, BorgWarner, Weir Minerals and GKN Aerospace have recorded substantial improvements in productivity and are using real-time shop floor data to supercharge their ERP systems. There is no substitute for live experience so we have produced a pilot package that enables companies, regardless of size, to set up a small scale trial so teams can fully appreciate the potential gains to them."

The starter kit is a fully enabled version of the Forcam Force MES. This will equip supervisors, managers and operators with detailed, role-relevant dashboards to give a real-time view of shop floor operations so problems can be seen and quickly rectified. The smart factory starter kit networks up to three machines for data capture, with information processed in the cloud to deliver reports on performance that are immediately actionable.

The trial packages provides for basic user training, set-up for the three machines and a license to operate the software for three months. The company will provide full support through the trail with follow-on advice on how to scale up and customise the application to optimise performance.

Andrew concluded, "The starter kit makes it easy for any company to gain first-hand experience in deploying an advanced MES system and appreciate the many benefits that this brings to the business. There is minimal risk or disruption and we are confident that once manufacturers see the potential gains, all team members will be keen to expand the system.

Further details on the Forcam starter kit are available from Forcam UK on 01606 833 837 or on the web at this link. The company is also at the Advanced Engineering Show November 4-5 – Stand H62. Andrew will be making a presentation in Forum 5 on November 5, at 12.15pm.

More Information

United Kingdom
Andrew Steele, UK Managing Director Tel. 01606 833 837
E-mail: andrew.steele@forcam.com Web: www.forcam.com
FORCAM UK, 6.1 Verity Court, Pochin Way, Middlewich, Cheshire, CW12 0GW

Germany
Vincent Post, International Marketing & PR Manager, Tel. +49 (0)751/36669 – 826
E-mail: Vincent.post@forcam.com Web: www.forcam.com
FORCAM GmbH, An der Bleicherei 15, D-88214 Ravensburg, Germany

Images are on the web at www.ainsmag.co.uk/fo255/5460fo1a-forcam-smart-factory-in-a-b...
This press release was distributed by ResponseSource Press Release Wire on behalf of Ainsworth Maguire in the following categories: Manufacturing, Engineering & Energy, Computing & Telecoms, Transport & Logistics, for more information visit https://pressreleasewire.responsesource.com/about.