Peter Bray Takes the Stress out of Truro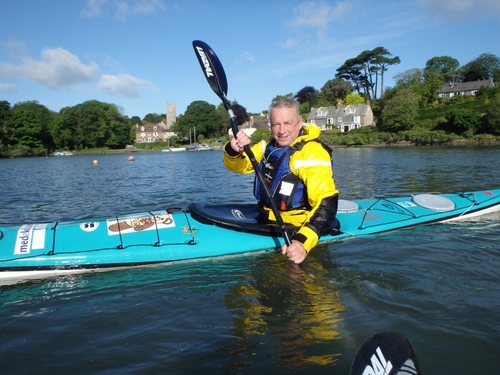 Knowing how to deal with it doesn't just make stress more bearable – it also makes you perform better
At 7PM on Wednesday December 2, Truro-based Peter Bray of Kernow Coaching will deliver a free-of-charge evening entitled 'Stress Management with a Difference', at which Peter will use his extensive adventuring and military experience to explore situations of extreme stress and how to deal with them.

The evening, which will take place at the Health and Wellbeing Innovation Centre, Treliske, Truro, Cornwall TR1 3FF will explore the themes of mind over matter, how the brain works in times of stress, and coping mechanisms to deal with stress.

Although there is no charge for the event, in order to avoid disappointment please register by emailing HWICEvents@plymouth.ac.uk.

Peter's business Kernow Coaching teaches kayaking and outdoor and survival skills, and Peter also gives a range of courses in leadership, stress management, motivation and goal setting.

Peter Bray was the first person to kayak across the North Atlantic from Newfoundland to Ireland in 2001, a feat that he achieved alone and unsupported, with the prevailing wind and currents against him.

This 4,800km, 76-day expedition is documented in his book Kayak across the Atlantic. For ten years, he held the world record for the longest open-water crossing ever undertaken by a kayaker.

Peter, who was born in Plymouth to a Cornish family, said, "My experiences in extreme situations have given me a deep understanding of what stress is and what it can do to a person. Knowing how to deal with it doesn't just make stress more bearable – it also makes you perform better.

"At 'Stress Management with a Difference' we'll be looking at tense situations from my past, such as being unable to make a hot meal or have a hot drink in sub-zero temperatures, dealing with vital equipment failure in the middle of the Atlantic, coping with meeting people for the first time in 76 days, or being shot at and blown up by foreign police forces.

"We will then discuss how the methods I used in those situations can be applied to everyday life."

Peter's background makes him well qualified to speak about stress. In 2004, Peter was part of a four man crew on the Pink Lady, a rowing boat sponsored by the apple brand. The team attempted the fasted row crossing from St John's, Newfoundland to Falmouth, England. After 39 days at sea and with less than a week to go, the boat was struck by Hurricane Alex and split in two.

Pete saved the lives of his fellow crewmates by diving for the grab bag that contained the satellite phone and then diving for the life raft.

In June 2005, he was awarded a bronze medal by the Royal Humane Society in recognition for his bravery on the Pink Lady expedition.

In the same year, with three others, Peter kayaked around the island of South Georgia, Antarctica, setting the record for the fastest circumnavigation, completed in 13 days.

Peter's last big nautical adventure in 2009 was a solo row from St John's, Newfoundland to the Isles of Scilly, to beat the speed record of 64 days. After 42 days he was forced to accept rescue because he was in the path of Hurricane Bill.

In August 2014, Peter completed a 21-day, 15,000 mile motorbike trek to all 25 EU capital cities plus three non EU countries. He and a colleague are the only people to have ever achieved such a feat. Sleeping rough and riding for up to 16 hours a day, he averaged over 700 miles a day despite poor roads, mechanical failures and missed ferries. Between Berlin and Stockholm Pete motorcycled for 26 hours in one stretch, only stopping to refuel.

Peter Bray's adventures:

2015 Cockleshell Heroes Re-enactment for ACCR
2014 Triumph over Tragedy trek to all 25 EU capitals
2009 Solo row across Atlantic
2005 Kayak circumnavigation of South Georgia, with two others
2004 Pink Lady Atlantic Row
2003 Solo kayak circumnavigation of Newfoundland
2001 Solo Kayak from Canada to Ireland (only person to have ever kayaked across the Atlantic)
1997 Team crossing of English Channel in a Klepper (a collapsible two men boat)
1996 Kayak circumnavigation around British Isles with Steve McDonald
1994 Climbed Old Man of Hoy
1978 Kayak across the English Channel

In addition, Pete has been a microlight pilot, run ten marathons and completed the Devizes to Westminster race ten times. He has also participated in many triathlons, once including a swim from Alcatraz in San Francisco bay. Pete worked for 24 years as a soldier, starting in the Devon and Dorsets and spending the last 15 years in the SAS regiment.

Useful links:

Pete Bray's book, Kayak Across the Atlantic: http://www.amazon.co.uk/Kayak-Across-Atlantic-Peter-Bray/dp/...
Kernow Coaching: www.kernowcoaching.com
'Stress Management with a Difference' event page: http://www.cornwallinnovation.co.uk/tremough-innovation-cent...
Health and Wellbeing Innovation Centre: http://www.cornwallinnovation.co.uk/health-wellbeing-centre

ENDS

Interviews and additional images available on request.

Media information provided by Famous Publicity. For further information, please contact George Murdoch on 07834 643 977 or email george@famouspublicity.com or Tina Fotherby on 07703 409622 or emailtina@famouspublicity.com.
This press release was distributed by ResponseSource Press Release Wire on behalf of Kernow Coaching in the following categories: Men's Interest, Health, Women's Interest & Beauty, Business & Finance, Education & Human Resources, Media & Marketing, for more information visit https://pressreleasewire.responsesource.com/about.