UK is Least Green Country in Western Europe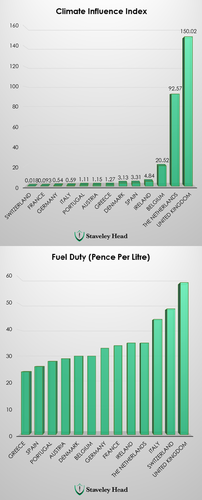 Britons are currently paying 58 pence in fuel duty per litre, a far cry from Greece's 24 pence per litre.
Research conducted by insurance firm Staveley Head has identified the UK as the least green country in Western Europe, with a Climate Influence Index of 150.02 – that's 750,000% higher than Switzerland who placed at the top of the pack as the greenest country. Findings also highlighted that Britons are paying the highest fuel duty in the region.

Staveley Head's 'Climate Influence Index' score provides an indicator how much a country is affecting the environment. The Climate Influence Index is calculated using the latest figures on the country's oil exports multiplied by their oil consumption and divided by the percentage of their domestic energy consumption produced from renewable sources, all of which can be found on Staveley Head's Petrol Price Index, an online interactive dashboard that compares fuel costs of countries around the world.

After the UK, The Netherlands featured second to bottom of the list with an index of 92.57, followed by Belgium with 20.52. On the other end of the spectrum, Switzerland was found to be the greenest with a score of 0.02 followed by France with 0.09.

Despite UK petrol prices being at their lowest in years, additional findings by Staveley Head found fuel duty in the UK to be the highest in Western Europe. Britons are currently paying 58 pence in fuel duty per litre, a far cry from Greece's 24 pence per litre.

Ashley Peters, Managing Director at Staveley Head comments: "As a provider of commercial vehicle insurance, we're acutely aware of the need for a reduction in the overall cost of motoring. As the UK currently has the highest rate of fuel duty in Europe, we feel that a reduction of several pence per litre would be the obvious place to start.

"Similarly, we were disappointed to discover that the UK is currently lagging behind the rest of the continent in the Climate Influence Index and would call on the government to take steps to try and bring us in line with the rest of the continent over the coming years."

The Petrol Price Index monitors the cost of fuel in countries around the world and other data such as oil imports, GDP per capita, human development index and population. The tool also includes a fuel cost calculator that enables users to calculate their fuel costs based on the make and model of car and annual mileage.

To find out more, please visit:
Staveleyhead.co.uk

ENDS

For more information, please contact:
Naomi Chow, PR & Community Manager, Jellyfish on 01273 258 160 or naomi.chow@jellyfish.co.uk

Climate Influence Index

Switzerland 0.018
France 0.093
Germany 0.54
Italy 0.59
Portugal 1.11
Austria 1.15
Greece 1.27
Denmark 3.13
Spain 3.31
Ireland 4.84
Belgium 20.52
The Netherlands 92.57
United Kingdom 150.02

Fuel Duty

Greece 24
Spain 26
Portugal 28
Austria 29
Denmark 30
Belgium 30
Germany 33
France 34
Ireland 35
The Netherlands 35
Italy 44
Switzerland 48
United Kingdom 58


About Staveley Head

Established in 1991, Staveley Head has grown to become one of the most respected providers of specialist insurance products and today employs over 90 people, principally in North Wales. Staveley Head Limited is authorised and regulated by the Financial Conduct Authority.

Staveley Head provides high-quality insurance covering:
• Commercial vehicle insurance
• Business insurance
• Personal vehicle insurance
• Home insurance
• Travel insurance
This press release was distributed by ResponseSource Press Release Wire on behalf of Staveley Head in the following categories: Environment & Nature, Business & Finance, Transport & Logistics, for more information visit https://pressreleasewire.responsesource.com/about.