New software helps schools to ensure students' online safety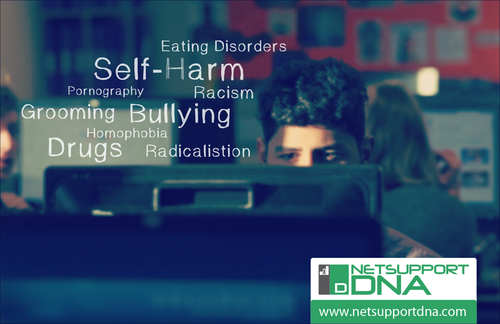 New software helps schools to ensure students' online safety

A UK software developer is set to give schools and colleges a significant helping hand with their duty to protect students' online safety.
NetSupport Ltd, located near Peterborough in Cambridgeshire, has developed new technology that not only helps to keep students safe on the web by monitoring and restricting the scope of their internet use, but also provides them with an avenue to report any concerns they may have – in confidence – to a trusted member of staff.

And with children aged between 8 and 15 now spending more than twice as much time online at school and at home as they did a decade ago, there is now more of a need for this kind of protective measure than ever.*

The software's release supports the new Government proposals announced on 22nd December 2015 to strengthen the current Prevent duty legislation** – obliging schools to introduce filtering technology and monitor pupils' internet use more closely to safeguard and promote their welfare and prevent them "from being drawn into terrorism." ***

The safeguarding tools are supplied as part of NetSupport's IT asset management solution for education, NetSupport DNA, a solution already helping schools to manage their IT assets, reduce operational costs and improve system security.

Using advanced neurolinguistics technology, the product's comprehensive keyword monitoring feature provides schools with an insight into what students are typing (both online and in programs such as Word) and draws on an extensive database of keywords and phrases covering the spectrum of safeguarding topics: from cyber bullying, sexual abuse, eating disorders and pornography to the potential for radicalisation.
This means staff can be alerted to activity by students who are potentially open to physical or emotional harm and allows them to take the appropriate action.

Ensuring students can report any anxieties they might have is key to an effective safeguarding policy. The new "Report a concern" feature of NetSupport DNA's safeguarding module provides a simple and accessible way for students to initiate contact with trusted members of staff for help or guidance.

NetSupport has worked with internationally-operating organisation, the Internet Watch Foundation, to ensure the keywords supporting the technology are as comprehensive and relevant as possible. In addition, the company has collaborated closely with its local authority, Peterborough City Council, and school safeguarding leads, as well as conducting its own research with groups of students on the language that they use every day.

Commenting on NetSupport's safeguarding innovations, the Head of School Improvement at Peterborough City Council, Gary Perkins, said: "Peterborough is a rapidly growing city with a huge diversity of social and cultural backgrounds, and the City Council is at the forefront of innovative strategies to improve outcomes and life chances for all children.

"Working with local businesses is a key element of this and our collaboration with NetSupport, and in particular NetSupport DNA, is a very exciting development for us all."

Talking about the Internet Watch Foundation's collaboration with NetSupport, Nicky Peachment, IWF Commercial Relationship Manager, said: "We use our expertise to work with partners across the world to eliminate online child sexual abuse material, so we welcomed the opportunity to assist NetSupport as it developed this important safeguarding technology which we are sure will be welcomed by schools."
NetSupport's Managing Director, Al Kingsley, explained the decision to extend the remit of the solution: "The increasing use of technology in schools brings with it the responsibility to keep students safe. Schools that have already invested in IT management tools to ensure cost efficiencies and secure their networks, can now leverage the benefit of these extra safeguarding features at no additional cost – and those wishing to enhance their safeguarding policies will find the product's additional management and security features (including webcam blocking; options to ensure the secure use of USB memory sticks; and the enforcement of schools' Acceptable Use Policies) a major plus point.

"With 26 years' experience in the sector and over 14 million users in 60 countries around the globe already, we've put our money where our mouth is and any school can download and try the product for free."
To learn more about NetSupport DNA or to download a free 50-PC trial copy, visit www.netsupportdna.com/education where product video tours, walk-throughs and a range of supporting resources are also available.

***Ends***

Notes to editors:

About NetSupport

Headquartered near Peterborough, Cambridgeshire, and with a 26-year development pedigree, NetSupport is an award- winning developer of IT Asset Management, Classroom Management, Desktop Security, ITIL ServiceDesk and Desktop Alerting software.

NetSupport solutions and their derivatives are sold worldwide and enjoy market-leading status in many countries. Its flagship classroom management solution, NetSupport School, has been named a finalist at the prestigious Bett Awards 2016 – and NetSupport itself was awarded the title of Global Education Supplier of the Year at the 2015 GESS Awards in Dubai.

For more information about NetSupport, visit www.netsupportsoftware.com.

Project partners
• Internet Watch Foundation: www.iwf.org.uk
• Peterborough City Council: www.peterborough.gov.uk

Press Contact

For further information or to schedule an interview, please contact Katie Hall, Marketing and Communications Manager at NetSupport.
Email: k.hall@netsupportsoftware.com
Tel: 01778 382270

*Children and Parents: Media and Attitudes report – Ofcom (20/11/15).
**The Prevent duty: Departmental advice for schools and childcare providers – Department for Education (June 2015).
***Quote from Counter-Terrorism and Security Act 2015.
This press release was distributed by ResponseSource Press Release Wire on behalf of NetSupport in the following categories: Education & Human Resources, Computing & Telecoms, for more information visit https://pressreleasewire.responsesource.com/about.