"TWITTER IS DOWN" #FIRSTWORLDPROBLEMS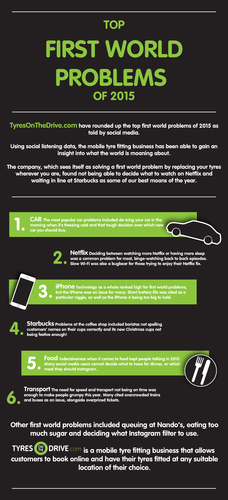 Brits moaned a third more in the first week of January this year compared any other month last year.
THE WORLD was sent into social chaos on Tuesday as millions were left yearning for networking site Twitter.

But the two-and-a-half-hour technical glitch didn't stop the web from having a humorous moan - with many taking to other platforms to complain about their Twitter #FirstworldProblems.

With millions worldwide unable to share, like and retweet their wonders and woes, the complaining hashtag was alive in full force when the site rebooted.

Using data from social media, TyresOnTheDrive.com, a mobile tyre fitting company who sees itself as a solution to a first world problem, has found that Brits moaned a third more in the first week of January this year compared any other month last year.

From Twitter deprivation to Blue Monday behind us, TyresOnTheDrive.com reflect on some of the new years finest #FirstWorldProblems this January.

"Good to have @twitter back. I was afraid we were going to have to, you know, actually communicate in person. #firstworldproblems"

"When you're so bored at work that you are completely up to date with all whatsapp conversations. #firstworldproblems"

"When Instagram takes you back to the top of your newsfeed when you've been scrolling for ages & not yet finished #firstworldproblems"

"How am I supposed to drink in our hot tub when the water comes up to my chin" #firstworldproblems"

"Just dropped and smashed 2 bottles of @waitrose wine. This is possibly the worst thing that has EVER happened to me #firstworldproblems"

"Accidentally swiping right instead of left!! #firstworldproblems"

"Come on @HSBC_UK! I was hoping to do my monthly accounts spreadsheet tonight! #firstworldproblems"

"Damn it! I just over-melted the brie #FirstworldProblems"

"Got my music at barely audible levels because Yodel are delivering my Nespresso capsules. #FirstWorldProblems"

"I'm on a coach with no wifi and no plug sockets. Stone Age. #FirstWorldProblems"

"It is a real issue that convenience stores don't sell fresh ginger! #FirstWorldProblems"

"I put my fitness tracker on last night but forgot to change it to sleep mode and therefore didn't get any data. #FirstWorldProblems"

The research comes after Cheshire-based TyresOnTheDrive.com found that the top first world problems of 2015 were:

• Car problems
• Deciding which Instagram filter to use
• The iPhone 6 being too wide to hold

Our moans of 2016 so far have been:

• The temperamental weather
• Struggling with the gym after the new year
• Sleep issues after returning to work

TyresOnTheDrive.com is a mobile tyre fitting business that allows customers to book online and have their tyres fitted at any suitable location of their choice.

For more information contact Helen or Rick at Smoking Gun PR 0161 8391986 helen@smokinggunpr.co.uk
This press release was distributed by ResponseSource Press Release Wire on behalf of Smoking Gun PR in the following categories: Men's Interest, Entertainment & Arts, Leisure & Hobbies, Women's Interest & Beauty, Consumer Technology, Motoring, Business & Finance, Transport & Logistics, for more information visit https://pressreleasewire.responsesource.com/about.