Carpenter's pioneering material invention aims to ease floods heartache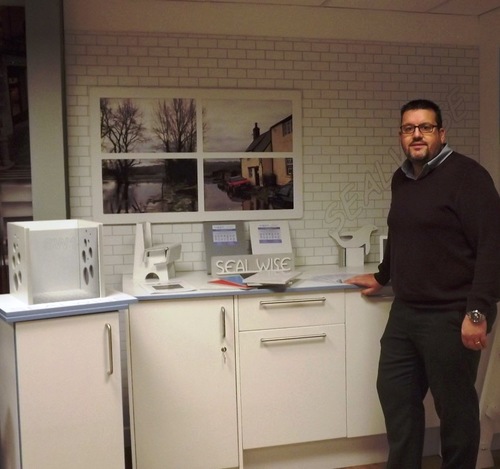 It felt like déjà vu over Christmas, having to watch so many people going through the misery of flooding again up and down the country.
A former serviceman who created an innovative waterproof material after seeing the devastating effects of flooding is now determined to use it to help save future heartache for businesses and homeowners across the UK.

Carpenter Paul Huggins believes Sealwise WCB (http://www.sealwise.co.uk) – waterproof construction board - could help save millions of pounds in ruined property, as well as preventing people having to face the dreadful destruction wreaked by flood waters.

The 49-year-old businessman, based at Axbridge in Somerset, studied joinery and carpentry while serving in the RAF. He developed the idea for his unique material to replace traditional woods and MDF whilst he was ill in hospital, and faced with images of suffering from Midlands residents hit by flooding in 2012.

Incapacitated by the effects of a disease called Ankylosing Spondylitis, which left him temporarily parlaysed for four weeks, and then unable to walk for four years, Mr Huggins spent his time tirelessly researching.

As well as the floods, he was also affected by the lack of suitable materials he found himself surrounded by in hospital, which he believes was in no small part responsible for fellow patients catching superbugs such as MRSA, which he also witnessed.

"Hospital furniture, residential kitchens, skirting – so many everyday items are made from MDF and other similar wood particle board – all of which harbours bacteria, particularly when damp, and swells and is ruined by water," Mr Huggins explained.

"I had my own cabinet-making business at the time, and I was sat there thinking – I've been using the wrong material all this time. We shouldn't be using wood – there has to be something better.

"It didn't take long to realise that the solution didn't exist yet, and that I was going to have to find an alternative – one that ticked all the boxes I had."

Mr Huggins put together his wish-list of what the material needed to have – it had to be 100% waterproof, tough, germ-resistant, easy to clean - and hit the drawing board.

Sealwise WCB now has all of these qualities, and more, with an added anti-bacterial ingredient which ensures the material remains hygienic for its life-time.

"My vision is for Sealwise WCB to replace wood and MDF – our material is so much more suitable in so many applications.

"For example, a kitchen made completely from WCB would be anti-bacterial and waterproof, and could be cleaned and completely reusable after flooding.

"The material is also ideal of building flood barriers for use on door frames, under garage doors etc and to make platforms which could lift furniture, or machinery for example, off floors if flood waters were threatening.

"It felt like déjà vu over Christmas, having to watch so many people going through the misery of flooding again up and down the country.I want to now get the message to companies working to rebuild in these areas that using Sealwise WCB can play a huge role in helping prevent such future catastrophies."

Sealwise WCB is already being used in the health industry, where its anti-bacterial properties make it a must-have hospital furniture, vets, dental surgeries and laboratories, but its applications are vast, including construction, agriculture, camping and leisure, schools and print and signage.

Ends

For further information, please contact Paul on 07834900128/01934 750084. Paul.Huggins@sealwise.co.uk
Issued by Helen Moffat, The Marketing Room, 01543 468621. Helen@themarketingroom.co.uk
This press release was distributed by ResponseSource Press Release Wire on behalf of Sealwise in the following categories: Environment & Nature, Business & Finance, for more information visit https://pressreleasewire.responsesource.com/about.