Nutritionist Vivienne Talsmat's Smoothie Formulations are a Detox Dream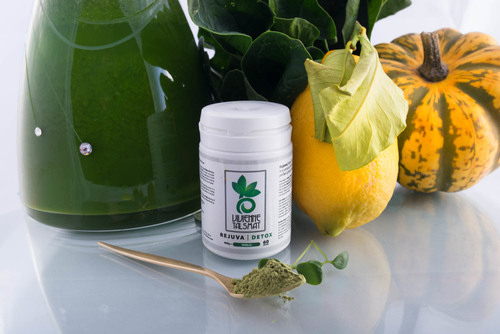 the high quality and completely natural drink can help to produce fantastic health benefits including energy enhancement and immune system boosts
Have you ever wondered how film stars and models achieve that glowing complexion whilst maintaining their energy levels during hectic shoots and schedules? Their best kept secret may rest in a west-end London clinic, where nutritionist Vivienne Talsmat offers her expertise in health, beauty and well-being.

Described by many as "one in a million" and "an uber-guru", Vivienne's personally developed selection of irresistible Rejuva|Nutrition smoothie formulations - Rejuva|Detox, Rejuva|Burn, Rejuva|Sport and Warrior NRG - are adored by the famous and wealthy.

Although a one-to-one consultation with Vivienne would mean sitting on an extremely exclusive and lengthy waiting list, the comprehensive range of products are readily available.

The self-sourced and developed Rejuva|Nutrition smoothie powders have already helped thousands of health-conscious women and men look and feel amazing. And it's no wonder Vivienne is in such high demand when the high quality and completely natural drink can help to produce fantastic health benefits including energy enhancement and immune system boosts.

The delicious powders can be whizzed up with fruit juices, nut, seed or rice milk or simply just water to create a rapidly-refreshing and addictively tasty smoothie.

Alternatively, adding a personalised fruity touch to the smoothie with a combination of anything from sweet and juicy berries, tangy citrus fruits, a rich and creamy avocado or luscious, green veggies like spinach and kale, all create an ultimately mouth-watering and satisfying drink.

The Rejuva range is made up of the Detox, Burn, Sport and Warrior NRG powders.

Rejuva Detox is the ultimate super-food smoothie which contains a powerful blend of the daily nutritional needs and a rich supply of antioxidants. This delicious green smoothie contains an abundance of all-natural ingredients which help to promote mental clarity and act as a powerful detoxifier, which can be felt as soon as the smoothie is tried! Rejuva|Detox is priced at £79.95 and a large tub (908g) is a two month supply, based on the recommended portion of one scoop (15g) per smoothie.

Rejuva Burn is the ideal smoothie for those looking for a dual hit of energy and a rapid fat burner. The dual synergistic drink, which contains African superfood Baobab, is best combined with simply coconut milk, a banana and a Medjool date to bring to life the incredible flavour and ignite the powerful benefits including weight loss and body reshaping. Rejuva|Burn is priced at £69.95 and a large tub (908g) is a one month supply, based on the recommended portion of two scoops (30g) per smoothie.

For the exercise enthusiasts, Rejuva Sport and Warrior NRG are a highly-effective pre and post-workout blast of vitality. When drunk 30-40 minutes before and after an intensive training session, the rapidly absorbing formula acts quickly to guarantee muscle recovery and tone for women (sport) and expand and maintain muscle mass (warrior) for Men. Rejuva|Sport and Warrior NRG are both priced at £49.95 and a large tub (908g) are a one month supply, based on the recommended portion of two scoops per smoothie.

The Rejuva|Nutrition powders also look just as fabulous as they taste. A one or two month supply (depending on the product) sits on the shelf in a stylish white and silver container and is complimented with the full nutritional knowledge and information.

The Rejuva|Nutrition smoothies are well-loved and highly praised by many of Vivienne Talsmat's clients. Amongst the list of sports personalities, Fortune 500 businesswomen and men, and royalty includes actress Alice Eve who has said that Rejuva|Detox is her "favourite product in the whole world."

Trinny Woodall, the celebrity stylist also says "Vivienne changed my life…whenever I am on a hectic filming schedule I will not leave home without her green powder."

Vivienne's mantra is to help people to live life through vitality and her inspiring holistic approach to achieving this also involves exercises such as Yoga and Pilates and facial and body treatments.

Why not try one of Vivienne's delicious recipes?

Put the Spring in Your Step Smoothie
• 300ml of apple juice
• 1 bag of baby spinach leaves
• 1/2 of pumpkin
• 1 avocado
• 1 lemon
• 1 scoop of Rejuva|Detox

Put all the ingredients into your blender and blend until smooth. Enjoy!

ENDS

For further information please contact Kitty Robinson at Famous Publicity at kitty@famouspublicity.com or on 01737 822 682 or Tina Fotherby at tina@famouspublicity.com or on 07703 409 622.

About Vivienne Talsmat

Vivienne Talsmat is a celebrity nutritionist and founder of Rejuva formulations. Vivienne's ultimate aim is to help people live life through vitality, and achieves this with a combination of nutrition plans, her own smoothie formulations and a selection of world-class treatments.

Vivienne's mission is to contribute to a happier and healthier planet through optimum nutrition, where people live more joyful, fulfilled lives and thrive to reach their maximum potential and contribute to the success and happiness of others.

What makes Vivienne Talsmat different is how she embodies the essence of what her products, treatments and teachings aim to achieve, which is vitality, youthfulness and optimal health. Consuming the smoothies and embodying the holistic lifestyle approach herself, Vivienne has seen her energy levels and her positive outlook on life increase overwhelmingly over the years.
This press release was distributed by ResponseSource Press Release Wire on behalf of Vivienne Talsmat in the following categories: Men's Interest, Health, Leisure & Hobbies, Women's Interest & Beauty, Food & Drink, for more information visit https://pressreleasewire.responsesource.com/about.