FROM GRAPE TO GLASS: MOËT ACADEMY CREATES A VIRTUAL AND IMMERSIVE EXPERIENCE TO CELEBRATE THE ART OF CHAMPAGNE IN LONDON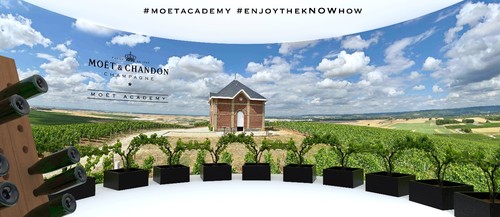 21st March - 3rd April, 2016
CondÉ Nast College, 16-17 Greek Street, Soho, London W1D 4DR

London, February 2016 – Moët & Chandon is once again bringing the magic of Champagne to the heart of London. Taking place at the Condé Nast College in Soho this year, the Moët Academy will take guests through a virtual reality tour of the iconic vineyards and guide them through an immersive experience from grape to glass. Ever wondered what differentiates Champagne from sparkling wine? Hosted by wine gurus Susie Barrie, Peter Richards, Jane Parkinson and Simon Stockton, the Moët Academy is an invitation to learn, taste and ultimately share all of this newly found Champagne knowledge with friends.

THE KNOW-HOW OF CHAMPAGNE

The Moët Academy is a celebration of Champagne savoir-faire. From 21st March to 3rd April 2016 the Condé Nast College in Soho will be transformed into an enticing virtual world of lush vineyards and legendary cellars of Moët & Chandon.

An immersive 360° virtual reality experience will transport guests through the vineyards of Maison Moët and show moving imagery captured by a drone from the original French vineyards and cellars to get a first-hand experience of where the maturation and bottle fermentation are taking place. The virtual tour will leave guests feeling as though they've visited the Moët & Chandon estate in Épernay, without the need to travel far.

Not sure of the difference between Dry and Demi sec Champagne? 2015 Champagne ambassador Simon Stockton and award winning journalist Jane Parkinson will join Masters of Wine Susie Barrie and Peter Richards to reveal the secrets of all things 'bubbly' during intimate and interactive tasting sessions.

Suitable for newcomers and connoisseurs alike, the Moët Academy is a fun celebration of the art of making champagne.

ENJOY THE NOW – CELEBRATING WITH CHAMPAGNE

The Moët Academy will showcase Moët Impérial, Rosé Impérial, Moët Grand Vintage 2006 and Moët Ice Impérial alongside a sparkling wine to illustrate the difference in winemaking styles. The highlight will be an exclusive tasting months ahead of the new Moët Grand Vintage Rosé 2008 launch – a daring expression of Rosé for the truly audacious.

Moët & Chandon can be considered the world's most loved Champagne brand: almost every tenth Champagne bottle sold worldwide currently is from the delicious Moët & Chandon range, which makes the brand the Number 1 Champagne, both globally and in the UK.*

The Moët Academy is part of the 'Open The Now' campaign created by Moët & Chandon to capture unforgettable moments: moments of enjoying life spontaneously and living in the 'now' – connecting with the world of Moët & Chandon to elevate these moments. "By bringing the magic of Champagne to the heart of London, we inspire consumers to create and share their own 'Moët moments'" comments UK Marketing & Communications Director Julie Nollet. "The Moët Academy pop-up is an invitation to experience Moët & Chandon in an exciting,interactive way and benefit from the brand's rich expertise to learn more about Champagne in general."

Tickets for a 90-minute session at the Moët Academy are £45 per person and will be available from
February 2016 on Moët Academy

*Source: IWSR Domestic Global 2014. Moët & Chandon: 9.7% Global Champagne Volume Share, 8.7% UK Domestic Champagne Volume Share.

#MoetAcademy
#EnjoyTheKnowHow
#MoetMoment
#OpenTheNow

***ENDS***

UK PRESS CONTACTS:

Moët & Chandon:
Anna Budel – Senior Communications & PR Manager
abudel@moethennessy.com

The Communications Store
Larisa Klitsinari
moet@tcs-uk.net
020 7938 5009

NOTES TO EDITORS

ABOUT MOËT & CHANDON
Founded in 1743, Moët & Chandon is the Maison that introduced champagne to the world by offering a range of unique wines for every occasion. From the iconic Moët Impérial to the Grand Vintage Collection, the extroverted Moët Rosé Impérial to the innovative Moët Ice Impérial, each champagne dazzles and delights with bright fruitiness, an enticing palate and an elegant maturity.

THE NOW: Moët & Chandon celebrates the thrill of living. With a bottle of its champagne opened every second around the globe, Moët & Chandon knows that every second is an experience, and every experience is a #MoetMoment to live now.

ABOUT SUSIE BARRIE & PETER RICHARDS
Susie and Peter are the youngest married Masters of Wine and have been presenters on the hugely popular Saturday Kitchen (BBC1) for nearly a decade. Blending popular appeal with respected credentials, their award-winning work sees them appearing widely on TV and radio, hosting live events, providing top-level consultancy and writing everything from columns to books. They have been described as, 'Legends: best in the business,' and 'two rising stars'.

ABOUT JANE PARKINSON
Jane is an award-winning journalist, author and broadcaster who was crowned International
Wine & Spirit Competition Communicator of the Year in 2014. She is a wine expert on BBC1's Saturday Kitchen Live, author of Wine & Food and contributor to the recently-released 30-Second Wine. She currently writes the wine column for five magazines including Stylist and
Restaurant magazine. She is a regular commentator on television and radio, she judges in international wine competitions, and is one of five members in The Wine Gang.

ABOUT SIMON STOCKTON
Simon moved to the UK in 1998 from Brisbane drawn by his spirit of adventure and burgeoning love of wine. Simon started his own business, Sugar & Yeast, hosting wine events and classes, writing for Glass of Bubbly magazine and judging the Effervescents du Monde sparkling wine competition. Simon has also passed the French Wine Society's 'Champagne Master Level' course and completed a 'Mastering Champagne Diplôme Université' with the University of Reims and Avize Viticampus. Last summer Simon won the coveted UK Champagne Ambassador award and became Vice Lauréat in the European Champagne Ambassador Awards.
This press release was distributed by ResponseSource Press Release Wire on behalf of The Communications Store in the following categories: Men's Interest, Entertainment & Arts, Leisure & Hobbies, Women's Interest & Beauty, Consumer Technology, Food & Drink, Media & Marketing, Retail & Fashion, for more information visit https://pressreleasewire.responsesource.com/about.