New Rubik's Toy Launches with a Spark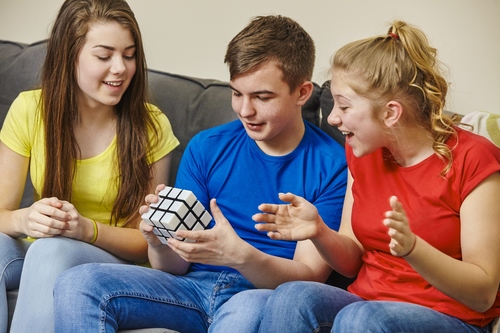 it appears that people are beginning to move away from looking at screens and moving towards spending more time playing with analogue games and toys
Rubik's Brand Ltd has announced that a new evolution of its iconic Rubik's Cube – the world's most popular toy – will go on sale with a global launch at the start of August. The Rubik's Spark is the latest addition to the Rubik's Brand range, and combines the classic Rubik's design with cutting-edge technology for a fun and social experience.

The new Rubik's Spark is an electronic Cube which aims to complement the existing Rubik's range and to appeal to a wider audience. The original Rubik's Cube is currently experiencing a global resurgence, and the Rubik's Spark – a new twist from the creators of the Rubik's Cube - is a multiplayer game that will be popular with groups of friends and families. Its intelligent design makes the player think three-dimensionally, like the original cube, but without twisting.

Chrisi Trussell of Rubik's Brand Ltd explains, "The Rubik's Spark is a fun, electronic cube which includes lights and unique technology that allows the game to be controlled by tilting, turning and quick movements – we call this bubble control.

"There are six game modes to get addicted to, five of which have 26 difficulty levels. There is also a fun extra game called Rubik's DJ, which allows users to make their own music!

"The nature of the play makes the Rubik's Spark perfect for both solo and multiplayer use, and our play testing indicates that it's going to be a great family favourite.

"In leisure time, it appears that people are beginning to move away from looking at screens and moving towards spending more time playing with analogue games and toys in a social context. The Rubik's Spark fits this trend perfectly, while retaining an electronic, modern and fun feel which appeals to the kid in everyone.

"So, who will you challenge with the Rubik's Spark?"

The Rubik's Spark is available instore, or direct from www.rubiks.com . It will retail at around £20.

Its launch will be supported by a new 60, 30 and 20 second television advertising campaign created by Mark Communications. The sole UK distributor of the Rubik's Spark is John Adams Toys.

Since its invention in 1974 by Ernő Rubik, the classic Cube has undergone a number of updates and changes.

Ernő Rubik created the first prototype of the cube as a young professor of architecture in Budapest, in order to help explain spatial relationships to his pupils. Originally named the 'Magic Cube', it was renamed 'Rubik's Cube' when it was launched internationally in 1980.

After a period of incredible global popularity, the Rubik's Cube has become the world's bestselling toy, with over 400 million cubes sold so far. Last year, the Rubik's Cube experienced a huge rise in popularity in the US and that trend is spreading across the globe.

Justin Bieber, Will Smith and rapper Logic are all celebrity Rubik's enthusiasts, and the iconic puzzle is also popular with sportspeople such as cyclist Mark Cavendish and footballer David Silva.

Useful links:
Rubik's Cube: https://uk.rubiks.com/
Rubik's Spark video: https://www.youtube.com/watch?v=8mNngBI48uc
Justin Bieber and the Rubik's Cube: https://www.youtube.com/watch?v=Dx06c0ZEBMk
Will Smith and the Rubik's Cube: https://www.youtube.com/watch?v=pI76CiwvPV4
Logic: https://www.youtube.com/watch?v=hLqFJaH3KVY
Mark Cavendish: https://www.youtube.com/watch?v=e1imWK4nYEI
David Silva: https://www.youtube.com/watch?v=5jjFYNP0nEo
Youtube: https://www.youtube.com/watch?v=8mNngBI48uc

ENDS

Images and interviews are available on request. We have a limited number of Rubik's Spark cubes for journalists, so please let us know if you'd like one to review.

Media information provided by Famous Publicity. For further media information please contact George Murdoch at +44 (0) 33 33 44 23 41 or george@famouspublicity.com , Adam Betteridge at +44 (0) 33 33 44 23 41 or adam@famouspublicity.com or Tina Fotherby at +44 (0) 7703 409 622 or tina@famouspublicity.com .
This press release was distributed by ResponseSource Press Release Wire on behalf of Rubik's Cube in the following categories: Children & Teenagers, Men's Interest, Leisure & Hobbies, Women's Interest & Beauty, Consumer Technology, Retail & Fashion, for more information visit https://pressreleasewire.responsesource.com/about.