Great British Bake Off Boosts Bakeware Sales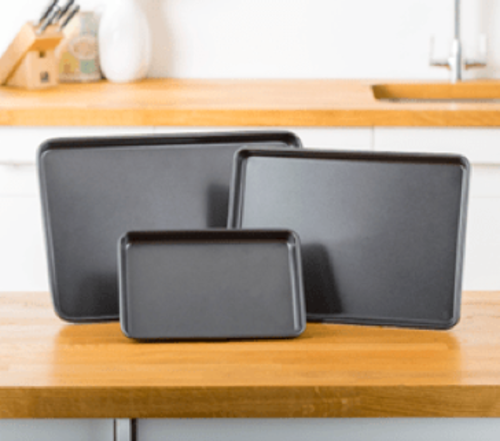 Since the show has been aired this season we have seen a notable increase of 55% in bakeware sales and 42% in cake making and decorating products.
The Great British Bake Off (GBBO) TV series is in full swing and is rekindling the nation's love of baking. Airing on Channel 4, the show has seen a shakeup with Prue Leith joining Paul Hollywood, and comedians Noel Fielding and Sandi Toksvig replacing Mel Giedroyc and Sue Perkins. Despite the changes and departure of Mary Berry, latest figures from high-street homeware retailer Robert Dyas show that baking is top of mind in the UK and the new series has contributed to a rise in bakeware sales.

GBBO has continued to inspire Brits with exciting recipes and beautiful creations. The first episode attracted 6.5 million viewers, making it Channel 4's most watched show since the opening ceremony of the 2012 Paralympic Games. The term 'Bakeware' has been searched on the Robert Dyas website more regularly since the introduction of the programme. Robert Dyas has seen a significant increase in visitors to its bakeware section since the start of the new series.

Robert Dyas has reported an increase in baking-related sales. Rachel Brain, COO at Robert Dyas said, "Since the show has been aired this season we have seen a notable increase of 55% in bakeware sales and 42% in cake making and decorating products. We have also seen over a 10% increase in the kitchenware range overall.

"There has been a direct correlation between the number of people watching the show and those interested in recipes and baking equipment. This series has proved extremely exciting with more challenging bakes than ever before. We are looking forward to seeing what else is in store.

"Robert Dyas provides all the basics for novice and veteran bakers to recreate Bake-Off recipes. For someone who wishes to recreate 'Liam's Apple, Almond and Maple Crumble Loaf' or 'Sophie's Raspberry, Yuzu and White Chocolate Trifle Terrine' the Robert Dyas cake and bread tins are the ideal solution. For the more advanced baker attempting 'Yan's Animals of the Rainforest Cake', there are a range of food processors, piping sets and electric mixers available online and in store."

The 94-store strong high-street hardware retailer is owned by former Dragon's Den star Theo Paphitis. As well as baking accessories, Robert Dyas offers a huge range of kitchen related-gadgets to help amateur cooks prepare food like professionals.

Theo Paphitis also commented on the new format of GBBO, he said, "It's fantastic to see what Prue Leith and the team have done with one of Britain's most loved shows. At a time when we are being cosseted and warned about sugar intake, we mustn't forget the great pleasure that home baking brings to families throughout the UK every day of the week."

Links:
Robert Dyas Website: https://thegreatbritishbakeoff.co.uk
Great British Bake Off: http://www.robertdyas.co.uk
Liam's Loaf: https://thegreatbritishbakeoff.co.uk/liams-apple-almond-mapl...
Sophie's Terrine: https://thegreatbritishbakeoff.co.uk/sophies-raspberry-yuzu-...
Yan's Rainforest Cake: https://thegreatbritishbakeoff.co.uk/yans-animals-rainforest...

Products:
Bread Tin: http://www.robertdyas.co.uk/robert-dyas-medium-loaf-pan
Cake Tin: http://www.robertdyas.co.uk/robert-dyas-7-inch-spring-form-c...
Mixers: http://www.robertdyas.co.uk/search/go?w=electric%20mixer
Food Processors: http://www.robertdyas.co.uk/search/go?w=food%20processor
Pastry Brushes: http://www.robertdyas.co.uk/search/go?w=pastry

ENDS

Media information provided by Famous Publicity. For further information please contact Adam Betteridge at adam@famouspublicity.com, Mary-Jane Rose at mary-jane@famouspublicity.com or Tina Fotherby at tina@famouspublicity.com or call the office on 0333 344 2341.

About Robert Dyas:

Robert Dyas, a man of notable character and remarkable determination, founded the company in 1872. He had a vision to provide customers with the best products, service and advice possible – a tradition that continues to be the focus of the company to this day. In 2012, successful businessman and star of BBC TV's Dragons Den, Theo Paphitis, bought the company.

Theo Paphitis is one of the UK's most high-profile businessmen with an empire spanning retail, property and finance. Theo, through his staff at the Theo Paphitis Retail Group (TPRG), has continued the Robert Dyas tradition of excellent customer service.

Robert Dyas offers an extensive range of household products. The range includes smart home technology, DIY solutions, small and domestic appliances, homeware, bakeware and kitchenware, outdoor and garden, utility, gifts, textiles plus Christmas trees and gifts.

The company has 94 stores, ranging from 1,250 to 9,000 square feet (116 to 836 square meters) and operates online and in the South of England. The most western store is in Yeovil, the most eastern store in Colchester, the most northern store in Solihull and the store furthest south is in Eastbourne. The company's head office is now based in Wimbledon.

Website: http://www.RobertDyas.co.uk/
Twitter: https://twitter.com/RobertDyas
Facebook: https://www.facebook.com/robertdyasltd/
Blog: http://www.robertdyas.co.uk/blog
Instagram: https://www.instagram.com/robertdyas/
Pinterest: https://www.pinterest.co.uk/robertdyas/
Linked In: https://www.linkedin.com/company-beta/94365/
YouTube: https://www.youtube.com/user/robertdyasltd

ENDS
This press release was distributed by ResponseSource Press Release Wire on behalf of Robert Dyas in the following categories: Children & Teenagers, Men's Interest, Entertainment & Arts, Leisure & Hobbies, Home & Garden, Women's Interest & Beauty, Consumer Technology, Food & Drink, Personal Finance, Business & Finance, Education & Human Resources, Retail & Fashion, for more information visit https://pressreleasewire.responsesource.com/about.