What Does Your Christmas Tree Say About You?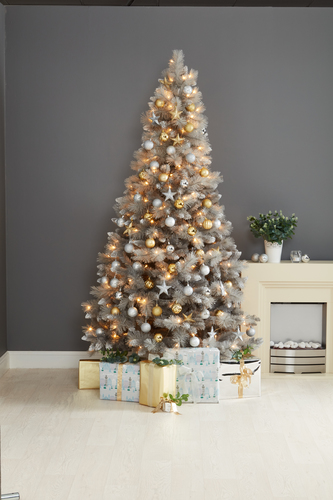 Christmas trees are the focal point of virtually every home. We've listened to our shoppers and have noted some frequently recurring traits
What Does Your Christmas Tree Say About You?

This year it's estimated that around 10.6 million Christmas trees, both farmed and artificial will be sold in the UK. *

Artificial Christmas tree sales take off on October 30 with sales peaking in the first week of December and most Christmas trees are up and fully decorated by Monday December 4.

Robert Dyas has their best ever selection of Christmas trees this year both in-store and online, including an impressive 7-foot LED pre-lit tree, a variety of 'real feel' trees plus fibre optic wonders.

Jodie Harris, known as the Robert Dyas Head Elf has researched their best-selling Christmas trees and identified what a person's Christmas tree says about them. The Head Elf says, "Christmas trees are the focal point of virtually every home. We've listened to our shoppers and have noted some frequently recurring traits."

The Natural Wholesome Tree Lover

With abundant dark green foliage and often decorated in traditional red, green and gold, the 'natural wholesome Christmas tree', (£129.99) like it's owner, represents solid family values and the true generous spirit of Christmas. This tree is the heart of the home and is a timeless classic.

Many of the decorations will hold great sentimental value to the owner, evoking memories of family days gone by. Decorating the tree is always an annual family affair with great value placed on input from family members, both young and old.

This tree owner loves Christmas tradition and thrives on the chaos associated with the festive season. Christmas allows them to shine as brightly as the star on top of their tree. With their exceptional organisational skills, they produce superb Christmas fare, enough to feed an army, all executed with military precision of course. Their natural warmth and flair for entertaining comes to the fore at Christmas time.

The Alpinist

Christmas is an all-round sensory experience for the sensual 'alpinist tree' lover. (£99.99). This snow-dusted Christmas creation inspires thoughts of cosy log cabins, snow covered slopes and the heavenly aroma of pine cones burning on an open fire. Alpinists are excited by the 'real feel' technology of this exquisite tree.

The 'alpinist tree' owner loves the great outdoors and seeks to recreate their alpine fantasy indoors. They dream of spending the festive season skiing across glistening snow-covered slopes before returning to their luxurious ski chalet with cheeks aglow. Wearing a chunky jumper and sinking into the sofa whilst sipping on mulled wine and feasting on roasted chestnuts with their loved ones gathered all around is their idea of heaven.

For the Alpinist, Christmas is like living in a winter wonderland Christmas card. It is all about immersing themselves in the picture perfect magical atmosphere of the season.

Christmas Party People

A tall, slim, striking ice-white Christmas tree makes a bold statement. (£129.99). Like their owners, these splendid trees display total design confidence with their ultra-modern take on the festive season.

A pure white tree makes for a stunning centrepiece at any Christmas party and these trees are ideally suited to someone who will undoubtedly also be the star of the show. Christmas party people are vibrant and fun loving, especially around the festive season and this fantastically coloured tree expresses their blithe spirit.

But be warned, do not attempt to offer any décor advice! 'Party people tree lovers' are notoriously possessive about their trees and decorating rights are strictly exclusive to the owner. Baubles are always colour coordinated and precision in placement is key to the creation of this masterpiece.

White Christmas trees are very much on trend, appealing mostly to a younger generation of instgrammers and snapchatters setting up home for the first time.

Minimalist

The most understated yet stunningly stylish tree belongs to the minimalists. Like their owners, their appearance is elegant, streamlined and super-sleek.

There is no clutter and chaos associated with the high-gloss experience of a minimalist Christmas. The 'minimalist tree' (£29.99) will typically be found in a pristine home environment such as an uber-cool urban apartment. Christmas is a chic monochromatic affair run with clockwork efficiency and the sheer simplicity representative of the smooth running and fuss-free existence of the 'minimalist tree' lover.

Christmas dinner might comprise a sophisticated tray of sushi rather than a traditional Christmas turkey with all its trimmings and paraphernalia. The 'minimalist Christmas tree' deliberately lacks any adornment with not a bauble in sight! This tree is all about restraint in design and is perhaps the preferred choice of individuals who work in the fields of architecture or interior design.

This tree is also favoured by people with very little time on their hands to spend decorating and those who might be going away over Christmas but want to demonstrate their Christmas spirit.

Links:

Robert Dyas website: http://www.robertdyas.co.uk/
*Source: Totally Money http://www.totallymoney.com/news/christmas-numbers/

Products featured:

Robert Dyas Green Majestic Spruce - 7ft: http://www.robertdyas.co.uk/robert-dyas-green-majestic-spruc.... Available online only.
Robert Dyas Frosted Blenheim Christmas Tree - 6ft: http://www.robertdyas.co.uk/robert-dyas-frosted-blenheim-chr... . Available in selected stores and online.
Robert Dyas Norfolk Grey Shimmer Christmas Tree - 7ft: http://www.robertdyas.co.uk/robert-dyas-norfolk-grey-shimmer...
LED Cherry Blossom Tree – White – 4ft: http://www.robertdyas.co.uk/1-5m-led-cherry-blossom-tree-whi.... Available in selected stores and online.

High resolution images available on request.

Media Information provided by Famous Publicity. For further information, please contact Mary-Jane Rose at mary-jane@famouspublicity.com or Adam Betteridge at adam@famouspublicity.com or Tina Fotherby at tina@famouspublcity.com or call the office on 0333 344 2341.

ENDS


About Robert Dyas:

Robert Dyas, a man of notable character and remarkable determination, founded the company in 1872. He had a vision to provide customers with the best products, service and advice possible – a tradition that continues to be the focus of the company to this day. In 2012, successful businessman and star of BBC TV's Dragons Den, Theo Paphitis, bought the company.

Theo Paphitis is one of the UK's most high-profile businessmen with an empire spanning retail, property and finance. Theo, through his staff at the Theo Paphitis Retail Group (TPRG), has continued the Robert Dyas tradition of excellent customer service.

Robert Dyas offers an extensive range of household products. The range includes smart home technology, DIY solutions, small and domestic appliances, homeware, bakeware and kitchenware, outdoor and garden, utility, gifts, textiles plus Christmas trees and gifts.

The company has 94 stores, ranging from 1,250 to 9,000 square feet (116 to 836 square meters) and operates online and in the South of England. The most western store is in Yeovil, the most eastern store in Colchester, the most northern store in Solihull and the store furthest south is in Eastbourne. The company's head office is now based in Wimbledon.

Website: http://www.RobertDyas.co.uk/
Twitter: https://twitter.com/RobertDyas
Facebook: https://www.facebook.com/robertdyasltd/
Instagram: https://www.instagram.com/robertdyas/
Blog: http://www.robertdyas.co.uk/blog
Pinterest: https://www.pinterest.co.uk/robertdyas/
YouTube: https://www.youtube.com/user/robertdyasltd
This press release was distributed by ResponseSource Press Release Wire on behalf of Robert Dyas in the following categories: Children & Teenagers, Men's Interest, Leisure & Hobbies, Home & Garden, Women's Interest & Beauty, Consumer Technology, for more information visit https://pressreleasewire.responsesource.com/about.