Robert Dyas Backs the Great British Egg Revival this Easter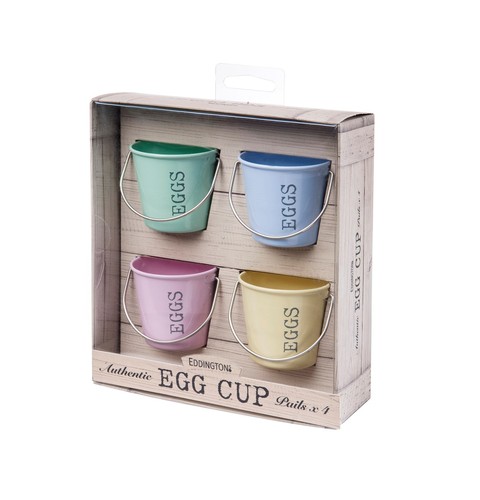 Whether you like your eggs boiled, scrambled, poached or fried, Robert Dyas is the place to pick up all your egg-related utensils this Easter.
Much like record players, Rubik's Cubes and Dr Martens boots, eggs made something of a comeback last year. The latest egg industry data for year ending 31 December 2017, shows that almost 13billion eggs were consumed in 2017, an increase of +3% on 2016 figures.* Following the news that the Food Standards Agency (FSA) had relaxed its guidelines about the consumption of raw or soft-cooked eggs in October last year, these figures should only rise.

Whether you like your eggs boiled, scrambled, poached or fried, Robert Dyas is the place to pick up all your egg-related utensils this Easter.

From electric egg cookers (£14.99) to double egg poachers (£6.99); microwavable omelette makers (£3.99) to egg rings (£4.99) and even a toaster and egg cooker (£40.99), Robert Dyas is at the vanguard of the great British egg revival. And yes, the classic egg timer (£3.49) and all manner of egg cups (£1.29-£9.99) are always in stock.

So, why have eggs made this Elvis-like return? The answer lies not only in their versatility - as well as the many ways of cooking them, they can also be used to make pancakes, frittatas, cakes and soufflés - but in their health-giving properties.

A single egg is packed full of 18 vitamins and minerals. It's also home to vital micronutrients. No wonder the humble egg is often referred to as nature's multivitamin pill.

Indeed, alongside heralding the news that the Foods Standards Agency (FSA) had stated runny yolks - the iconic dippy egg – are safe for pregnant women and the very young and old, food writers have proclaimed that eggs are a genuine superfood.

The eggcellent news is that as the British public's reawakened love affair with eggs shows no sign of ending, with both sales and consumption figures set to continue their rise. It's estimated that in the UK today we eat between three and four eggs a week. Back in the 1960s, when Britain famously went 'to work on an egg' we ate on average five eggs a week.

Make no mistake: eggs - the egguisitely tasty convenience food beloved of everyone's favourite Mr Men character Mr Strong - are back, and that's no yolk.

Cracking Egg Stats
Number of eggs eaten in the UK in 2017 (industry estimate based on population of 65.6 million)
Total per annum: 12,913million (12.9bn)
Per capita: 197
Number eaten per day: 35.3million

Retail egg market 2017 (industry estimate)
Sales value: £984m (+8%)
Sales volume: 6.9bn (+5%)

*All stats courtesy of Egg Info

Links:
Robert Dyas Website: http://www.robertdyas.co.uk/
Egg recipes: https://www.eggrecipes.co.uk/go-to-work-on-an-egg


ENDS

Prices are correct to the time the press release was issued.

Media information provided by Famous Publicity. For further information please contact Adam Betteridge at adam@famouspublicity.com, Mary-Jane Rose at mary-jane@famouspublicity.com or Tina Fotherby at tina@famouspublicity.com or call the office on 0333 344 2341.

About Robert Dyas:

Robert Dyas, a man of notable character and remarkable determination, founded the company in 1872. He had a vision to provide customers with the best products, service and advice possible – a tradition that continues to be the focus of the company to this day. In 2012, successful businessman and star of BBC TV's Dragons Den, Theo Paphitis, bought the company.

Theo Paphitis is one of the UK's most high-profile businessmen with an empire spanning retail, property and finance. Theo, through his staff at the Theo Paphitis Retail Group (TPRG), has continued the Robert Dyas tradition of excellent customer service.

Robert Dyas offers an extensive range of household products. The range includes smart home technology, DIY solutions, small and domestic appliances, homeware, bakeware and kitchenware, outdoor and garden, utility, gifts, textiles plus Christmas trees and gifts.

The company has 94 stores, ranging from 1,250 to 9,000 square feet (116 to 836 square meters) and operates online and in the South of England. The most western store is in Yeovil, the most eastern store in Colchester, the most northern store in Solihull and the store furthest south is in Eastbourne. The company's head office is now based in Wimbledon.

Website: http://www.RobertDyas.co.uk/
Twitter: https://twitter.com/RobertDyas
Facebook: https://www.facebook.com/robertdyasltd/
Blog: http://www.robertdyas.co.uk/blog
Instagram: https://www.instagram.com/robertdyas/
Pinterest: https://www.pinterest.co.uk/robertdyas/
Linked In: https://www.linkedin.com/company-beta/94365/
YouTube: https://www.youtube.com/user/robertdyasltd
This press release was distributed by ResponseSource Press Release Wire on behalf of Robert Dyas in the following categories: Men's Interest, Health, Leisure & Hobbies, Home & Garden, Women's Interest & Beauty, Consumer Technology, Food & Drink, Business & Finance, Retail & Fashion, for more information visit https://pressreleasewire.responsesource.com/about.