May is Moth Season: Keep the Garment-Guzzlers at Bay with Some Help from Robert Dyas.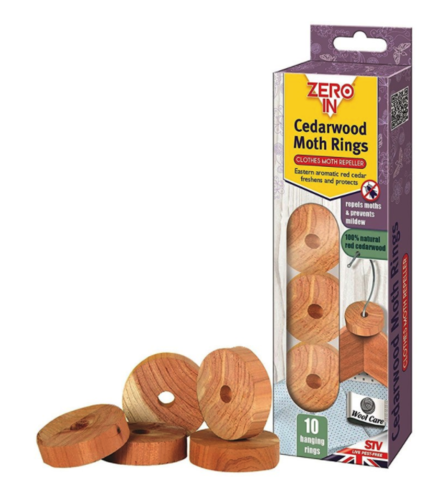 Moth infestations can cost people a lot of money if they get out of control, so products that prevent and treat them early are incredibly useful
The weather's warming up, the flowers are coming out and unfortunately, so are the moths. Spring time – usually from May onwards – is when these insects start breeding, which is not good news for your clothes and carpets.

Moths may be small but the damage they inflict can be huge: their eggs and larvae can eat through treasured garments, furniture and even whole areas of carpet – not to mention your bank balance when things get out of hand. The total value of the UK pest control market is now over £400m according to a recent report by Apex Insight, with moths and other insects accounting for 8% of all call-outs.*

But before you start worrying about a potential moth invasion, there are some simple steps you can take to avoid forking out for a specialist. Leading high street retailer Robert Dyas has solutions for every problem, whether you already have moths eating your clothes and carpets, or simply want to prevent the pests from causing damage in the first place.

"Moth infestations can cost people a lot of money if they get out of control, so products that prevent and treat them early are incredibly useful", says Robert Dyas Head of Marketing, Rebecca Waters. "This is why we offer products for all eventualities, whether you're treating your carpets or clothes, or simply want to prevent moths from settling in."


How to Avoid and Tackle Moth Infestations

Eliminate with Heat

Wash all infested clothes and fabrics on a high temperature and put them through a hot drying cycle if possible. If your clothes aren't suitable for the dryer, putting them in the freezer for a few days will kill off any eggs that may still be around. Make sure you wash all garments before putting them away – especially those made from natural fibres – as moths are mostly attracted to human sweat, hair and body oil. To give your wardrobes extra protection, use an Acana Clothes Moth Killer and Freshener for wardrobes (£5.49), which works for up to six months.

Oust Them with Cedarwood

Cedarwood naturally repels moths so hanging some in your wardrobe will work wonders. ZERO IN Cedarwood Moth Repeller Rings (£5.99) can be hung on your coat hangers to deter moths from eating your clothes, and ZERO IN Cedarwood Clothes Moth Repeller Balls (£5.99) can be placed in garment pockets or in drawers. Completely natural, they have a long-lasting fragrance which can be refreshed by rubbing them with some fine-grain sandpaper. They also offer the added bonus of preventing the build-up of mustiness and mildew, so it's a win-win.

Get Storage-Savvy

If they can't get to your fabrics, they can't tuck in: Plastic storage containers are a great alternative to easily-munched-through cardboard boxes. Airtight bags like Packmate Extra Large Flat Vacuum Bags – 2 Pack(£9.99) are ideal for items you don't use much, while the Really Useful Underbed Storage Box – 43L (9.99) is great for everyday stackable storage.

Act Fast

If your home is already infested, take instant action by treating the affected areas with a spray. Acana Lavender Carpet & Fabric Moth Killer Spray (£13.99) targets the problem instantly without staining, while Acana Lavender Fabric Moth Killer (£7.99) eliminates moths, eggs and larvae in just 15 minutes. As it's the larvae that cause the damage rather than the moths, keep an eye out for webbing and cocoons in your cupboards so you know which areas to treat.

Keep Carpets Fresh

Moths lay eggs in carpets as well as in your cupboards, so regular hoovering will help. Dyson Cinetic Big Ball Animal Bagless Vacuum Cleaners – both the upright version (£259.99) and the cylinder (£289.99), suck up even the most microscopic of particles for an extra-thorough clean – great for tackling eggs buried in carpets and rugs. Alongside regular vacuuming you could lay down an Acana Carpet Moth Trap (£3.49) to alert you to any infestations.

Check 'End of Life' Indicators

To stay one step ahead of the moths, opt for products with a visual 'End of Life' indicator so you can see at a glance when they need replacing. Acana do a great range which includes products like these Moth Killer and Freshener Sachets – 20 Pack £4.99) and Moth Killer and Air Freshener for Airing Cupboards (£5.49), which each last for up to three months. You could also invest in an Acana Moth Trap (£5.49) which attracts and captures moths for up to eight weeks to alert you of an infestation, so you can start tackling the eggs and larvae that cause the real damage.

For more information please visit the Robert Dyas website at http://www.robertdyas.co.uk.

ENDS

Prices are correct to the time the press release was issued.

Sources:
* https://www.apex-insight.com/product/uk-pest-control-market-...

Media information provided by Famous Publicity. For further information please contact Adam Betteridge at adam@famouspublicity.com, Mary-Jane Rose at mary-jane@famouspublicity.com or Tina Fotherby at tina@famouspublicity.com or call the office on 0333 344 2341.

About Robert Dyas:

Robert Dyas, a man of notable character and remarkable determination, founded the company in 1872. He had a vision to provide customers with the best products, service and advice possible – a tradition that continues to be the focus of the company to this day. In 2012, successful businessman and star of BBC TV's Dragons Den, Theo Paphitis, bought the company.

Theo Paphitis is one of the UK's most high-profile businessmen with an empire spanning retail, property and finance. Theo, through his staff at the Theo Paphitis Retail Group (TPRG), has continued the Robert Dyas tradition of excellent customer service.

Robert Dyas offers an extensive range of household products. The range includes smart home technology, DIY solutions, small and domestic appliances, homeware, bakeware and kitchenware, outdoor and garden, utility, gifts, textiles plus Christmas trees and gifts.

The company has 94 stores, ranging from 1,250 to 9,000 square feet (116 to 836 square meters) and operates online and in the South of England. The most western store is in Yeovil, the most eastern store in Colchester, the most northern store in Solihull and the store furthest south is in Eastbourne. The company's head office is now based in Wimbledon.

Website: http://www.RobertDyas.co.uk/
Twitter: https://twitter.com/RobertDyas
Facebook: https://www.facebook.com/robertdyasltd/
Blog: http://www.robertdyas.co.uk/blog
Instagram: https://www.instagram.com/robertdyas/
Pinterest: https://www.pinterest.co.uk/robertdyas/
Linked In: https://www.linkedin.com/company-beta/94365/
YouTube: https://www.youtube.com/user/robertdyasltd
This press release was distributed by ResponseSource Press Release Wire on behalf of Robert Dyas in the following categories: Men's Interest, Home & Garden, Women's Interest & Beauty, Environment & Nature, Retail & Fashion, for more information visit https://pressreleasewire.responsesource.com/about.