What Does Your Favourite Appliance Say About You?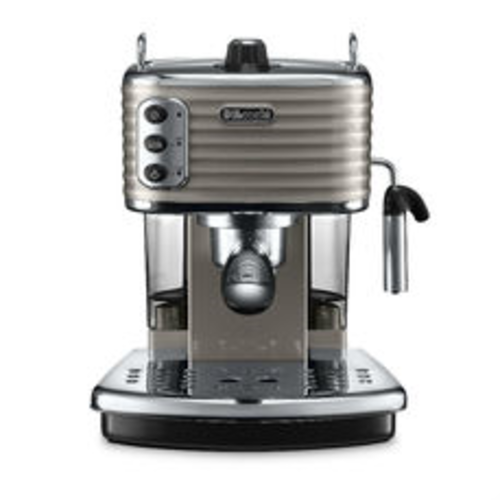 So, what does your favourite appliance say about your personality? Are you indulgent? A lover of all things homemade?
Small domestic appliances fill our kitchens reflecting our personal taste and style. Appliances are also one way to mirror individual personality. They not only represent the little treats to help you through the day, but they can reveal a lot about what someone does in their spare time.

So, what does your favourite appliance say about your personality? Are you indulgent? A lover of all things homemade? Or the child that never grew up? Robert Dyas has a wide-range of small domestic appliances each fitting individual traits perfectly.

The Tea Totaller
The lovely kettle is the prized possession of the tea totaller. It represents everything about the home. These people believe that a cup of tea can solve everything, be it an argument with a partner or failing a test. The tea totaller enjoys nothing more than a night in watching a box set and when on occasion they do fly the nest, there is always a sneaky box of tea bags on hand to keep that sense of contentment.
The Swan 1.7L Polka Dot Jug Kettle (£59.99)(online only) will make the kettle centre stage in your kitchen revealing just how important the sense of home is to you.

The Speed Merchant
The speed merchant is all about a fast-paced lifestyle as they are constantly on the go. As they flit between one commitment and the next, the speed merchant needs an appliance such as a microwave to provide instant porridge before arriving at that business meeting or to cook a speedy meal before hitting the nearest bar. The Russell Hobbs Manual Retro Microwave (£65.00)(online only) is ideal for assisting the speed merchant with their precious time.


The Coffee Aficionado
The coffee aficionado is a perfectionist. They know everything there is to know about coffee. For the enthusiast, coffee is not just something to be drunk but something to be experienced, something to be lived. They want the best and they are determined to get the best. With all its bells and whistles The De'Longhi Dedica Coffee Machine (£186.99) (Online only) is the perfectionist personified.

The Retro Lover
The retro lover's kitchen is filled with brightly coloured cooking appliances. They love everything about the past and are keen to add a pop of colour wherever they go. A favourite haunt of the retro lover is The Victoria and Albert Museum where they get lost in the glamourous styles of the past. With their nostalgic views, retro lovers embody a world of summer fetes, cupcakes and days gone by.
The Fearne by Swan 6L Stand Mixer (£210.00) (Online only) and Fearne by Swan S-Speed Hand Mixer (£32.99)(Online only) are pure examples of retro style.

Cosy Toes
The definition of the Danish Hygge, this cosy lover adores nothing more than a night in underneath a tartan blanket, surrounded by candles. They love the homemade but for them cooking is about expression and the kitchen is the heart of the home. Small appliances such as the Morphy Richards Stainless-Steel Soup Maker (£58.99) (Online only) will help aid the cosy lover's simple rustic cooking that creates their sense of home.

The Kid
The kid, the lover of all things fun, hasn't been bogged down by adult life. They walk with a spring in their step and always find humour in the little things. They are the first to play practical jokes and they are frequently the centre of attention. The Slush Puppie Machine (£49.99) is a clear representation of their free-spirited fun.

The Modernist
The lover of all things technical, the modernist has every gadget under the sun. They are for ever looking up the latest thing and they must always be on trend. The modernist is stylish, sophisticated and their gadgets are always put on a show at parties. The Hostess Electric Cork Screw (£34.99) (Online online) will be the perfect addition to their collection.

Sweet Tooth
The Elgento Mini chocolate fountain (£19.99)(Online only) is for the those who love to indulge. For individuals with a sweet tooth, there is nothing better than a treat now and again. They work hard and as a result they surround themselves with all the things they adore. However, the chocolate fountain signifies that they are not averse to sharing. Their caring nature helps them to ensure all their friends get a little taste of indulgence too.

Links:
Robert Dyas website: https://www.robertdyas.co.uk/

ENDS

Prices are correct to the time the press release was issued.

Media information provided by Famous Publicity. For further information please contact Mary-Jane Rose at mary-jane@famouspublicity.com or Tina Fotherby at tina@famouspublicity.com or Joanna Mason at joanna@famouspublicity.com or call the office on 0333 344 2341.

About Robert Dyas:

Robert Dyas, a man of notable character and remarkable determination, founded the company in 1872. He had a vision to provide customers with the best products, service and advice possible – a tradition that continues to be the focus of the company to this day. In 2012, successful businessman and star of BBC TV's Dragons Den, Theo Paphitis, bought the company.

Theo Paphitis is one of the UK's most high-profile businessmen with an empire spanning retail, property and finance. Theo, through his staff at the Theo Paphitis Retail Group (TPRG), has continued the Robert Dyas tradition of excellent customer service.
Robert Dyas offers an extensive range of household products. The range includes smart home technology, DIY solutions, small and domestic appliances, homeware, bakeware and kitchenware, outdoor and garden, utility, gifts, textiles plus Christmas trees and gifts.

The company has 94 stores, ranging from 1,250 to 9,000 square feet (116 to 836 square meters) and operates online and in the South of England. The most western store is in Yeovil, the most eastern store in Colchester, the most northern store in Solihull and the store furthest south is in Eastbourne. The company's head office is now based in Wimbledon.

Website: http://www.RobertDyas.co.uk/

Twitter: https://twitter.com/RobertDyas

Facebook: https://www.facebook.com/robertdyasltd/

Instagram: https://www.instagram.com/robertdyas/

Blog: http://www.robertdyas.co.uk/blog

Pinterest: https://www.pinterest.co.uk/robertdyas/

YouTube: https://www.youtube.com/user/robertdyasltd
This press release was distributed by ResponseSource Press Release Wire on behalf of Robert Dyas in the following categories: Men's Interest, Entertainment & Arts, Leisure & Hobbies, Home & Garden, Women's Interest & Beauty, Consumer Technology, Food & Drink, Retail & Fashion, for more information visit https://pressreleasewire.responsesource.com/about.