What Does Your Christmas Tree, Decorations and Lights Say About You?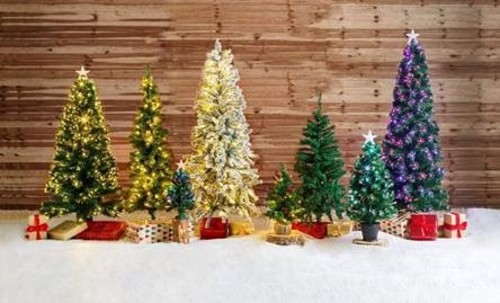 at the centre of every household is the Christmas tree and its dazzling decorations. How you choose to adorn yours can reveal a lot.
Christmas comes in all shapes and sizes and for every family, it's a different occasion. But at the centre of every household is the Christmas tree and its dazzling decorations. How you choose to adorn yours can reveal a lot.

We in the UK love to celebrate Christmas. So much so that in 2017, retail sales during the festive season reached over £78 billion*.

But Christmas is as individual as you make it. Prefer a colour coordinated theme over a funky multicoloured one? Or are you more of a traditionalist than a minimalist?

To get you in the holiday mode, Robert Dyas has compiled a selection of their favourite Christmas trees, lights and decorations, available both in store and online. Now all that's left to decipher is – what kind of decorator are you?


The Traditionalist

Christmas is an ancient celebration and for those of you who prefer to keep the festivities traditional, a classic approach is often favoured. Warm reds, glittering greens and gilded golds make up the colour palettes of the traditionalist's household. Attention to detail is key and expressing their festive cheer is at the centre of the home. Many decorations hanging on the traditionalist's tree are often heirlooms or handmade crafts made by the children at school.

Foraging for winter foliage in the garden is just as much enjoyed as polishing the best silver. Sentimental values are at the core of the traditionalist and what matters most is having the loved-ones close by during this special time.

One of the most exciting aspects of Christmas for young and old alike, is putting up the tree and decorating it with all your family treasures. The Balmoral Berry and Cone Pre-lit 6ft Tree (£74.99) makes a big impact for yuletide gatherings. With an attractive berry and cone decoration and integrated light system, all you'll need to worry about is who gets to place the angel at the top of the tree.

Prefer a blank canvas to begin decorating from? Or perhaps space is an issue? This Evergreen 4ft Tree (£9.99) is perfect for those with smaller spaces or families who want to keep things simple and classic. Pair with these Robert Dyas Mains Operated LED String Lights - Warm White (£6.99 - £39.99) and add the final touches with some of these Robert Dyas Mixed 50 Piece Bauble Set - Red/Green/Gold (£7.99) to create an authentic festive feel.

If your baubles are running low or you want to mix old with new, why not add some of these Robert Dyas 50 Piece Multi Assorted Bauble Pack - Gold, Green and Copper (£9.99)? A beautiful assortment of various shapes and sizes, this comprises baubles, beads and a star to top off your finished piece. The stunning gold, green and copper colours add a cosy feel to your traditional Christmas theme whilst complementing the existing decorations to produce a beautifully blended, traditional centrepiece.


The Glitzy and the Glamorous

The glitzy and glamorous type is the person who demands the best in everything. Highly competitive, and opting for metallics and chromes, they strive to out-sparkle their friends, relatives and neighbours. Don't dare to give a glitzy and glamorous any style advice! They are Christmas pros who know what they want and have a colour scheme and theme planned, months in advance.

Christmas time equals party season and all-out decadence. More is more and for the glitzy and glamorous, bigger means better. Their lavish parties and well-polished homes deserve a touch of magic. With these perfect accompaniments for hosting festive soirees, all you'll need to add is some pop, fizz and clink!

Dreaming of a white Christmas? Or at least one that's filled with sparkle? Look no further than this Norfolk Grey Shimmer Christmas Tree - 7ft (£119.99) (Online only). For a contemporary feature which oozes glamour, this tree has it all. An impressive 7ft height and glittered grey and silver finish guarantee the wow factor, wherever it's placed.

What better way to deck the halls than with an assortment of midwinter colour? This Robert Dyas 50 Piece Multi Assorted Bauble Pack - Silver, Dark Blue and Pewter (£9.99) will add a touch of metallic magic to your tree and home, creating a winter wonderland theme to last all season.

Why keep the glamour inside? Share the seasonal cheer with these Robert Dyas LED 24 Chaser Icicle Lights - White (£19.99) by brightening up the outside of your home and let the neighbours envy your illumination.


The Minimalist

For modern homes or professionals who opt for Scandinavian style but want to retain that hygge feeling, minimalism is the go-to trend at Christmas time. Minimalists opt for a precise, silver-stained, no-nonsense approach to the festive season. Whilst wanting to take part in the celebrations, the minimalist requires little fuss and saving both precious time and well-earned money is crucial.

For Christmas with an edge, sometimes less is more. You don't need to go all out for a real impact and for those of you with little time on your hands, it might be the ideal seasonal option.

If you prefer clean lines and a simplistic approach to your festivities, then the Blenheim Frosted Pre-Lit 6ft Tree (£99.99) might just be the tree for you. With a dusting of snow and incorporated white lights, this would look just as at home in an urban loft apartment as it would within a swish alpine ski lodge, and with the added bonus of no messy light wires to mess up your home haven.

For perfectionists who plump for cool hues, add these 50 pcs 60mm/40mm/30mm Mixed Bauble Set Silver/White (£7.99). A fresh mix of silver and white baubles, your tree will look elegantly adorned with no garish colours to be seen for miles. Perfect for those Instagram snaps – no filter required.

Whether you want to adorn your elegant pine or add a touch of festive shine to your garden, keep things understated with these beautiful Robert Dyas Mains Operated LED Cluster Lights - Ice White (£19.99 - £29.99). The blue-white tone of these twinkling cluster lights will keep things modern whilst injecting a hint of winter white into your Christmas scheme.


The Attention Seeker

If ever there's a time to indulge in colour and light, the festive season is it. The attention seekers' main objective at Christmas is to indulge in everything and everyone! For gadget lovers and all-round pleasers, choosing the right decorations to reflect this within their homes is important. The attention seeker loves nothing better than to find the latest product or trend and house a talking-point within their homes. Vibrant, multicolour palettes and flashing lights are at the core of the attention seeker's festive home.

Turning on the Christmas lights is a tradition which families have enjoyed for decades and you can host your own light show at home, with a tree that boasts fibre optics. Invoke a traditional feel with a modern twist, with the gorgeous Sandringham Fibre Optic 5ft Tree (£49.99). You'll be guaranteed a magnificent display without the hassle and the ideal choice for perfectionists who crave order and a visual impact.

Pair with the Robert Dyas 50 Piece Multi Assorted Bauble Pack - Red, Silver and White (£9.99) to add a splash of colour and make your centrepiece pop.

Craving a Christmas full of character? Illuminate any space, large or small with the Penrith Bo Fibre Optic Tree with Star - 45cm (£9.99). Small enough to sit on a surface or desk this little tree certainly doesn't comprise on performance, proving that size doesn't matter! The perfect Christmas companion for home or at work, to light you up!

Crazy about colour? Why not inject some paint box hues into your home by adding some twinkling lights to the mix? These Robert Dyas LED Low Voltage Cluster Berry Lights - Multi-Coloured (£25.99 - £39.99) can be used both indoors and outdoors so you can be sure to create a yuletide rainbow from any angle.

ENDS

*Source – Centre for Retail Research http://www.retailresearch.org/shoppingforxmas.php

Prices are correct to the time the press release was issued.

Media information provided by Famous Publicity. For further information please contact Mary-Jane Rose at mary-jane@famouspublicity.com or Tina Fotherby at tina@famouspublicity.com or call the office on 0333 344 2341.

About Robert Dyas:

Robert Dyas, a man of notable character and remarkable determination, founded the company in 1872. He had a vision to provide customers with the best products, service and advice possible – a tradition that continues to be the focus of the company to this day. In 2012, successful businessman and star of BBC TV's Dragons' Den, Theo Paphitis, bought the company.

Theo Paphitis is one of the UK's most high-profile businessmen with an empire spanning retail, property and finance. Theo, through his staff at the Theo Paphitis Retail Group (TPRG), has continued the Robert Dyas tradition of excellent customer service.

Robert Dyas offers an extensive range of household products. The range includes smart home technology, DIY solutions, small and domestic appliances, homeware, bakeware and kitchenware, outdoor and garden, utility, gifts, textiles plus Christmas trees and gifts.

The company has 94 stores, ranging from 1,250 to 9,000 square feet (116 to 836 square meters) and operates online and in the South of England. The most western store is in Yeovil, the most eastern store in Colchester, the most northern store in Solihull and the store furthest south is in Eastbourne. The company's head office is in Wimbledon.

Website: http://www.RobertDyas.co.uk/
Twitter: https://twitter.com/RobertDyas
Facebook: https://www.facebook.com/robertdyasltd/
Blog: http://www.robertdyas.co.uk/blog
Instagram: https://www.instagram.com/robertdyas/
Pinterest: https://www.pinterest.co.uk/robertdyas/
Linked In: https://www.linkedin.com/company-beta/94365/
YouTube: https://www.youtube.com/user/robertdyasltd
This press release was distributed by ResponseSource Press Release Wire on behalf of Robert Dyas in the following categories: Children & Teenagers, Men's Interest, Entertainment & Arts, Leisure & Hobbies, Home & Garden, Women's Interest & Beauty, for more information visit https://pressreleasewire.responsesource.com/about.