Secret Santa Gifts under £10 for Every Personality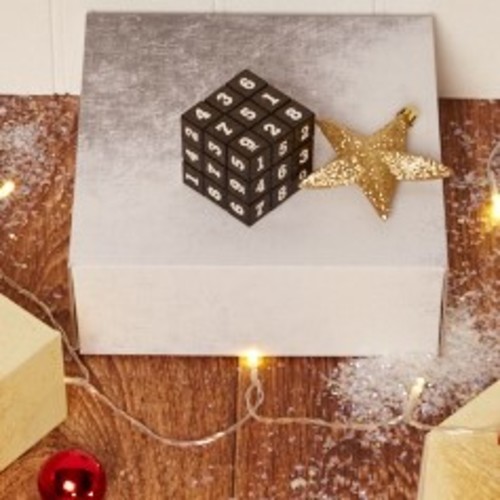 Our range of fun gifts under £10 includes something for every personality type, from the foodies to the millennials and even the Harry Potter lovers!
When it comes to Christmas gifts, we Brits love to splash out as we get into the festive spirit. A survey by Deloitte found that the UK spends more than any other European nation surveyed on gifts*. In fact, according to the Bank of England, a typical UK household spends over £500 extra in December**.

However, despite our propensity to splurge during the festive period, it can be hard to find that extra bit of cash for the little gifts. Secret Santa's a great way to save money between friendship groups or liven up the office atmosphere, but after spending most of our cash on our families, we often don't have much to spare.

Leading high street retailer Robert Dyas has a whole host of low-cost gifts for your friends or workmates — all under £10 with some even coming in at under £5, and a '3 for 2' offer on all of them. And if you've pulled a name out of the hat but have no idea what to buy, they've got heaps of inspiration to help you choose.

"Secret Santa is a great way of adding a little merriment to the office atmosphere — we do it every year here at Robert Dyas HQ!" says Robert Dyas' Head of Marketing, Rebecca Waters. "But given that families already spend a lot of money on Christmas presents, keeping your Secret Santa spend to under £10 really helps you stick to your overall budget. Our range of fun gifts under £10 includes something for every personality type, from the foodies to the millennials and even the Harry Potter lovers!"

Secret Santa Gifts for…

The Harry Potter Fanatic

Forget giving a muggle gift to the Harry Potter fan — give magical gifts instead. They'll love these Hogwarts Playing cards (£6.99) and Winning Moves Harry Potter Trivial Pursuit (£9.99).

The Big Drinker

If the person you're buying for will be the first to get the shots in at the Christmas party, this game of Drinking Roulette (£9.99) will go down a treat.

The Foodie

Mix cookery and Christmas and what do you get? This fun Paladone Elf Apron (£7.99! Perfect for anyone who loves to bake or cook.

The Millennial

Anyone who grew up in the 90s will love Gift Republic Totally 90's Trivia (£4.99). It's full of fun quiz questions on everything from The Fresh Prince of Bel-Air to Britney Spears.

The Prosecco Lover

For the person who likes nothing better than a glass of Prosecco on a Friday night, this Prosecco Lolly (£3.99) makes a great gift. Alternatively, you could give them this Blue Sky Sudios Pop-Up Prosecco Glass (£5.99), so they're always ready in times of need!

The Snazzy-Sock Wearer

If your Secret Santa recipient loves a lively pair of socks to cheer up their workwear, give them a Christmas pair like these Paladone Festive Socks (£4.99).

The Rose Gold Addict

Rose gold homeware is a trend that some just can't get enough of. This Cinematic Light Box (£8.99) is a great way to light up their Christmas.

The Thrill-Seeker

If they can't resist a flutter every now and then, this Mini Slot Machine (£9.99) makes a fun gift. They simply put coins in and when they're lucky, they'll hit the jackpot. It even doubles up as a piggy bank to keep on their desk.

The Puzzle Enthusiast

Perfect for the commute or when they're just a little bored, this Sudoku Puzzle Cube (£3.99) will keep them occupied and entertained.

The Mum or Dad

Give the gift of family fun to your colleague with kids. Whether it's The Chase, Catchphrase or Family Fortunes, these Ginger Fox card games (all £5.99) are sure to be appreciated.

The Lager Lad

To those who love lager, give this novelty Lager Lolly (£3.99). Completely hangover-free, it's bound to put a smile on their face.

The Clean Freak

If your workmate loves to clean and their desk is always spotless, the Henry Microfibre Screen Cleaner (£5.99) makes a great gift.

The Dreamer

If the person you're buying for loves a bit of sparkle and fantasy, this Unicorn Mood Light (£7.99) ideal, as is this fun Paladone Unicorn Hoopla set (£6.99).

The Fidgeter

This Stress Cactus (£3.99) is perfect for placing on desks ready to be squeezed in times of stress or boredom!

The Cyclist

Got a friend who's always on their bike or a colleague that cycles to work? Keep them safe and sound with a Colour Changing Spoke Light (£3.99).

The Golfer

If they play golf, these Thumbs Up Golf Ball Glasses (£7.99) will save them hours looking for those wayward little balls.

Your Office Bestie

Give your best mate in the office something fun to do when they have a few minutes to spare! These Thumbs Up desktop games - table tennis, football and curling,(all £6.99) are great fun to play together when the boss isn't looking.

For more information please visit the Robert Dyas website at http://www.robertdyas.co.uk.

ENDS

Prices are correct to the time the press release was issued.

Sources:
* https://www2.deloitte.com/uk/en/pages/consumer-business/arti...
** https://edu.bankofengland.co.uk/knowledgebank/how-much-do-we...

Media information provided by Famous Publicity. For further information please contact Mary-Jane Rose at mary-jane@famouspublicity.com or Tina Fotherby at tina@famouspublicity.com or call the office on 0333 344 2341.



About Robert Dyas:

Robert Dyas, a man of notable character and remarkable determination, founded the company in 1872. He had a vision to provide customers with the best products, service and advice possible – a tradition that continues to be the focus of the company to this day. In 2012, successful businessman and star of BBC TV's Dragons Den, Theo Paphitis, bought the company.

Theo Paphitis is one of the UK's most high-profile businessmen with an empire spanning retail, property and finance. Theo, through his staff at the Theo Paphitis Retail Group (TPRG), has continued the Robert Dyas tradition of excellent customer service.

Robert Dyas offers an extensive range of household products. The range includes smart home technology, DIY solutions, small and domestic appliances, homeware, bakeware and kitchenware, outdoor and garden, utility, gifts, textiles plus Christmas trees and gifts.

The company has 94 stores, ranging from 1,250 to 9,000 square feet (116 to 836 square meters) and operates online and in the South of England. The most western store is in Yeovil, the most eastern store in Colchester, the most northern store in Solihull and the store furthest south is in Eastbourne. The company's head office is now based in Wimbledon.

Website: http://www.RobertDyas.co.uk/
Twitter: https://twitter.com/RobertDyas
Facebook: https://www.facebook.com/robertdyasltd/
Blog: http://www.robertdyas.co.uk/blog
Instagram: https://www.instagram.com/robertdyas/
Pinterest: https://www.pinterest.co.uk/robertdyas/
Linked In: https://www.linkedin.com/company-beta/94365/
YouTube: https://www.youtube.com/user/robertdyasltd
This press release was distributed by ResponseSource Press Release Wire on behalf of Robert Dyas in the following categories: Children & Teenagers, Men's Interest, Entertainment & Arts, Leisure & Hobbies, Home & Garden, Women's Interest & Beauty, Environment & Nature, Consumer Technology, Food & Drink, Media & Marketing, Retail & Fashion, for more information visit https://pressreleasewire.responsesource.com/about.