Gifts to Bring Smiles this Christmas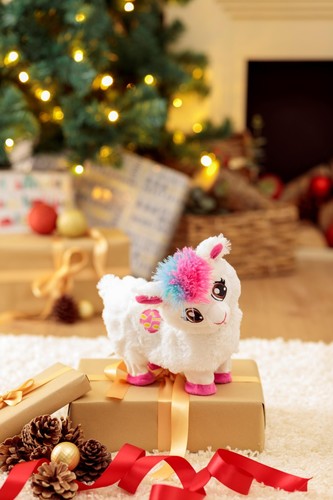 There is such great satisfaction in giving, especially when you know that you have got the gift just right!
Christmas time is about family and friends and the most important gifts you can give all your love, time and attention. But there's nothing quite as joyful as seeing a child smile and their faces light up when they open that carefully considered present on Christmas day.

Joyti Gohil, the Robert Dyas Chief Christmas Elf, sent her little helpers out far and wide in search of the best Christmas toys in the land. She says, "Giving the perfect gift requires a great selection to choose from and the difference between receiving a pack of woolly socks or the latest robo-tech can mean the world to children.

"There is such great satisfaction in giving, especially when you know that you have got the gift just right! That's why, this year we are offering the greatest variety of toys for kids yet to make sure we cater for each and every individual out there."

Christmas Curiosities

Christmas just wouldn't be the same without a couple of completely quirky or even twerky offerings! The unique Boppi the Booty Shakin' Llama (was £24.99 now £19.99), predicted to be the most popular toy this Christmas, dances wildly and twerks in time to music played for her, great for any avid dancer.

Alternatively, how about a screeching, Flying Monkey (was £7.49 now £4.99) to catapult across the room at high speed or perhaps plunge your cold hands into a Giant Plush Penguin Handwarmer (was £14.99 now £9.99), which comes highly commended by the giftware association for 2019.

In order to relieve any Christmas day tension, try playing the Sumo Smackdown Remote Control Wrestlers Fighting Game (was £37.99 now £24.99) that sees players fight to be king of the ring. Any remaining festive frustration can be ironed out by punching power fists with the Robo Kombat - Twin Pack (was £44.99 now £29.99). There's even an artificial intelligence (AI) mode to practice your skills against the robot itself.

And in case there isn't enough noise being made this Christmas, the Rainbow Colours Giant Piano Mat (was £29.99 now £19.99) provides the perfect opportunity to get your feet stomping and the music flowing. With online lessons and built-in auto-accompaniment the sounds coming from this giant piano are guaranteed to be the best you've ever stomped.

Christmas in Motion

Get some rubber burning with the Rock Crawler 1:18 Scale Remote Control Car (was £59.49 now £36.99) that's even capable of traversing across the inches of snow we are expected to see this Christmas. Or, if you're looking for something flashy to show off then go for the Rastar Remote Control 1:14 Ferrari FXXK EVO in Red (was £37.49 now £24.99). With working headlights and realistic scissor doors, this is the toy for those with style.

On the other hand, if you have your sights set to the sky then the Flying Gadgets Remote Control Robot Helicopter (was £11.99 now £7.99) is for you. Send this little guy hurtling across the living room, just try to avoid the decorations. Also, be sure to check out the current legislation regarding drones at the Civil Aviation Authority (CAA) and register your drone.

Trying to find something to match your flashing multi-coloured Christmas tree lights can be very difficult. Thankfully, you need look no further than the Flying Gadgets Glow Tracks 340 Piece Set (was £22.49 now £14.99). With glow in the dark features you'll be able to use this one long after four o'clock in this winter's daylight-saving hours.

Tech for Tunes

Pink is the new festive colour this Christmas with a variety of unicorn-themed musical gifts available. The Lexibook Unicorn Night Light Radio Alarm Clock (was £29.99 now £19.99) provides a unicorn friend to play some gentle tunes to send you fast asleep. Or if you want to make some real noise, then the Lexibook My Secret Portable Karaoke with Microphone & Bluetooth Speaker – Unicorn (was £39.99 now £29.99) will see you blasting perfect renditions of Jingle Bells for all the family to hear.

Then after that if you're told to be a little quieter, don't let the music stop. Instead pop on the fabulous Doodles Unicorn Headphones (was £19.99 now £14.99) and listen in style. Alternatively, if you're just too cool for mystical creatures attached to your ears, select a more sophisticated style to adorn your ears with the Groov-e True Bluetooth Wireless Earphones with Charging Case in Black (was £54.99 now £29.99) for a sleek smart look.

Of course, Christmas isn't complete without Christmas songs, but deciding what to play them on is crucial to having a good time. The iDance Cube Nano Bluetooth Speaker with LED Disco Ball (was £19.99 now £9.99) puts on an LED display that synchronises with the music played, just in case anyone struggles to keep their dancing in time. For the perfect quick-use speaker try the Bayan Audio NEO 2 Portable Bluetooth Party Speaker (was £49.99 now £29.99) with Bluetooth, USB and SD card compatibility, there's no way you won't be rockin' around the Christmas tree having a happy holiday.

Let the Family Games Begin

It's a rarity for the whole family to be together in one place these days and Christmas is the ideal time for some good old-fashioned family competition. When one game won't do, go for eight. With the Hy-Pro 4ft 8-in-1 Folding Multi Games Table (was £199.99 now £129.99) you'll be able to play ping pong, air hockey, table tennis and other classics all on one table.

If the sibling rivalry becomes a little too heated and seems to be reaching family feud proportions, why not re-establish the peace and goodwill by getting the brood to bond over the Secret Santa Limited Edition 1000 Rectangle Puzzle (was £17.99 now £11.99)? The charming Christmas fair scene will be sure to warm hearts and restore harmony through working together.

For those of you who are thinking more about the post-Christmas dinner sit-down, choose a game of mystery with the iconic Harry Potter Cluedo Board Game (was £37.49 now £24.99). Playable for both Potter-fans and newcomers alike, this is a great chance to get the whole family together in a classic whodunit.

Children's Christmas Classics

For those wanting to take Christmas back to good years gone by, the classic Hornby Highland Rambler Train Set (was £112.49 now £74.99) is the perfect gift to give. This set of tracks and coaches is perfect for beginner and veteran collections alike. Self-assembly allows freedom and creativity to flow, and the track can always be extended or connected to other available sets.

Keeping in tune with building your own track, the Scalextric Start - Formula Challenge (was £74.99 now £49.99) is ready to race. The distinct red and yellow cars are back in their original style for you to see who the fastest race car champion on the track can be. Chequered flags at the ready!

ENDS

Prices are correct to the time the press release was issued. For more information please visit the Robert Dyas website.

Media information provided by Famous Publicity. For further information please contact Mary-Jane Rose at mary-jane@famouspublicity.com or Steven Hanlon at steven@famouspublcity.com or call the office on 0333 344 2341.

About Robert Dyas

From the innovative to the everyday, you'll find everything you need for your home and garden, from cleaning solutions and kitchen essentials to the latest DIY gadgets and gardening must-haves – all at great prices.

The extensive selection of products ranges from some of the world's most famous brands through to exciting new start-ups. The common factor between them all is that their products share the Robert Dyas ethos for being innovative, practical and designed to last.

Robert Dyas founded the company in 1872, and it was bought by entrepreneur Theo Paphitis in 2012. Theo is one of the UK's most high-profile businessmen with an empire spanning retail, property and finance.

The company has over 90 stores, mainly in the South of England, and also operates 24-hours a day online.

Website: http://www.RobertDyas.co.uk/
Twitter: https://twitter.com/RobertDyas
Facebook: https://www.facebook.com/robertdyasltd/
Blog: http://www.robertdyas.co.uk/blog
Instagram: https://www.instagram.com/robertdyas/
Pinterest: https://www.pinterest.co.uk/robertdyas/
Linked In: https://www.linkedin.com/company/robert-dyas/
YouTube: https://www.youtube.com/user/robertdy
This press release was distributed by ResponseSource Press Release Wire on behalf of Robert Dyas in the following categories: Children & Teenagers, Men's Interest, Entertainment & Arts, Leisure & Hobbies, Home & Garden, Women's Interest & Beauty, Consumer Technology, Retail & Fashion, for more information visit https://pressreleasewire.responsesource.com/about.