Desserts For D-Day from Aktar Islam and Age UK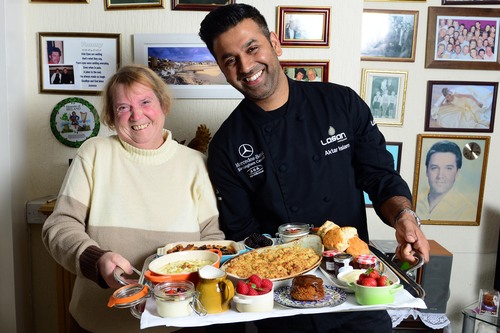 TOP CHEF URGES PEOPLE TO MAKE A D-DAY DESSERT FOR AN OLDER NEIGHBOUR AND SAY 'APPLE COBBLERS TO LONELINESS'

Great British Menu chef Aktar Islam is calling on the general public around the country to spend time with their older neighbours by rustling up a dessert or pudding to share on 6th June, the 70th anniversary of the D-Day Landings.

The award-winning Birmingham chef wowed the judges on BBC 2's Great British Menu with a show stopping, war-time inspired pudding complete with edible Churchill cigar. He is now urging everyone to offer a slice of friendship and make a 'Dessert for D-Day' for an older neighbour they know or donate to Age UK, the Charity that supports vulnerable older people across the country.

Loneliness is a huge issue that affects people all year round with around one million (see editor's notes) older people regularly going an entire month without speaking to anyone and 600,000 (see editor's notes) older people only leaving their house once a week or less.

Aktar, chef director at the award winning Lasan restaurant in Birmingham said: "Sharing food is a fantastic way to open doors, and it doesn't matter if it's a Battenburg, Bakewell or a Blancmange – by knocking on your neighbour's door and sharing your Desserts for D-Day on Friday 6th June and throughout the weekend that follows you could be bringing a little comfort into someone's life."

Laurie Boult, Head of Fundraising at Age UK said: "At Age UK we know how devastating loneliness can be for older people so we are delighted to be involved in Desserts for D-Day. Sharing a pudding with an older neighbour you know is a lovely way to brighten up their day. If you can't share a pudding, you can still make a difference simply by donating to Age UK. We support a wonderful range of services, such as befriending, social activities, lunch clubs and coffee mornings to give lonely older people the opportunity to feel more connected."

To help Age UK end loneliness people can donate today by calling 0800 169 8787 or texting HELLO to 70004 to donate £3 and help make later life better. To find out more about 'Desserts for D-Day' log on to www.aktarislam.co.uk. To find out more about Age UK's work to tackle loneliness and how you can donate go to www.ageuk.org.uk/get-involved/loneliness. Share your photos from the day with Age UK on Twitter and Instagram using hashtag #lovelaterlife or post them on Age UK's Facebook page.

Older people and their families can get in touch with Age UK to see how the Charity could help someone who may be feeling lonely by calling Age UK Advice for free on 0800 169 65 65.

-Ends-

Ref: LBSKDRCA

Media contacts
Absolutely Food PR and Marketing, working in collaboration with the Ed James Group

Annie Stirk, Absolutely Food
annie@absolutelyfood.co.uk
www.absolutelyfood.co.uk
T: 01347 810531 M: 07771 655756

Matt Reynolds, Ed James Group
matt@edjames.com
www.edjames.com
T: 0121 250 3806 M: 07825910664
Notes to editors
i Loneliness, Social Isolation and Living Alone in Later Life, C. Victor et al., 2003, and Mid-2012 population estimates for the UK, Office for National Statistics, 2013

ii One Voice: Shaping our ageing society, Age Concern and Help the Aged, 2009

About Atkar Islam
• Aktar Islam is Chef Director at Lasan Restaurant in Birmingham and co-director of Lasan Group, which currently operates Fiesta Del Asado and Raja Monkey.
• Lasan restaurant has received previous accolades, most notably by Gordon Ramsey on 2009's F-Word, winning 'Best local Restaurant'.
• Birmingham chef Aktar Islam tasted victory after winning the central heats on The Great British Menu, facing off against Jason Hodnett, and Michelin star chef Mark Poynton, and will now go on to the final in June.
• Aktar and his competitors were given a brief to create courses that would be fit for a World War II Veteran's Banquet to mark the 70th Anniversary of D-Day. The award winning chef's final dish, aptly named 'Victory is Sweet' – a take on the traditional dessert Queen of Puddings – wowed the judges and received full marks across the board.