Yorkshire Gourmet Trail Holiday Launches in Tour de France Afterglow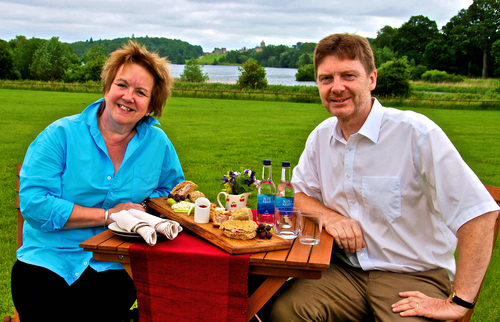 A gourmet food trail company and 'slow travel' holiday specialist have joined forces to create a unique gastronomic break to showcase the best of Yorkshire's glorious food and spectacular scenery.

Following the overwhelming success of the Tour de France starting in Yorkshire last weekend, Yorkshire Food Finder and tour operator Inntravel are among the first to unveil new opportunities for visitors after the county's fabulous assets and attributes were flashed to 190 countries around the globe as the magnificent backdrop to the start of the world's biggest cycle race.

The two Yorkshire-based companies have created a gastronomic break in their heartland that combines the best the county has to offer – amazing food, stunning scenery, fantastic independent walks and exclusive insights into all that Yorkshire has to offer.

Yorkshire Food Finder has shared with Inntravel its unrivalled local knowledge and contacts with food producers and chefs to jointly devise a four-night break including behind the scenes private tours to some of Yorkshire's finest artisan producers, gourmet feasts created by some of county's highly-acclaimed chefs, and stays at quality hotels.

Award-winning chef Andrew Pern of the prestigious Star Inn at Harome, acclaimed chef Peter Neville who cooks at the Pheasant Hotel just a few steps away in the same village, and renowned chef Craig Atchinson who heads up the kitchen at the James Martin Restaurant at The Talbot Hotel in the self-styled foodie capital of nearby Malton, all focus on creating dishes using the best of Yorkshire's abundant larder.

Yorkshire Food Finder specialises in giving food lovers intimate access to the county's craftsman food producers via guided trails and activities crowned by signature feasts at award-winning restaurants.
The new gastronomic break features guided exclusive visits to Botton Village Creamery high on the North York Moors to see at first hand traditional cheese-making methods, the family-run Yorkshire Rapeseed Oil, producers of fabulous oils, salad dressings and mayonnaise in the heart of the unspoiled, little-known Yorkshire Wolds, and the award-winning Ryedale Vineyards in Ryedale, the most northerly commercial vineyard in Britain.

"Showing off the delights of Yorkshire through the hosting of the Tour de France's Grand Depart was a brilliant part of the amazing journey to spread all that is special about our county to the rest of the world," says Yorkshire Food Finder founder Sue Nelson.

"Like the rest of Yorkshire we're enormously proud of all that we have here, so we're delighted to be working with Inntravel to showcase the splendour of Yorkshire, its wonderful larder and the talent of great food producers and chefs who make this Inntravel gastronomic holiday a must for the erudite food lover."

www.yorkshirefoodfinder.org

- Ends -

Note to Editors:

Yorkshire Food Finder was launched in November 2012 and celebrates food provenance and the preservation of centuries' old food skills and crafts. Guided food trails take discerning gourmets behind the scenes to discover, taste and eat, the best that Yorkshire has to offer through its artisan food producers and chefs. Founder Sue Nelson also shows how to make the best of Yorkshire's larder through informal, friendly 'Kitchen Social' demonstrations and at major food events around the county.

Inntravel is renowned as one of the UK's leading specialist tour operators. The company's bespoke 'slow' activity holidays for individuals at family-run hotels of character in hand-picked locations have won many awards and this new gastronomic break available between now-Nov 2014 and mid-March to mid-November 2015 has been devised to mark the company's 30th anniversary year. Find out more at
http://www.inntravel.co.uk/holidays/walking-holidays/UK/York...