Aerospace Component Super Surface Finishing Showcase for Fintek at Advanced Engineering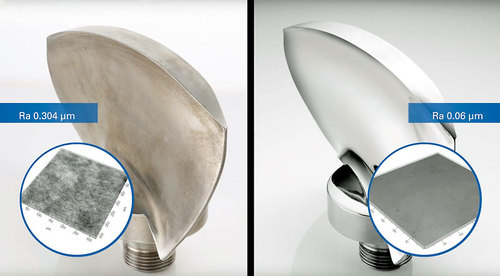 On stand H58 at Aero Engineering 2016, NEC, Fintek will be showcasing their subcontract super surface finishing services for aerospace and other precision component manufacturers. The AS9100 accredited company, will also show equipment along with a full service to help engineers find the right combination of machine, media and process time to achieve the required surface finish for their part.

Jonathan Dean, Fintek MD commented, "Reducing component cost is not always the main aim of aerospace manufacturers. There is a constant drive to improve surface finish and every incremental advance produces a better part with greater performance. In many cases costs associated with making improvements are quickly offset – stream finishing processes are reliably repeatable, quicker than hand finishing and reduce waste due to non-conforming product."

The company is able to process miniature parts, through individual turbine blades, up to full blisks. Using stream finishing Fintek can apply more than one surface finishing method in a single process, saving more time and producing a component that on visual inspection alone is vastly superior. Importantly, subsequently applied hard coatings will last longer on super fine finished, peak-free surfaces. Coatings are easily compromised when peaks not removed by some traditional finishing methods break during component use, causing costly maintenance for the user.

Turbine blades are often made from nickel-titanium or tungsten-molybdenum alloys. In line with most customer requirements, surface smoothing between Ra 0.4µm and 0.25µm is easily achievable in a short cycle time of around five minutes. Where smoothing needs are more stringent, surface finishes down to Ra 0.01µm are equally possible.

Throughout processing it is important to ensure the shape of, for example, a turbine blade, is not affected or damaged. A notable aspect of stream finishing machines at Fintek are specially designed holders ensuring there is no contact between components during processing that might otherwise damage surfaces and that all surfaces are optimally exposed to the media. Edge rounding by hand or CNC machine often risks corners of the blades being over-rounded and inconsistencies along the blade edge. Again stream finishing mitigates these pitfalls and saves time as it takes place in the same process cycle time.

To find the best super finishing process for your part and decide on subcontract or if you need a machine in-house, then visit the experts at Fintek on stand H58. The company also offers a free trial part processing service.

Information behind the Story

Jonathan Dean, Managing Director Tel. +44 (0)1706 82 5819
Fintek, Halter Inn Works, Holcombe Brook, Bury, Lancashire, BL0 9SA
Email: info@fintek.co.uk Web: www.fintek.co.uk

Images are on the web at www.ainsmag.co.uk/fi172/5586fi1a-advanced-engineering2016.ht...