Crafts People at Darwen Terracotta and Faience Help Artist Create New Sculpture at York Art Gallery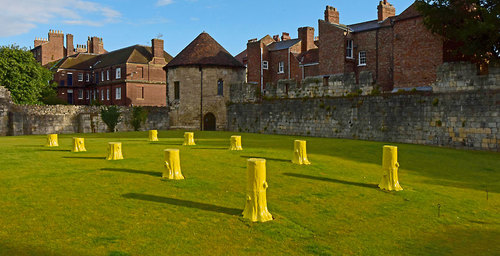 Architectural ceramics specialists Darwen Terracotta and Faience work with leading architects throughout the world in restoring elegant sculpted and glazed facades to historic and modern buildings. The company was chosen by Charles Holland of commissioned artists Ordinary Architecture to build a new artwork, Foundation Myths. The ten, life-sized, ceramic tree stumps with a bright yellow glaze, came as a new challenge.

The new work, Foundation Myths, is part of the inaugural exhibition at the Artists' Garden at York Art Gallery. As you would expect in such an ancient city as York the site of the Artists Garden has seen many different roles over the centuries. At one time an orchard, it was also once part of the Precincts of St Mary's Abbey and was the home to the Great Hall of the 1897 Yorkshire Exhibition. The two parallel rows of ceramic tree stumps echo this architectural and agricultural history, but are clearly of their own time, with their sunshine yellow glaze contrasting sharply with the brilliant green of the lawn they adorn.

"We have worked with Charles before and he has a good understanding of what we can do here," explained Jon Wilson a director at Darwen Terracotta. "One of our collaborations was the House for Essex, a FAT Architects project featuring ceramics designed by Grayson Perry. Our role was the realisation of Grayson's concept. This complex and highly sculptural building uses bold colours and dramatic shapes to fire the visitors' imagination. Charles knew that our team had the advanced skills and experience in modelling clay, developing bespoke glazes and finely controlled firing to turn his ideas into reality."

Foundation Myths is attracting many visitors and will remain on display at York Art Gallery until August 2017: http://www.yorkartgallery.org.uk.


More Information
Jon Wilson, Director Tel. +44 (0)1254 460 500
E-mail: jonwilson@darwenterracotta.com Web: www.darwenterracotta.com
Darwen Terracotta Ltd, Building O, Ribble House, Ribble Business Park, Challenge Way, Blackburn, Lancashire. BB1 5RB

Images are on the web at http://www.ainsmag.co.uk/client-news/darwen-terracotta-ltd/n...