Vacuum Brazing: New White Paper Examines Applications in the Fabrication of Complex Engineering Components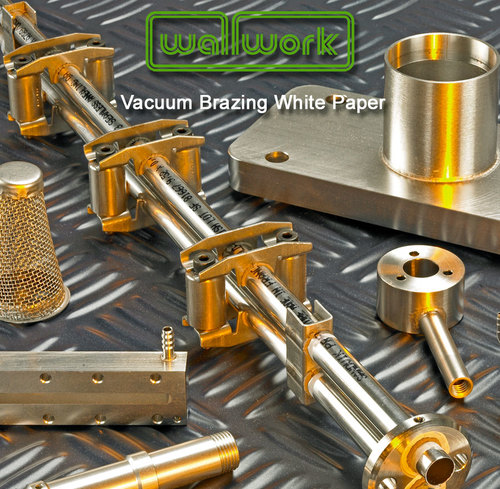 The application of vacuum brazing for the jointing and heat treatment of complex engineering is the subject of a new white paper from the Wallwork Group, the thermal processing and hard coatings specialist. Taking additive manufacturing as its starting point, it asserts that vacuum brazing is a process that is highly adaptable to meet current challenging technical needs that is available now as a mature proven, repeatable, scalable and highly attractive commercial technology.

"Vacuum brazing is well suited to the manufacture of complex components for aerospace, motorsport, medical, nuclear and other demanding fields," asserts Peter Cookson, a vacuum brazing technologist at Wallwork and author of the paper. "With in-depth metallurgical expertise on hand we like to get involved at the earliest stages of design to optimise the component configuration, process and test procedures to meet multiple technical objectives. Using vacuum brazing we can frequently achieve time and cost savings compared to other fabrication methods," he added.

There are many application specific benefits to the process, but the general advantages can be briefly summarised as:

* Adaptability: highly complex components can be fabricated that may be impossible to manufacture by any other method.
* Material freedom: many materials, including dissimilar alloys and ceramics, can be joined by vacuum brazing so the designer has the greatest possible freedom to select the most suitable material for each element of the fabrication.
* Low temperature: unlike welding, bonding takes place at relatively low temperatures so there is minimal distortion in the component and no residual thermal stresses to be overcome.
* Strength: the bonds created in vacuum brazing are often much stronger than the material joined since the absence of oxidation to gives a high strength join.
* Vibration resistant and shockproof: the joints of vacuum brazed components are strong but remain ductile, depending on the choice of braze alloy used. This makes them ideal for applications where they may be subject to shock or vibration.
* Fully Scalable: from the production of one-off items or prototypes to batch or high volume production. We have a range of vacuum furnaces of different capacities to offer the best economy at different levels of production.

The white paper is available as a download from the Wallwork Group web at http://www.wallworkht.co.uk/article/vac_braze_white_paper/.

The company has Nadcap approved facilities for vacuum brazing at both Cambridge and Manchester and provides a nationwide collection and delivery service.

More Information
Peter Cookson, Vacuum Brazing Technologist
Tel. +44 (0)161 797 9111 Fax. +44 (0)161 763 1861
E-mail: peter.cookson@wallworkht.com Web: http://www.wallworkht.com
Wallwork Group, Lord Street, Bury, Greater Manchester, BL9 0RE

Images are on the web at: Images are on the web at: http://www.ainsmag.co.uk/client-news/wallwork-group/vacuum-b...