Aerospace Vacuum Brazing Specialist Achieves Rolls Royce Approval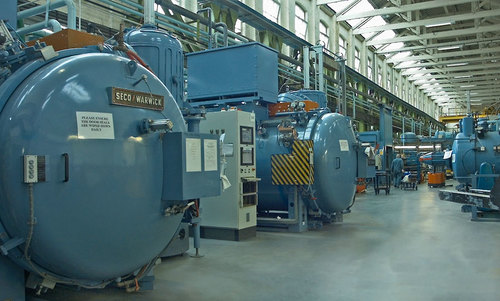 Aerospace Vacuum Brazing Specialist Achieves Rolls Royce Approval

The Manchester (Bury) site of aerospace thermal processing specialists, Wallwork Group, has secured Rolls Royce approval of their recently opened vacuum brazing development laboratory and assembly area. The site has a high concentration of modern vacuum heat treatment furnaces of varying capacities and is able to efficiently process differing sizes and volumes of metal components.

Quality engineer Helen Ellis, who was part of the team that supported the accreditation application, noted, "We are constantly working to extend the scope of our aerospace quality approvals to give clients confidence that our manufacturing processes conform to the highest standards."

Manchester is the largest aerospace processing location in the Wallwork group and has seen significant investment in recent years. The site already has extensive approvals for mainstream heat treatment processes from many UK and international aerospace primes such as BAe Systems, Airbus, Safran, Bombardier, Moog and others. Common treatments to improve metal component performance and endurance include case hardening, carburising, hardening and tempering, nitriding and more.

Vacuum brazing is a process for joining metal components, sometimes made from different metals, that is equally suited to small assemblies and to more complex fabrications made up from many components. It is a process that offers design engineers a high degree of flexibility to produce engineered parts to meet differing technical and environmental challenges. Assemblies made by this process are exceptionally strong, shock and vibration proof. Wallwork technicians work with clients through the full design and development cycle form prototyping and testing through to volume production with total quality control and traceability.

Sales manager Howard Maher concluded, "Vacuum brazing is a relatively new addition to the range of metal improvement services available at this site. Achieving this additional Rolls Royce approval so soon after commissioning the new vacuum brazing area is a tribute to the skills and in-depth technical capability in the company and will help attract more high value aerospace work."


More Information
Howard Maher, Sales Manager
Tel. +44 (0)161 797 9111 Fax. +44 (0)161 763 1861
E-mail: howard.maher@wallworkht.com Web: www.wallworkht.com
Wallwork Group, Lord Street, Bury, Greater Manchester, BL9 0RE

Images at http://www.ainsmag.co.uk/client-news/wallwork-group/rolls-ro...