Red Victor Racing Team Achieves Ten-Fold Endurance Improvement with Wallwork Coated Gears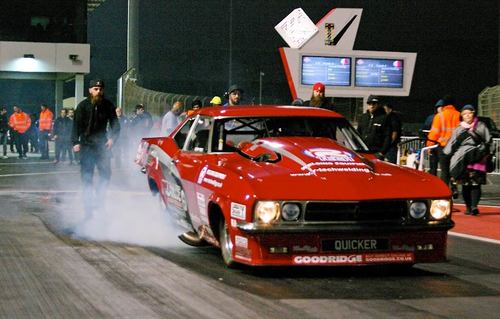 The winter series drag racing championships in Bahrain have now concluded and the Red Victor1 Racing Team are celebrating an exceptional 21 trials and their best speeds ever. A key element in this success can be attributed to advanced micro thin hard coatings from Wallwork Cambridge used to extend the operating life of highly stressed racing transmission components.

Red Victor managing director Andy Frost explained, "When a 4000bhp motor accelerates from zero to 191mph in 4.09 seconds the stress forces on the transmission are immense. This is especially so in a drag racer where restricted space limits the size of the gear box that can be installed."

"Before involving Wallwork we were having to write-off the gear box after just two quarter-mile runs due to galling and welding of the planet gears. With the hard-coated gears from Wallwork we ran right through the Bahrain series – a staggering 21 runs in total – without a single failure, other teams were having to re-build their transmissions every few races. We do not have the time or resources to do that and having a reliable gearbox allowed us to undertake more runs than otherwise would have been possible."

Owned by Penn Autos, whose main business is the engineering of transmissions for drag racers, the Red Victor Racing Team use Red Victor3, the latest version of the car, as a live test-bed for engineering innovations. These are then offered to other racing clients with the confidence that higher performance will be achieved, even in the most extreme and demanding situations.

Gears in Red Victor3 were coated with Nitron MC and gear retainers with titanium nitride, but Wallwork have a wide range of other treatments available including the full spectrum of carbon coatings from highly lubricious graphite to multi-layer diamond as well as several options for the replacement of hard chrome plating.

Specialists in surface engineering, the Wallwork Group, provide heat treatment and hard coatings that enhance characteristics such as hardness and lubricity. In applications such as motorsport this improves endurance, reduces frictional losses and can improve delivered power output. In more mainstream automotive applications the natural lubricity of coated parts can help reduce the energy absorbed by the transmission to deliver significant fuel savings.

The company provides service to clients in demanding industries such as aerospace, motorsport and medical equipment from plants in Manchester, Birmingham and Cambridge.

Red Victor3, Europe's fastest street-legal drag racer, will remain in Bahrain for the 2017 drag racing season starting in November. The engine and transmission have been shipped back to Penn Autos in Wolverhampton where they will be stripped and re-built. Wallwork will be working with the team to evaluate the performance of the coated parts and advise on refinements to further boost performance. The team is hopeful of taking a World record on the return to the Bahrain championships.

More Information
Howard Maher Sales Manager
Tel. +44 (0)161 797 9111 Fax. +44 (0)161 763 186
E-mail: howard.maher@wallworkht.com Web: www.wallworkht.com
Wallwork Group, Lord Street, Bury, Greater Manchester, BL9 0RE

Andy Frost, Managing Director, Red Victor1 Racing/Penn Autos
Tel. +44 (0)1902 344 872 E-mail: redvictor1@hotmail.com
Web: www.redvictor1racing.co.uk

Images are on the web at www.ainsmag.co.uk/client-news/wallwork-group/coated-gears-pr...