Glazed Ventilators Meet British Standard BS6180 Loading Tests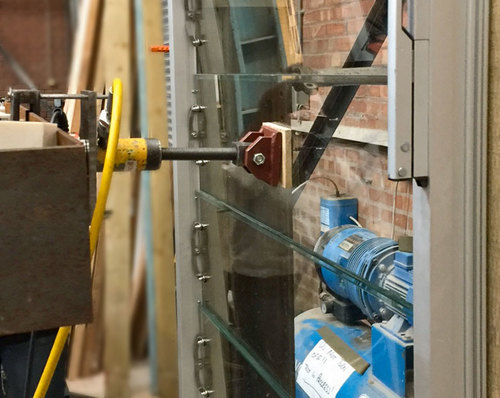 Fieger UK, suppliers of glazed ventilators for prestige building projects, are celebrating a series of successful loading trials at the Lucideon test centre. Single, double and triple glazed variants of the louvres were tested in accordance with methods prescribed in BS6180:2011. All units underwent and passed a series of stringent point load, horizontal load and distributed load tests. The successful trials certify the units as meeting the standards for safe use as barriers on stairwells and apartment balconies.

In the most extreme test, the maximum deflection recorded was 16.37mm, well under a permitted movement of 25mm. This required the application of a 3kN point loading of a single glazed louvre at its most vulnerable centre point. "We are delighted with these results. To put the tests in perspective, the most severe test is equal to the entire weight of two 23 stone men concentrated on a very small area in the centre of one louvre. In reality, should anyone fall against the ventilator the force of impact is likely to be distributed over a wide area. The distributed weight tests recorded extremely low levels of deflection, the maximum being 3.3mm under a 1.5kN load, as prescribed in the British Standard," noted Lindsay Eccles, Fieger's UK managing director.

Fieger glazed ventilation systems are used throughout Europe and widely in the UK within glazed perimeter walling. Designers are free to specify single or multi pane systems and may specify glazing with special properties, such as tempered and coated glasses to meet the technical and aesthetic requirements of the project. In addition to enabling natural ventilation, the systems are frequently specified for emergency smoke removal to keep exit routes clear, particularly in corridors and stairwells.

Precision manufacturing of the units ensures effective sealing between louvre blades to minimise heat loss by infiltration. Single-glazed units can be specified for winter garden applications, for example, whilst double and triple glazing, combined with insulated framework, can be used to achieve very low U values.. Electrical actuation is generally used for positive opening and closure, although manual options are also available. Electrical actuation also permits units to interface with other fire detection and control equipment as well as linking to building management systems in general.

Architects and designers can select from a range of sizes and finishes to harmonise with materials used elsewhere in their projects. Fieger glass ventilation louvres provide attractive and versatile glazing, ventilation and barriers for apartment, office, retail, education and medical buildings. Current UK applications include Riverlight a prestigious apartment development in Nine Elms, the Battersea Power Station redevelopment and the Student Hub at Queen's University in Belfast.

More Information:
Lindsay Eccles, Managing Director, Tel. +44 (0)1724 761111 Mob. +44 (0)7867971290
E-mail: eccles@louvrewindow.co.uk Web: www.louvrewindow.co.uk
Fieger UK Ltd, 22 Oak Drive, Messingham, North Lincolnshire, DN17 3US

High resolution images: www.ainsmag.co.uk/client-news/fieger-uk/glazed-louvres-pass-...