NORTHERN DELIGHTS AND TASTY BITES WITH LUCY'S OF AMBLESIDE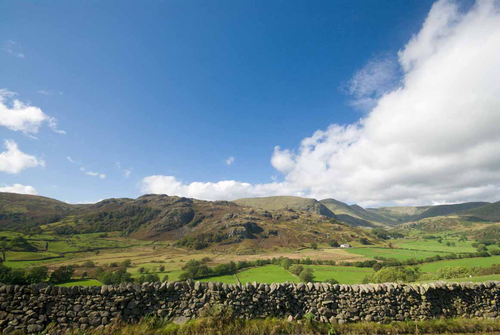 Do you always find yourself planning holiday activities around your appetite for good food? If you fancy a wonderfully indulgent weekend break that combines delicious food with the most inspirational surroundings, then northern delights await you in beautiful Cumbria…

Cumbria boasts a whole host of traditional local produce from Cumberland Sausage to Windermere Char and Grasmere Gingerbread to Kendal Mint cake there is something to tempt the taste buds of any hungry traveller. Less than a mile from the head of Lake Windermere, the spectacular scenery in the town of Ambleside provides the perfect setting to enjoy some of the fabulous culinary treats on offer.

If you decide to take a food tour of Cumbria there are a few stops along the way in Ambleside and Staveley that you can't afford to miss, all of which were the inspiration of food fanatic Lucy Nicholson…

Lucy moved to the Lake District in the late eighties. Inspired by the lack of sale of good produce available in the area at the time, she opened a small deli, Lucy's Specialist Grocers.

Through flying the flag for local food over the past twenty years, Lucy can certainly take credit for transforming the beautiful town of Ambleside into the 'gastro-hub' that it is today and now has a full foodie empire under her belt including a delicatessen, restaurant, bistro, catering company and most recently LucyCooks Cookery School.

LucyCooks

LucyCooks is a fabulous cookery school with to die for kitchens nestled in Staveley in the foothills of the Kentmere Valley, only ten minutes from the M6. All of Lucy's courses were created for foodies with love so if you're passionate about food, why not cook up a feast at LucyCooks.

There's a course to suit everyone's taste buds from chocoholics to calorie counters, and veggies to carnivores, all guaranteed to induce a state of gastronomic delight! A course for all reasons and all seasons, more and more companies and groups have discovered that LucyCooks is an ideal venue and exciting activity for a day out with a difference.

No talent required it's all about having fun and broadening your existing skills or discovering ones you never knew you had! You are guaranteed to go home laden with freshly made goodies galore and a few extra skills to boot.

Lucy's on a Plate

Bustling and busy with scrubbed pine tables, chapel chairs and a relaxed and friendly air, Lucy's on a plate serves breakfast, lunch, afternoon tea, cakes, coffees and dinner. A change of menu and ambience takes Lucy's on a plate from café by day to restaurant by night! Lucy's is famed in the Lakes for her decadent puddings, regular 'Up the Duff' pudding nights are a real treat. The pièce de résistance is the vast dessert menu with over thirty homemade puddings! We challenge you not to be seduced by Lucy's sinful sweets!

Lucy's Specialist Grocers

Lucy's deli is an Aladdin's cave of culinary treats from cheeses to chocolate to chutneys! Tickle your taste buds with a wonderful range of mouth-watering produce sourced from around the world, from Cumbria to Umbria including the sea! From the minute you walk through the door you'll enjoy the aromas of delicious cakes, scones and pastries baked on the premises by pastry chef Janet. Lucy's also specialises in gluten free goodies. For the times when you can't visit the shop, Deli t'dor is a mail order service, delivering speciality hampers and other delights across the country.

Lucy4

Forget formal dining this is relaxed and sociable eating at its best. Get stuck in to a Mediterranean style 'mix and match' sharing plates with a group of friends or enjoy an intimate dinner with that special someone. Lucy4 boasts a fabulous range of over 75 wines, Champagnes and beers for the connoisseur in you! Enjoy a glass of chilled wine on the decking in the summer or a steaming hot coffee beside the fire in wintertime.

For further information about LucyCooks or to make a booking call 015394 32288 or visit the website www.lucycooks.co.uk.

For all of Lucy's other foodie destinations visit www.lucysofambleside.co.uk.

-Ends-

Journalist invitation:

If you have been inspired to make the trip to Ambleside, just get in touch and we can arrange a full weekend of foodie activities for you. We are also happy to recommend or arrange accommodation.

For press enquiries contact Marie Saunders at Apples & Pears Marketing:
t: 0115 925 5999 or e: marie@applespears.co.uk.