MAKE SOME CASH WITH THE DOMINO'S WIDGET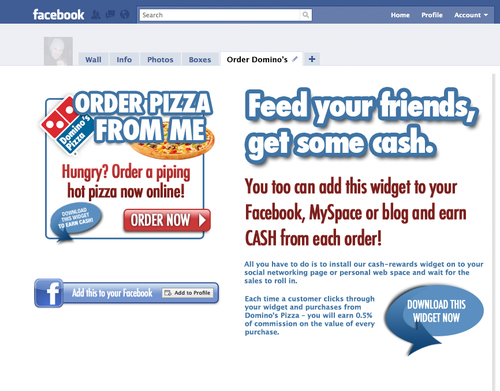 You too can add this widget to your Facebook, MySpace or blog and earn CASH from each order!

LONDON, APRIL 13, 2010 – Thanks to the new cash-rewards widget, everyone with a social network site or blog can cash in on the popularity of Domino's Pizza. All you have to do is install the widget on your site or profile page, start promoting Domino's and wait for the sales to roll in.

You'll get a cash reward each time a friend or visitor to your website gets hungry and places an order with Domino's. The widget will keep track of your sales and you'll get a generous slice from every purchase, 0.5% to be precise. So if you want to make some serious cash with Domino's, whet your friends' appetite and let them know where to order.

You can download the widget at www.dominos.co.uk/widget – where you will find simple instructions to install it to your Facebook, MySpace or blog. Later, when you want to check or collect your commissions, you can sign up with Domino's payment partner Affiliate Window – making it easy and safe to get your cash.

Go on, beat your friends to it, and download the Domino's cash-rewards widget today!

-ENDS-

About Arena BLM

Arena BLM was launched in 2008 following an investment from Arena Media Communications, part of Havas Media. Founded in 1990 BLM is the only media agency to have won five IPA Advertising Effectiveness Awards. In 1998 it launched digital agency, BLM Quantum growing to be the UK's second biggest independent digital agency. In 2008 BLM Quantum was voted Digital Agency of the Year for the second year running. BLM also comprises of BLM Azure, a specialist in the toy and kids sector that was launched in 2002. In 2006 the company acquired Red Media, a media specialist focusing on the premium and luxury sector, to create BLM Red. Arena BLM's clients include: Bulgari, Character Options, The COI, Domino's Pizza, Haven Holidays, Jaeger, Legal and General, Mirror Group Newspapers, Pathe Films, Paul Smith, Scotts Miracle-Gro Company, Suzuki, Swiftcover Insurance, Tesco Bank, Thomas Cook, T-Mobile and Young's Seafoods.

Arena is Havas Media's fastest-growing tailor-made communications network and now operates in 8 markets: UK, Spain, Portugal, France, Mexico, Argentina, Chile and Colombia. In most markets established prior to 2008, Arena is ranked within the top five agencies. Arena's global client list include brands such as Santander, Movistar (Telefonica), Wal Mart, Bwin, Damm Group, Aero Mexico, Bebidas, Fox Channel, Paris, Bayer, Parmalat, Quala, Pritty Cola, Comunidad de Madrid (feria de artesania &Plan Fico, and Cetelem) and Mitsubishi

About Domino's Pizza:

Domino's Pizza UK & IRL plc is the leading player in the fast-growing pizza delivery market. As at 27 December 2009, there were 608 stores in the UK and the Republic of Ireland. Of these, 481 stores are in England, 45 are in Scotland, 22 are in Wales, 14 are in Northern Ireland, 45 are in the Republic of Ireland and one is a mobile unit. The first UK store opened in Luton in 1985 and the first Irish store opened in 1991.

Founded in 1960, Domino's Pizza is one of the world's leading pizza delivery brands. Through its primarily franchised system, Domino's Pizza operates a global network of more than 9,000 Domino's Pizza stores in over 60 countries. Domino's Pizza has a singular focus – the home delivery of pizza, freshly made to order with high quality ingredients.