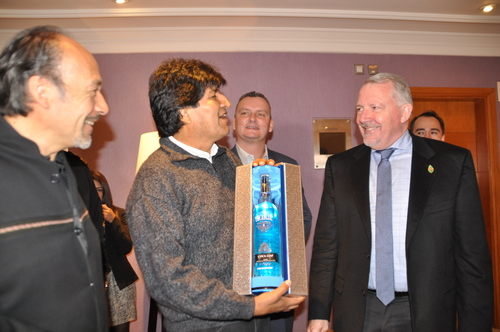 Press release for immediate release, Sunday 8th of October 2015

Irish Owned Brand, COCABLUE®, Official Drink of the Bolivian Presidential Palace says President Morales

During today's historic first state visit to Ireland President Evo Morales of Bolivia announced at a private meeting in Dublin that COCABLUE (a 111 proof ultra-premium, high altitude coca leaf liqueur created by Irish company Babco Europe Limited) is to become the Official Drink of the Presidential Palace in La Paz, Bolivia.

"We are delighted to have had the opportunity to discuss direct trade links between Bolivia and our company with the President in Dublin today. We are honoured that President Morales has requested that we supply COCABLUE as the official drink of the Presidential Palace in Bolivia," said Mark Wilson CEO of Babco Europe Ltd.

Mark Wilson further commented that,"At the 2012 UN Single Convention on Narcotic Drugs President Morales, a former...
Read full release