August Most Likely Time to Get 'Dumped' says Leading Psychologist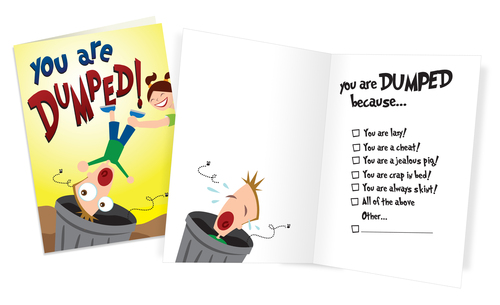 Summer is supposed to be the most romantic season of the year, when holiday romances thrive and the sun is shining.

But a leading online card retailer claims August is actually the month when you're most likely to get dumped by your partner.

The Card and Gift Company already sells cards congratulating the newly divorced or single, but the people behind the site have received hundreds of emails and phone calls requesting a 'you're dumped' card.

Andrew Gibson, managing director of The Card and Gift Company said: "Our newly divorced and single cards sell well, but we frequently receive feedback from customers asking for a 'you're dumped' card.

"In the last week or so, the amount of people getting in touch has shot up, suggesting that August is the time of year when most people consider ending their current relationship.

"Many of us find it easiest to express a difficult message in writing, which is why we think so many people feel there is a gap in the market for this type of card."

Dr. David Holmes, a senior lecturer at Manchester Metropolitan University's Department of Psychology is not surprised by these findings. He said: "It's a common misconception that summer is the time when love blossoms and relationships thrive.

"It's actually far more likely that, whilst contemplating your life back at home when on holiday, we are most likely to make important and strategic life changing decisions.

"Other research has shown that you're most likely to review your career during summer so it fits that this theory should extend to one's relationship and personal life.

"It's easy to be so stressed out and busy during your day to day life at home, that we don't have the energy to take action against elements of our life that are bothering us or need to be changed.

"Going on holiday gives people the feeling of confidence and rejuvenation needed to make major decisions and improve their lives back home."

The Card and Gift Company have now designed and published a 'you're dumped' card, available through the website, for those needing a helping hand in letting their partner down gently this summer.

For further information visit www.thecardandgiftcompany.co.uk

ENDS

For more information or images contact Siobhan McGrogan 0161 932 1027 / 07746 943 270 Siobhan.mcgrogan@beattiegroup.com

Images of "You're Dumped" card available on request.