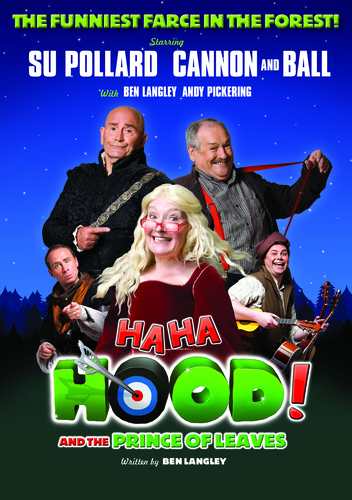 THE FUNNIEST FARCE IN THE FOREST!
HA HA HOOD! And The Prince Of Leaves
STARRING
SU POLLARD and CANNON AND BALL
With Ben Langley and Andy Pickering

The Ha Ha! team are BACK with a brand new and all-out outrageous comic romp!

Ten years after a messy divorce Robin and Marian are forced back together to fight the Sheriff once more. Little John and Friar Tuck, now considerably older and rougher around the edges, join the merry pair to try and save the citizens of Nottingham…

Comedy queen Su Pollard (Hi-de-Hi!, You Rang, M'Lord) and comedy duo Cannon and Ball team up for an all-out outrageous side splitting romp. Ha Ha Hood! And The Prince of Leaves is the latest laugh-out-loud production from the Ha Ha! team who had us rolling in the aisles with Ha Ha Holmes!, Ha Ha Hitler! and Ha Ha Hamlet!. Created by Ben Langley, who also takes on the mantle of Robin, Ha Ha Hood! Prince of Leaves gallops into action at the...
Read full release