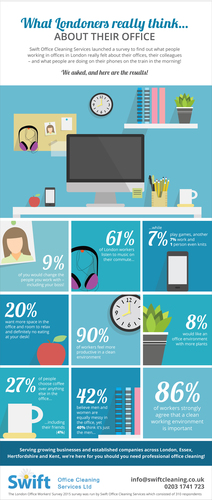 The London Office Workers' Survey 2015 has uncovered what London workers really think about their colleagues, offices and what they can't live without…

When faced with the question "what is the one thing you can't live without in the office?" our shameless London office workers have no qualms in dropping their colleagues! According to the results from the survey, what we really want to get us through the 9 - 5 is simply 'coffee' (27%). The caffeine buzz is even more important than our friends (4%) and mobile phones. (We're sorry tea drinkers, you came second).

The survey carried out by Swift Office Cleaning Services Ltd presents interesting findings on office workers' perceptions of their working environment and details of their commute.

So, what about the offices we work in – how do we feel about the premises in which we spend our working week?

As the trend for companies to move towards open plan working instead of the...
Read full release