Tetbury Woolsack Superman Mike Buss Starts 24hr World Record for Help for Heroes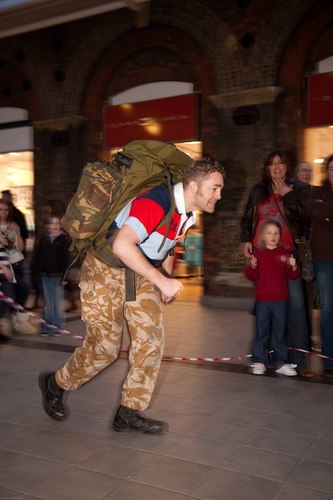 28th May 2010, Tetbury, Gloucestershire, United Kingdom - Former soldier Mike Buss who was nearly killed by an IRA car bomb in Northern Ireland is set to break his 10th World Record since October 2009 for Help for Heroes, by completing an endurance challenge that no-one has ever attempted before. Carrying a 60 lb army backpack, he will run up and down an exceptionally steep, one in 4 gradient hill over a 240 yard course, as many times as he can over 24 hours. He has named this challenge as 'The Tetbury Woolsack 24hr Enduro'.

This year, the world-famous Tetbury Woolsack Race invited Mike Buss to further increase the popularity and profile of the event, which always takes on the Monday of the late May Bank Holiday weekend. Mike has a primary role in the event and will set two new world records over the Bank Holiday weekend. He will be joined by Guest of Honour Lt. Col. Bethan Targett from 29 Regt., Gloucestershire, who is completing her final official engagement on Monday. 29 Regt. has supported this event in their fundraising for many years and also supports Mike Buss.

Mike's first world record will be 'The Tetbury Woolsack 24hr Enduro' takes place at Gumstall Hill, near the Snooty Fox Pub and starts at 12 noon on Saturday 29th May, finishing at 12 noon on Sunday 30th June.

With only 14 hours rest after completing his 24hr challenge, Mike Buss will then take part in the official Tetbury Woolsack Race on Bank Holiday Monday at 2pm, where he will compete against fresh-legged four-man teams. Each member of the four-man team will run one leg either up or downhill. Mike will run all four legs of the relay against them on his own. In fact, it is this very challenge which Mike set himself a few years ago that caught the eye of race organizers. The crowd were astonished when they saw the same man running both up and down the hill each time. Hence the invitation to have a primary role at this year's event.

Woolsack Event Coordinator Ken White says 'We're delighted to welcome Mike back to attempt this unique and very difficult challenge. His presence will serve to highlight this event and support our fundraising attempts. We wish him every success. We hope to boost our fundraising from £7,500 last year to around £10,000 this year.'

Marc Hocking is the owner of Priory Gym which was launched in Tetbury just ten weeks ago. He is a qualified strength conditioning coach and whilst he has not yet done the Woolsack race himself, several of Tetbury's rugby team train at the Priory Gym and have taken part in the Tetbury Woolsack race over the years. Marc says 'The Woolsack race is known to be an incredible strain on the body so Mike Buss must be either incredibly fit or incredibly mad – one or the other!'

He adds 'The race is really tough both physically and mentally. Carrying a 60lb pack on your shoulders with your arms behind your head going downhill affects your balance - you can't break your fall! It will be very tough on Mike's legs, lungs and his whole body. We will be there to support him and wish Mike all the very best on his world record challenge.'

Both Mike Buss and the Tetbury Woolsack Race will be using this event to raise much-needed money for Help for Heroes, the non-political charity which helps injured servicemen and women recover from injuries. Mike has already raised £25,000 for Help for Heroes since October 2009 and is aiming to raise another £75,000 to hit his target of £100,000 by the end of 2010.

This will only scratch the surface of Mike's Total Target of raising £1,000,000 for Help for Heroes and other military charities by 2014, by taking on many more world record breaking physical endurance challenges. For more information contact Mike on +44 (0) 7791 545550. If you would like to donate to Help for Heroes, please go to Mike's Just Giving Page www.justgiving.com/mikes-worldrecords

-ends-

For further details and press interviews, contact:

Rhona Jack
Managing Director
Blue Click PR Ltd.
Mobile: + 44 (0) 7866 546221
Email: rhona@bc-pr.com

Mike Buss
World-Record Breaking Endurance Athlete
Mobile: +44 (0) 7791 545550
Tel: +44 (0) 1793 766 066
Email: info@mike-buss.com

Ken White
Woolsack Event Coordinator
Tel: 01666 504189
Mobile: 07966 170509
ken.white@ihs.com and/or tetburywoolsack@googlemail.com
Please note: PRESS ID and PRESS PASSES NECESSARY – please liaise with Ken White

Marc Hocking
Priory Gym owner & Strength Conditioning Trainer
Tel: 01666 502028
marc@priorygym.co.uk

EDITOR'S NOTES:

Mike Buss - Endurance Athlete - Tasks Ahead

Endurance athlete Mike Buss supports Help for Heroes because he was medically discharged from the army ten years ago when an IRA bomb caused deafness in one ear. At that time, the support for injured military personnel wasn't particularly good. He values highly the work of the Help for Heroes charity so he is on a mission to:

• Break 20 world endurance records in just 12 months (a feat that has never been achieved before).
• Raise £100,000 by the end of 2010 and just over £1,000,000 by 2014.
• Take on many of the world's toughest challenges including the 'Marathon Des Sables' across the Sahara desert in 2011.
• Finish a world record breaking 5 yr campaign by climbing Mount Everest in 2014.

Tetbury Woolsack Race: www.tetburywoolsack.co.uk

This is the 37th year of the Tetbury Woolsack Race. This year there are fifty entrants with several teams of four from various parts of the country, including Leicestershire and Derbyshire.

New custom-built woolsacks have been provided by the British Wool Federation and race events are complemented by a funfair, street fair with various stalls, musical entertainment and roving entertainers.
Designated car parking is available on the Recreation Ground at Hampton Street (B4014), a short walk from the race start.

Event opens on Monday 31st May at 10 am. Racing starts at 2pm and the whole event finishes at about 4.30 pm when the race is over. A crowd of several thousand is expected and bigger numbers then usual are expected for the Tetbury Woolsack race because the morning's famous cheese-rolling event had to be cancelled.

Tetbury is a 16th Century Gloucestershire market town. With 5,500 residents, it is one of the best known wool and yarn markets in the United Kingdom. The Woolsack event respects that heritage.