Mike Buss' HERO 100 Marathon Challenge in Support of Help for Heroes Ends Thursday 23 Sep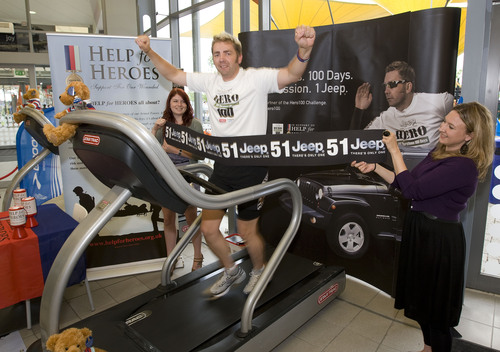 Wednesday 22nd September 2010, Swindon, Wiltshire, United Kingdom – Today Mike Buss has completed his 99th marathon in support of Help for Heroes and on Thursday 23rd September, Mike sets a new world record endurance challenge at the Birmingham NEC Leisure Industry Week Show. Mike will run his one hundredth and final consecutive marathon on a treadmill on Stand H202 near the demonstration stands. You can spot him by seeking out the exhibition displays of his sponsors JEEP, Star Trac and Gatorade.

Former British Army Physical Training Instructor and endurance athlete, Mike Buss has been running a full 26.2 mile marathon on a treadmill every day without a break since 16th June 2010, clocking up over 2600 miles in many towns across England. The HERO 100 Marathons challenge is the twelfth successful world record Mike has attempted this year to raise money in support of Help for Heroes. To help Mike reach his target of raising £100,000 in 2010, add your donation by going to http://www.justgiving.com/mikes-worldrecords

The previous world record for consecutive marathons was fifty and Mike has smashed this convincingly. Mike is physically very fit and without injury after 99 marathons. On approaching his 100th marathon tomorrow, Mike said 'The highlight so far was hitting the world record in Ashford's McArthur Glen Outlet Village. I reached my lowest point during the first third of the challenge with 70 marathons still to go. Physically I was fine, but mentally I was tired of running on a treadmill. I have been indoors from 7am to 8pm every day for three months! It was mentally very tough and I was unprepared for the solitude of travelling around the country for 100 days, living alone in hotel rooms without much conversation.'

Mike's fundraising efforts and physical feats of endurance have been gaining media attention all over the globe including the USA, Europe, Australia and India. He has also featured on the front cover of Running & Fitness Magazines around the world.

Celebrity supporters include former SAS member Bear Grylls, TV star Zoe Tyler, Boris Johnson (Mayor of London), Dean Karnazes (Ultra Marathon Man & Author) and former World's Strongest Man Mariusz Pudzianowski.

Channel FIVE Television has expressed interest with Goldhawk Media working on behalf of Mike Buss to produce a TV Series for global screening. Entitled 'Mike Buss - Going Beyond Impossible', the programmes will see Mike take on world records and endurance challenges around the world in the most inhospitable places from the Arctic to the Desert.

Each of Mike's challenges will be dedicated to a specific injured soldier, with Mike following and supporting them through their rehabilitation. The idea of the TV series is to raise awareness of the struggles faced by injured soldiers coming back from the war zones; not only back to the UK but also to the USA and other countries involved in securing peace in Afghanistan, and formerly Iraq. Mike Buss hopes to raise even more money for military charities through this series of TV programmes.

In the Spring of 2011 Mike will be going over to the United States of America to support the US version of Help for Heroes called the 'Wounded Warrior Project'. He will run his HERO 100 challenge again, but this time in the middle of Death Valley, Nevada Desert in temperatures of up to 195 degrees Farenheit. To make it even more challenging, that endurance challenge comes just after completing the 6633 Arctic Ultra and the Marathon des Sables back to back - another feat which has never been completed by anyone before.

-ends-

Word count 563
Weblinks
www.justgiving.com/mikes-worldrecords
www.bmycharity.com/mikebussh4h
For further details, jpegs and press interviews, contact
Rhona Jack MCIPR, MCIM
Mobile: + 44 (0) 7866 546221
Tel: +44 (0) 1793 635147
Email: rhona@bc-pr.com

Mike Buss - Beyond Impossible
World-Record Breaking Endurance Athlete
Mobile: +44 (0) 7791 545550
Tel: +44 (0) 1793 766 066
www.mike-buss.com
Email: info@mike-buss.com

EDITOR'S NOTES
Mike Buss - Endurance Athlete - Tasks Ahead

Endurance athlete Mike Buss supports Help for Heroes because he was medically discharged from the army ten years ago when an IRA bomb caused deafness in one ear. At that time, the support for injured military personnel wasn't particularly good. He values highly the work of the Help for Heroes charity so he is on a mission to:
• Break 20 world endurance records in just 12 months (a feat that has never been achieved before).
• Raise over £1,000,000 by 2014.
• Take on many of the world's toughest challenges including the 'Marathon Des Sables' across the Sahara desert in 2011.
• Finish a world record breaking 5 yr campaign by climbing Mount Everest in 2014.

Sponsors include
Jeep, Timex, McArthurGlen Designer Outlets, Pickfords, Brooks|http://www.brooksrunning.co.uk, ISO2 Nutrition, Star Trac, Whitmarsh Lockhart, Blue Click PR Ltd.