NEW WORLD RECORD: Mike Buss' 100 Consecutive Marathons in Support of Help for Heroes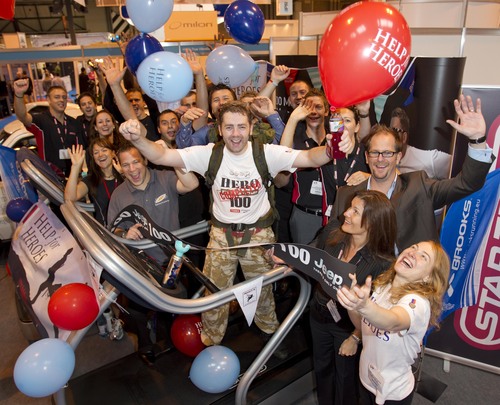 Friday 24th September 2010, Swindon, United Kingdom - Yesterday former Royal Greenjacket British soldier Mike Buss set a brand new world record by running his final, 100th consecutive marathon wearing standard issue army boots and a 40lb backpack. Even after running 99 marathons over the past three months, his time was a highly respectable 4 hours and 49 minutes as he strained with a sprint finish of 7.5 miles an hour to cross the line at exactly 12.30pm. Well-wishers and supporters encouraged him over the finish line on his Star Trac treadmill at The Leisure Industry Week Show, NEC, Birmingham.

Since the 16th June, Mike Buss has toured nineteen towns across the south and south west of England, running a total of 2,620 miles, equivalent to running around the coast of England, Scotland and Wales.

A month ago, Dawn Turner was appointed Help for Heroes West Midlands coordinator. She says 'Help for Heroes has just launched a Quick Reaction Fund to support injured personnel and their families from the British Army, Navy and Air Force. There was a case a few weeks ago of a newly-widowed woman and her children in crisis because they were forced to seek new accommodation after the death of her husband. They applied for funding to Help for Heroes and were given a cash grant within 24 hours, which really helped alleviate the family's distress'.

Because of situations like this, Mike Buss' personal fundraising target in support of Help for Heroes is £100,000 for 2010. So far Mike has raised £35,000. If Mike's dedication to frontline and injured troops along with his ultra marathon HERO 100 Marathon challenge have inspired you, please donate at www.bmycharity.com/mikebussh4h

Michelle McDougall was an exhibitor at the Leisure Industry Show who encouraged Mike on his runs for the last three days. She said 'I think he's absolutely crazy but what he's doing is really inspiring. It's so important to help the guys who've been injured while protecting us and our country.'

Mike needed 6,000 calories a day but could only take in about 4,000 calories daily so he lost over a stone and a half in weight over the last 100 days. His feet were in surprisingly good condition after this epic challenge but he plans to give them a good rest. He will only do about 40 miles this week and will run in Hyde Park, London today just to keep his leg muscles loose.

Mike says 'I've thoroughly enjoyed the last three months and can't quite believe it's all over. What do I do now?' In another four weeks he plans to run up and down Mount Snowdon as many times as possible in 48 hours carrying a 40 lb army backpack to set his 13th world record in support of Help for Heroes.

In November and December Mike will increase his training programme for a number of back to back endurance feats where he will run over 3000 miles in 120 days.

In January 2011 Mike will attempt to become the first person to run across the English Channel (watch this space) and then in March he will run the 6633 Arctic Ultra (the toughest foot race on the planet), followed only 4 days later by running the Marathon des Sables in the Sahara Desert. After the London Marathon Mike Buss will return to his HERO 100 World Record Breaking Marathon challenge by running a marathon every day for 100 days in the middle of Death Valley, Nevada Desert.
-ends-
Word count 539

WEBLINK: www.bmycharity.com/mikebussh4h

For further details, jpegs and press interviews, contact
Rhona Jack MCIPR, MCIM
Mobile: + 44 (0) 7866 546221
Tel: +44 (0) 1793 635147
Email: rhona@bc-pr.com

Mike Buss - Beyond Impossible
World-Record Breaking Endurance Athlete
Mobile: +44 (0) 7791 545550
Tel: +44 (0) 1793 766 066
www.mike-buss.com
Email: info@mike-buss.com

For hi-res photos and broadcast TV footage contact
Richard Wintle
Calyx Multimedia
Mobile: +44 (0) 7836 205196
Tel: +44 (0) 1793 520131
Email: Richard@calyxpix.com


EDITOR'S NOTES
Mike Buss - Endurance Athlete - Tasks Ahead

Endurance athlete Mike Buss supports Help for Heroes because he was medically discharged from the army ten years ago when an IRA bomb caused deafness in one ear. At that time, the support for injured military personnel wasn't particularly good. He values highly the work of the Help for Heroes charity so he is on a mission to:
• Break 20 world endurance records in just 12 months (a feat that has never been achieved before).
• Raise over £1,000,000 by 2014.
• Take on many of the world's toughest challenges including the 'Marathon Des Sables' across the Sahara desert in 2011.
• Finish a world record breaking 5 yr campaign by climbing Mount Everest in 2014.

Sponsors include
Jeep, Timex, McArthurGlen Designer Outlets, Pickfords, Brooks, ISO2 Nutrition, Star Trac, Whitmarsh Lockhart, Blue Click PR Ltd.