Today - Snowdon 48hr World Record Challenge in Support of Help for Heroes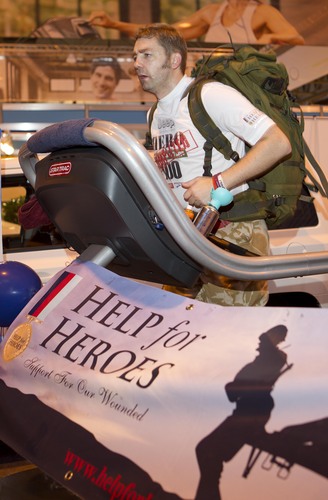 Tuesday 12th October 2010, Swindon, United Kingdom – Now dubbed 'The Running Man', Mike Buss, former soldier and endurance athlete is at it again! Just a couple of weeks after smashing into the record books for running 100 marathons in 100 days on a treadmill, Mike's next challenge is to attempt three world records between 12th and 14th October in a challenge he has christened the 'SNOWDON 48 HR'.

Mount Snowdon is Great Britain's second highest mountain and this challenge sees Mike Buss run up and down the mountain as many times as he can in 48hrs without rest or sleep, whilst carrying a 40 lbs army backpack. If successful, this will secure 3 new world records:

1. Most assents of Snowdon in 24hrs carrying a 40lbs pack
2. Most assents of Snowdon in 48hrs carrying a 40lbs pack
3. Longest continuous run carrying 40lbs pack without sleep

This world record breaking challenge is again in support of injured troops and will be supporting:

• Help for Heroes www.helpforheroes.org.uk
• Project 65 The - Veterans Charity www.project65.net
• Talking2Minds www.talking2minds.co.uk

Snowdon stands at 1085 metres high. The average person takes 6 hours or more to climb Mount Snowdon and get back down to the base of the mountain, carrying less than half this weight on their back.

At the best of times the weather can change in minutes to almost zero visibility with strong winds and heavy rain. Mike starts this challenge today (Tuesday 12th October 2010) where he is almost guaranteed bad weather conditions. Each year over 20 people are killed on the mountain and when asked if this puts him off, Mike replies "No it only makes me want to do it more! We have a saying in the army, 'If it ain't raining, it isn't training! And so the likely bad weather conditions and the dangers shown by the annual death rates just make me more determined to push myself harder with this challenge. It's going to be tough, especially when I'm still recovering from running 100 marathons in my last challenge. I've lost over a stone of weight which will affect my strength, but I am determined to crack this challenge."

Along with long term sponsors Jeep, Brooks and Timex, Mike has picked up support from several new sponsors for this challenge including OMM and Leki

Mike will aim to stay awake for the whole of this challenge continuously running up and down Snowdon without rest or sleep. He is taking on this challenge to raise money and awareness for the following charities:
If you would like to make a donation to Mike's chosen charities; Help for Heroes; Talking2Minds and Project 65:The Veterans Charity, then you can text the word JEEP to 60777. The text will cost you £5 plus your normal standard rate with £5 donation going to Mike's Chosen Charities.

The text will also give you entry into Win a Jeep Competition where you will stand to win a Jeep Patriot 2.4 litre Sport Manual. To contact Mike please email: activelifeuk@hotmail.com or call mobile 07791 545 550

Weblinks
www.mike-buss.com

For further details and press interviews, contact:

Rhona Jack
Managing Director
Blue Click PR Ltd.
Mobile: + 44 (0) 7866 546221
Tel: +44 (0) 1793 635147
Email: rhona@bc-pr.com

Mike Buss – Beyond Impossible
World-Record Breaking Endurance Athlete
Mobile: +44 (0) 7791 545550
Tel: +44 (0) 1793 766 066
www.mike-buss.com
Email: info@mike-buss.com

EDITOR'S NOTES:

Mike Buss - Endurance Athlete - Tasks Ahead

Endurance athlete Mike Buss supports Help for Heroes because he was medically discharged from the army ten years ago when an IRA bomb caused deafness in one ear. At that time, the support for injured military personnel wasn't particularly good. He values highly the work of the Help for Heroes charity so he is on a mission to:

• Break 20 world endurance records in just 12 months (a feat that has never been achieved before).
• Raise over £1,000,000 by 2014.
• Take on many of the world's toughest challenges including the 'Marathon Des Sables' across the Sahara desert in 2011.
• Finish a world record breaking 5 yr campaign by climbing Mount Everest in 2014.

Sponsors include:

Jeep, OMM, Leki,Timex, McArthurGlen Designer Outlets, Pickfords, Brooks, ISO2 Nutrition, Star Trac, Whitmarsh Lockharthttp://www.whitmarshlockhart.com/], [Blue Click PR Ltd.

McArthurGlen Designer Outlets

McArthurGlen is the UK's largest operator of Designer Outlets, with seven centres nationwide. The centres at Ashford, Bridgend, Cheshire Oaks, East Midlands, Livingston, Swindon and York, all offer a range of leading designer labels and high street brands with discounts of up to 60% off typical high street prices.