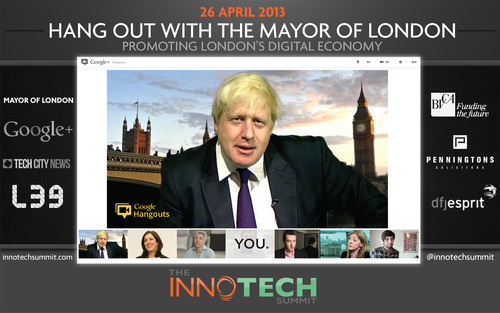 The Mayor will speak with major U.S. tech venture capitalists in San Francisco and Los Angeles in a live video chat.

25th April, 2013, London: The Mayor of London is set to host his inaugural Google Hangout this Friday, live from London tech event, the InnoTech Summit. He is the first high ranking UK politician to use the multi-party video chat on Google +, popular with other world figures such as U.S. President Barack Obama and his wife Michelle Obama, Australian Prime Minister Julia Gillard, and South African President Jacob Zuma.

Boris Johnson will be exploiting the social media platform to help promote the UK's growing digital economy by attracting inward investment. Commencing at 5pm BST from London, the Hangout will connect the Mayor with highly influential U.S. venture capitalists who will be joining the video chat from InnoTech Summits held at 9am PSD in Silicon Beach (ROC,...
Read full release