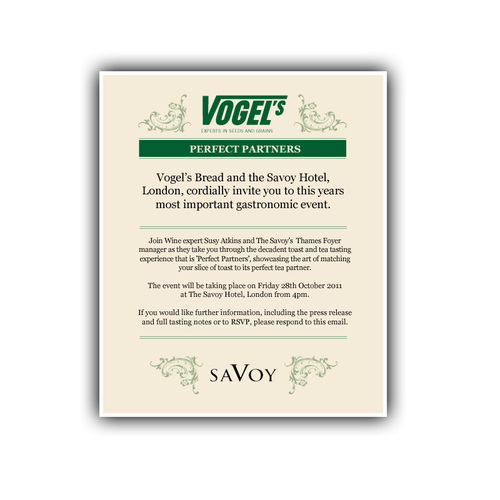 Join Wine expert Susy Atkins and the Savoy's Thames Foyer manager as they take you through the decedent toast and tea tasting experience that is 'Perfect Partners', showcasing the art of matching your slice of toast to its perfect tea partner.

The event will be taking place on Friday 28th October 2011 at The Savoy Hotel, London from 4pm.

Tea and Toast a simple combination? Think Again!

Wine guru and Savoy tea expert uncover perfect partners made in tea and toast heaven

There are some things that are just meant to go together: Wine and Cheese, Fish and Chips, Morecambe and Wise and Tea and Toast. Simple? Or so you may think.

Have you ever considered what blend of tea you are drinking and whether in fact it is the 'perfect partner' for your favourite type of toast?

Thankfully you don't have to, as Salisbury based bread brand Vogel's can now unveil a super app designed to ensure you need never...
Read full release