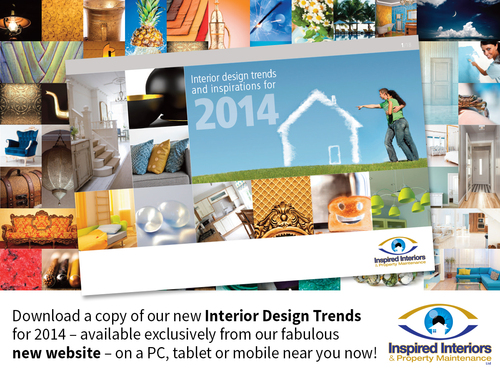 Just one of many design tips in 'New Trends 2014' – a free document from Inspired Interiors, a leading South coast interior design, refurbishment and decoration specialist.

Aimed at people with an eye for contemporary style, New Trends 2014 is available as a free download on Inspired Interiors' website. It contains bang on-trend home décor tips, from colours and patterns to textures, fixtures, fittings and furnishings – everything needed to realise a vision, whether it's to transform one room or the whole house.

New Trends 2014 represents Inspired Interiors' supportive approach to people wanting to improve their home. Complete project management capability and a fine attention to detail allow this talented company to support as much or as little as required, helping homeowners make the right choices at every stage – a partnership that leads to ideal homes every time.

For your free copy of New Trends 2014 – and further proof of Inspired...
Read full release