3 Tops Mobile Broadband Awards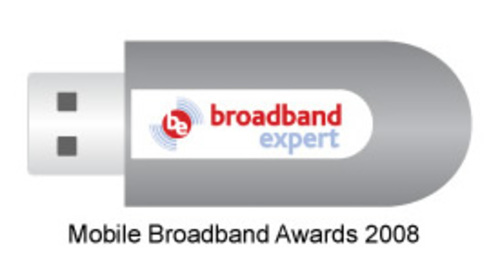 UK broadband comparison site Broadband Expert has sampled over 4,000 mobile broadband users during the period of January to September 2008, quizzing them on their mobile broadband usage and testing the speed of their connections to find the top mobile broadband performers of 2008.

3 topped four of the eight categories winning the best value, best laptop bundle, best pay as you go and best overall provider mobile broadband awards. Broadband Expert Technical Director, William Harvey, stated "3 have lead the way in reducing the cost of mobile broadband forcing other providers to bring down prices to stay competitive." The average price of mobile broadband has fallen by more than 50% in the last 12 months which has helped fuel the rapid uptake of this service in the UK. In addition to some of the lowest prices, 3 have a good range of laptop and mobile broadband bundles with a range of offers to suit most users.

The award for fastest actual speed went to Vodafone with their mobile broadband service achieving an average speed of 2.74 Mbps based on 4,026 speed tests.
Vodafone also scooped the best coverage award having received the least amount of negative feedback about lack of coverage which was the biggest gripe of customer across all providers.

T-Mobile was the clear winner of the fairest pricing award as they are the only mobile broadband provider to have no extra fees for exceeding download limits. By comparison other providers can charge up to £100 per 1GB of excess data usage. T-Mobile additionally picked up the customer satisfaction award with 71% of their customers claiming to be satisfied with the service, marginally ahead of the 70% of Vodafone customers who claimed to be satisfied.

William Harvey, Technical Director at Broadband Expert, expects mobile broadband speeds and coverage to increase as competition heats up and providers roll out upgrades to their networks' over the next 12 months. Harvey cites T-Mobile and 3's recent introduction of 3G wireless routers, which allow households to share a single mobile broadband connection, as another step towards an increasing trend of mobile broadband replacing fixed broadband services.



Broadband Expert Mobile Broadband Award Winners:

Best Overall Provider: 3
Best Coverage: Vodafone
Best Value: 3
Pay as You Go: 3
Fastest Actual Speed: Vodafone
Best Laptop Bundle: 3
Customer Satisfaction: T-Mobile
Fairest Pricing: T-Mobile




About Broadband Expert:

Broadband Expert is part of RichWeb Media, a privately owned UK company. We aim to provide expert advice and information to allow consumers to make more informed decisions when purchasing broadband or mobile broadband.

More information on Mobile Broadband Awards:

Mobile Broadband Awards: www.broadband-expert.co.uk/mobile-broadband/awards-2008

Contact:

For further information, please contact rob@broadband-expert.co.uk or call on 07779 119892.