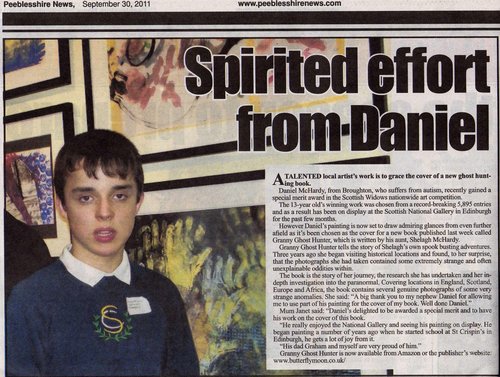 Autistic Daniel's art success

13 year old Daniel McHardy, from Broughton in the Scottish borders, recently won a special merit award in the Scottish Widow's nationwide art competition for his thought provoking painting, which has been on display in the Scottish National Gallery over the past few months and is now due to go on tour around Scotland. However his painting is also due to gain admiring glances from further afield, as it has been used for the cover of a new book published on 19th September, 2011 entitled "Granny Ghost Hunter", written by his Aunt, Shelagh McHardy.

The book tells the story of the 52 year old gran's "spook-busting" adventures over the past 3 years, including locations in Scotland, England, Europe and Africa, containing numerous images of what appear to be genuine ghosts. She gives a thorough and balanced account of places she has visited, her investigation into the subject of ghosts and the paranormal, inviting debate on the...
Read full release