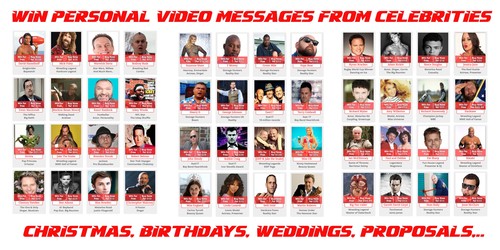 Competitions and Giveaways

CelebVM

Get personal video messages from celebrities for Christmas, birthdays, weddings, proposals, valentines, personal connections and much more. CelebVM

Celebrities from Breaking Bad, Walking Dead, Game of Thrones, Star Trek, Star Wars, Models, Wrestling, Football, Rugby, Music, Film, X-Factor, I'm a Celebrity Get Me out of here, Big Brother, Dancing on Ice, Waterloo Rd and much more

CelebVM is a great way for fans and celebrities to connect in a unique and fun way, while also being a great way for celebrities to instantly raise money for their charities (most celebrities donate all or at least a percentage to a charity for any paid videos they do).

Example Videos...
Read full release