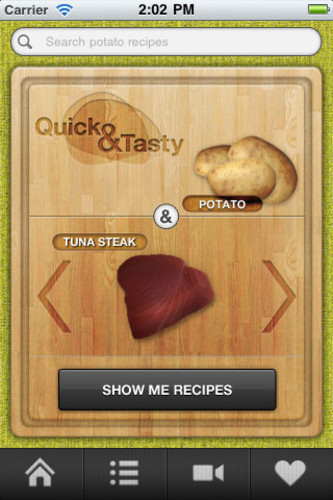 The 'Quick & Tasty' app for iPhone and iPod Touch gives users access to hundreds of favourite, as well as new and exciting, potato recipes, which can be ready and on the table in under 30 minutes. What's more, users can sort the recipes according to the ingredients available in their kitchen at any one time, or merely to suit their taste buds, using the app's unique yet simple 'what's in my cupboard' scroll facility to pair potatoes with a protein or vegetable.

The result of each scroll brings with it several recipes, so whether it's a simple cottage pie or a more exotic potato tapas, users certainly won't be short of mealtime inspiration with the 'Quick & Tasty' app at their fingertips.  

Key features of the new 'Quick & Tasty' app include:

- 100s of categorised recipes including a 'top 25' feature

- A unique 'what's...
Read full release